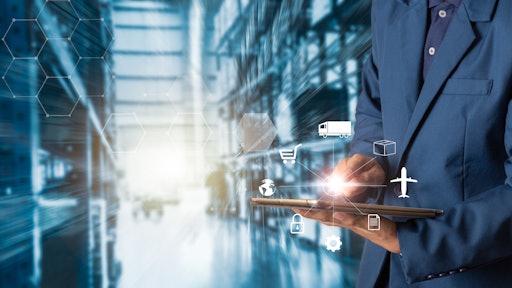 Getty Images
As the management guru Peter Drucker suggested, you can't improve what you can't measure. To go back a step further, you can't measure what you can't see.
That sums up supply chain operations at a lot of companies today: It's difficult to see, measure and improve what's happening across the supply chain.
Despite investments in technology and personnel, organizations have yet to achieve end-to-end visibility across the full supply chain lifecycle of plan, source, make, deliver, return. As a result, their supply chain key performance indicators aren't necessarily accurate.
Those KPIs can be misleading because they're based on incomplete, outdated information — the result of only partial visibility across interdependent supply chain dynamics.
And though greater use of supply chain analytics is a high priority — 66 percent of supply chain leaders say advanced analytics are critically important, a Hackett Group study found — many have a long way to go to reach the ideal.
The need is clear. In our hyper-competitive global environment, companies have to respond rapidly to any supply chain event that impacts customer satisfaction, profitability and working capital. End-to-end visibility and timely KPIs are the foundation for quickly making the right decisions to mitigate risk and ensure profitability.
For example, if a backorder situation arises that takes weeks to resolve, customer satisfaction and profitability can both suffer. Or, if a company can't accurately calculate cost-to-serve metrics because it lacks full visibility, it may underprice or overprice its offerings.
Is a Control Tower the Solution?
In recent years, we've heard a lot the supply chain control tower, designed to improve visibility, orchestrate processes and provide analytics. The concept has generated a lot of hype, and just as much confusion as vendor solutions and definitions tend to vary.
The definition from Deloitte is a good one: "Control Tower is a set of tools and techniques that allow executives to proactively manage their end-to-end supply chains in real time and achieve new efficiencies through connected visibility, proactive exception management, and predictive insights ".
It's a sound concept, yet control towers are limited in both breadth and depth. By breadth, it means that many control tower solutions are targeted at a specific function such as transportation, planning or manufacturing. They don't deliver the genuine end-to-end visibility that supply chain leaders seek.
In terms of depth, most control towers rely on descriptive analytics that provide a rear-view snapshot of metrics and KPIs. Knowing you have 10,000 sales orders or 20,000 available units is nice, but is that good or bad? If a metric is off, what happened and why?
Descriptive analytics in a control tower lack context and don't offer predictive and prescriptive insights. Most importantly, they're not actionable — they don't offer guidance on what you should do to address a given situation, be it rising back orders, missed on-time in-full (OTIF) thresholds or inaccurate available to promise (ATP) dates.
How Cognitive Automation Is Changing the Game
End-to-end supply chain visibility is even more difficult to achieve amid growing business complexity and a proliferation of data and applications. It's not uncommon for a global organization to run a half-dozen separate ERP systems, and dozens of other applications for warehousing, planning, logistics and more.
Companies build data lakes in efforts to improve visibility, but that's often raw data that's not curated and harmonized, so it's difficult to glean insights. Data warehouses complemented by business intelligence tools are limited by descriptive analytics and use of outdated information. Plus, both approaches require large effort and cost to be implemented, and consequently have a lower time-to-value.
Instead, innovative companies are embracing a new model called cognitive automation that combines near real-time data capture from source systems, and AI and machine learning algorithms to generate actionable KPIs and recommendations on optimal actions.
A cognitive automation platform executes thousands of Google-like data crawls across any number of internal or external systems, then aggregates and normalizes data in what's called a cognitive data layer. There, AI and ML are applied to produce predictions and recommendations on optimal actions.
Business Impact with End-to-End Visibility
A global CPG and healthcare firm uses cognitive automation to solve its ATP challenges. In the past, the company could provide customers with ATP dates only 50 percent of the time for, of those only 80 percent were accurate. These KPIs were the results of a limited end-to-end visibility due to siloed systems.
Today, the firm is providing ATP dates 99 percent of the time, with accuracy improved to 90 percent. It is the result of end-to-end visibility across the supply chain that let it readily determine available supply across the entire network and lead times from production to delivery.
That's driving top-line revenue and improving customer experience. The end-to-end visibility sets the company up to tackle other challenges, such as back orders or demand planning.
End-to-end visibility across the supply chain has been the Holy Grail for years now. The goal is now within reach as AI-powered cognitive automation is introduced into complex global supply chains. The scope, speed and results we're seeing to date suggest that cognitive automation will be the most important innovation in supply chain management since the advent of ERP technology.
But achieving end-to-end visibility is not the end of the journey — it's only the beginning. That's because end-to-end visibility makes possible KPIs rich in context and analytic depth that supply chain managers can act on reap millions of dollars worth of cost savings, new revenue and customer satisfaction.