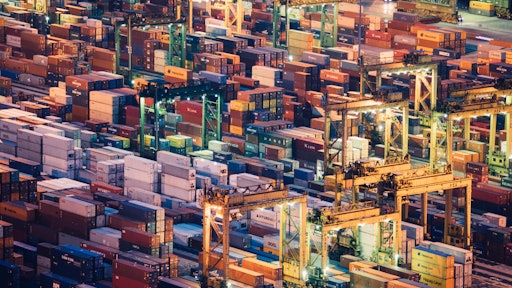 Chuttersnap Lifeofpix
When President Donald Trump announced punitive tariffs on $50 billion worth of Chinese imports, it generated a lot of speculation and a swift response from the Chinese. The United States and China are the world's two largest economies, so the possibility that tit-for-tat tariffs could spark a full-blown trade war has been causing concern among the supply chain industry.
As organizations scramble to mitigate the risks and maintain profitability, they should be seizing the opportunity to establish real-time insight and control of their global supply chains. Not only will it help them to mitigate the impact of changing tariffs, supply chain orchestration (SCO) will also enable them to gain a competitive edge and better serve their customers.
Lack of visibility can be costly
In the event of an unexpected tariff change, it can be difficult for companies to quickly adjust. If sourcing has shifted abroad, it can't be easily moved back overnight. Some organizations may be locked into partnerships and become reliant on specific suppliers or routes. It's crucial to maintain flexibility in order to keep costs under control.
A main issue that companies are facing is the lack of visibility into their supply chains. In fact, end-to-end supply chain visibility is something that only 19 percent of Fortune 1000 companies could lay claim to, according to Gatepoint. Without a big picture view that can drill down to granular detail through every step of your supply chain, it's difficult to accurately weigh the costs and make the right decisions on how to boost efficiency.
If you are able to dig down to the granular level, then you can run a proper cost comparison between different options and quickly calculate the correct course of action. Though, insight alone isn't enough – it must be coupled with the ability to act.
Establish real-time control
Being able to see every step of your supply chain across multiple services, vendors and software systems is one thing, but establishing real-time control can make the changes that are needed. If it's too costly to import from this location, or you need to source in a hurry, it's important that you have fully-costed, transparent options and the ability to act swiftly and that's something you can't achieve without supply chain orchestration (SCO).
SCO gives you a complete, holistic view of your supply chain and enables you to optimize every aspect of it. Built atop your disparate systems and those of your partners, it can empower you to treat every aspect of your extended network as though it were internal, from 3PLs to warehouses to suppliers and even in-transit stock. You can anticipate problems, analyze performance over time and make changes to improve.
Standing out in the marketplace
Business agility is vital for any company that wants to survive, but there's also a tangible need to meet customer expectations. SCO gives insight and the control you need to achieve a high level of operational excellence without sacrificing flexibility. It also empowers you to fine-tune the journey for each individual order and ensure that it strikes the ideal balance between cost and customer satisfaction.
With SCO, you can proactively add value for your customers while managing the flow of goods efficiently and that will impact your bottom line. According to Deloitte research, 79 percent of organizations with superior supply chain capabilities achieve revenue growth that is significantly above average.
Extend your reach and anticipate change
It's not enough to know your own inventory, or your supplier's position, you need to know about your supplier's suppliers. Overreliance on a small group of partners coupled with an inability to see far enough ahead is a recipe for disaster, especially in the event of a trade war. Widen your field of potential suppliers and partners, collaborate with logistics companies, and continuously monitor the situation.
While establishing proper SCO will incur some short-term disruption and cost, that pales in in significance next to the potential catastrophic failure that could result from inaction. You may employ SCO to minimize risk initially, but you're also laying a solid foundation for profitable new strategies in the future that will elevate your business above the competition.