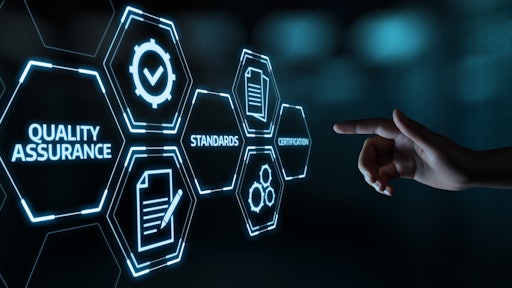 Sikov/stock.adobe.com
In 1964, the average lifespan of a company on the S&P 500 was 33 years. In 2027, it is projected to be just 12 years. Why? Many companies simply don't have the strategy in place to remain agile, flexible, and respond to major disruptions — or disruptors — and evolving consumer behaviors.
It's no surprise that disruptions like COVID-19, massive global labor shortages, dynamic weather conditions, skyrocketing shipping container costs, and Brexit have created many challenges. However, they also shined a spotlight on the issues already facing the supply chain, including:
More goods are being shipped around the world than ever before
Consumers are increasingly demanding faster delivery and free shipping
Supply chain stakeholders expect to be able to track orders in real-time
Manufacturers face mounting pressure to reduce costs, while meeting customer demand
As we tackle today's major disruptions and prepare for the next, a proactive strategy — backed by flexible technology — will enable leaders to face these evolving challenges and maintain a competitive edge. Now is the time to evaluate the tools in the supply chain toolbox. Here are three critical questions today's chief supply chain officer (CSCO) and other supply chain leaders can ask to help future-proof their global trade management:
Question #1: What technological infrastructure should be in place to manage my global trade and logistics processes?
Global trade and supply chain operations run on data. But what is the best way to store and manage all of this critical information?
Traditional on-premise servers can provide peace of mind keeping data in-house, but often require large investments in capital, space to house the server, and dedicated IT support to keep systems running. There are additional, costly risks of downtime due to hardware failure or local environmental issues for on-premise.
It is fair to say that some companies — particularly those that work with sensitive information — have been slower to adopt cloud technology. To be clear, companies should be concerned about data security. But on-premise systems can be less secure than people may realize.
Growth-minded companies have been turning to the cloud in order to exploit its flexibility and connectivity. Cloud technology also reduces the need for IT support and hardware resources, lowering maintenance costs and streamlining upgrades. While there is a transition involved, managing operations across the supply chain with cloud-based solutions should result in higher performance and greater visibility across the entire organization.
In fact, one of the major reasons companies shift critical business systems to the cloud is due to security vulnerabilities. According to the FBI, cybercrime has increased by 300% since the beginning of the coronavirus pandemic and, on average, cost companies $3.86 million USD in 2020. Moving logistics operations to the cloud can help mitigate cybersecurity threats in three major ways:
Better protection against human error – This is one of the leading causes of data breaches and automating processes can reduce the possibility of staff contributing to operational errors.
Ensure systems are up to date – Unsupported or outdated servers are drastically more vulnerable to data breaches, and many companies are slow to update their systems.
Improved disaster recovery – In the event of a cyber-attack, natural disaster or other unforeseen event, disaster recovery is crucial. A cloud-based solution makes it significantly easier to get global trade and logistics processes back up and running again.
Having said that, it is important to consider security when evaluating potential solutions. Look at what kind of data security certifications different vendors have and whether or not these meet the most rigorous security standards. It is also worth considering what companies use their cloud solutions. Some industries — such as banking — have extremely stringent security requirements.
Click here to hear more about the cloud in the supply chain:
Question #2: What factors are hurting our ability to respond to market dynamics and grow our business over time?
Markets are not static. Consumer behavior changes; innovative companies and products can topple market leaders; expectations around customer service are subject to change. E-commerce has shifted buying patterns — not just in retail — but across a number of industries, including life sciences and automotive, to name a few.
The inability to respond to market shifts can hamper growth. Worse still, rigidity in the face of changing consumer expectations can damage your brand and reputation.
Customer demands around delivery have changed. Most consumers — particularly in mature e-commerce markets — expect to have their goods delivered within a day or two. Increasingly, customers are unwilling to pay for shipping either, and many expect free returns as standard.
As we have seen in the last two years of skyrocketing parcel volumes, relying on a single carrier can leave a company vulnerable. Being able to onboard new carriers quickly and efficiently is critical, whether that is to address the ongoing issue of capacity constraints, to service customers in new markets and geographies, or to get a new DC up and running.
Ultimately, supply chain officers with cloud-based systems should be able to respond to unforeseen disruptions in many ways—like shifting suppliers, engaging new logistics providers, or responding to an increase in cross-border and international shipments.
Question #3: Why change now?
It is rare to find a company where there is no room for improvement when it comes to its trade and logistics operations. Optimized processes should meet both your long-term growth goals and short-term objectives. Maybe your operations have been meeting demand and responding to trends in recent years, but it may not be enough for what lies ahead, especially when looking to grow your business.
While there are certainly benefits to be gained around speed, throughput, security and carrier onboarding by moving to the cloud, I would argue that this is simply the first step in maturing your global trade and logistics processes.
Cloud based solutions allow you to break down silos within your organization. The data your logistics team needs to ship a good is exactly the same information your compliance team needs to perform restricted party screening and other checks. As that good travels from your facility to the end customer, the same data can be used by your logistics and customer service teams. And is this shipping data being shared with your accounts payable team? Probably not. Chances are they are paying carrier invoices without checking them for accuracy. A cloud based solution can automate carrier invoice validation, and find discrepancies, such as a premium service level you did not receive.
A cloud based solution would allow you to connect your trade department with procurement. This would allow you to identify cost saving opportunities, such as free trade agreements, or admissibility flags that could cause customs hold ups and delayed deliveries.
Equally importantly, cloud solutions allow you to connect with supply chain partners — suppliers, customers, carriers, distributors, and government agencies — sharing real-time information across the value chain.
Once you have evaluated your infrastructure and identified your challenges, the answer to why change now is simple — you can't meet tomorrow's challenges using yesterday's technology.