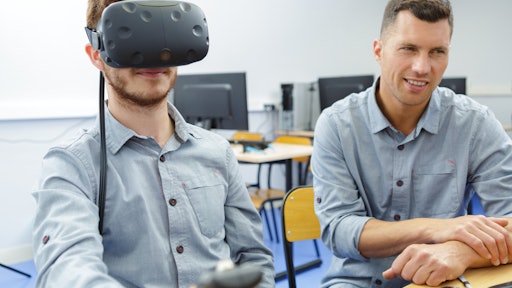 auremar AdobeStock_388838052
The pandemic and its resulting supply chain disruptions have put supply chains into the headlines like never before. As the pandemic starts to fade from view, supply chain organizations are moving fast to get up to speed and return a sense of normalcy to the world economy. That requires employees to staff these mission-critical jobs, and training and retaining those employees are more critical than ever before.
The question facing most organizations currently is how to speed up the process. Virtual reality (VR) is emerging as a path for cutting-edge companies to find new employees and train them quickly and efficiently so they can immediately help stabilize the industry. To understand better how VR can help your supply chain company accelerate your growth and return to pre-pandemic prominence, it's first important to understand how VR/augmented reality (AR) can enhance training for supply chain organizations.
It's important to note these improvements are not merely theoretical—they are real-life examples of how using these tools can not only help recruit better employees but will also help you retain them over the long haul.
How to incorporate VR into your training
The beauty of working with VR is that the scale is really up to the organization. It can be as simple as teaching employees about products and how to stock them in small organizations or how to operate a forklift in a vast warehouse. Best of all, VR allows new employees to master specific skills without putting real-life equipment or product at risk.
Whether it's creating a shared experience for remote team members, allowing employees to interact with virtual scenes and potential hazards without putting anyone at risk or practicing hands-on skills to make them an integral part of your organization, VR can make that happen quickly and efficiently. Research shows that immersing employees in real-world scenarios, whether they are prerecorded videos or simulations, helps them retain more information in shorter periods of time.
VR training also increases employee efficiencies with tasks and helps lower potential safety incidents by allowing employees to master complex tasks and learn from mistakes that have no real-world effect except to teach them what not to do. Finally, by engaging employees in hands-on tasks, they are more likely to retain the information provided, shortening the amount of time it takes to train new employees in the vital tasks involved in keeping supply chains moving forward.
Real-world examples
One of the great challenges facing supply chain organizations today is recruiting the best employees. Sometimes, it's because employees don't really know what to expect from the position, a problem that VR can help ameliorate.
Companies can use VR to walk potential employees through exactly what their jobs will entail before they are hired, allowing them to more accurately assess whether they believe they would be a good fit. By getting the right people into the right jobs, companies can hire, retain and upskill their best employees, reducing turnover costs and keeping the organization running more smoothly over the long haul.
VR can also be used to educate employees about potential safety hazards and what the right ways to cope with them are. After all, even the best-run organizations will occasionally have something go wrong. Having employees in place to deal with these problems is essential to a well-run company, and VR can put them in real-world scenarios without real risk.
VR also provides opportunities for organizations to walk employees through how to operate specific pieces of equipment and service them if they break down. Since employees can manipulate virtual machines as if they were real, this immersive training can help them work through common equipment malfunctions and prepare them to handle those should they come up in real life.
Finally, VR training can be used to train organizational leaders about how to effectively lead their teams. Though VR training has most commonly been used to foster technical skills, the latest innovations in VR training have led to soft-skills modalities that teach leaders how to handle difficult situations, whether it's inter-employee conflict or helping to elevate the skills of an employee who is struggling to meet expectations.
VR training is no longer limited to the shop floor; it can also help the C-Suite be better equipped to handle the challenges that come their way as they try to lead their companies back to normalcy in an unsettled world.
The bottom line
VR training can help supply chain organizations accelerate their growth by allowing them to hire and retain the right employees for the job more effectively. It also provides them the ability to upskill current employees more quickly and efficiently than more traditional training programs. Finally, it allows executives to track how well their employees are doing—and provides them with the training they need to lead their teams more effectively.
While it may seem intimidating to venture into the VR training realm, there are companies who can help tailor the training to accomplish exactly what you need to do. Find a partner who takes the time to understand your specific industry and how VR training can help you.
The United States has discovered that a well-functioning supply chain is the backbone of the economy. VR training can help strengthen that backbone and allow supply chain firms to thrive.