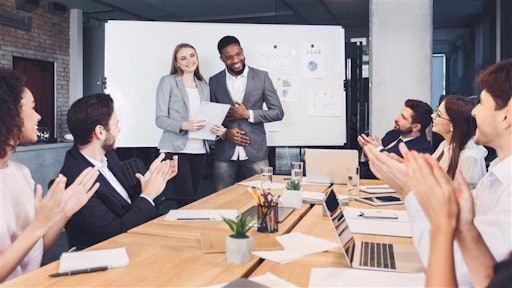 Prostock-studio
While much has been said about the unprecedented disruption brought on by the pandemic over the last 12 months, the manufacturing sector has been immersed in an ever-changing environment for some time, due to elements like globalization and the pursuit of Industry 4.0. In all cases, success has come down to not only whether we can adapt to change, but how quickly.
And, the latter is very important. What's clear to most now is rapid change has become a constant force in our world, and the nature of it will be largely unpredictable. And, while Industry 4.0 will manifest a lot of this change in the form of new technologies on the factory floors and back offices of manufacturers globally, we won't be able to reach its full potential with a 2.0 workforce. Moving forward, workforces will need to be built for prolonged uncertainty and defined by the collective ability to adapt and embrace change.
While the current unemployment levels mark the end of the unprecedented war for talent seen over the past few years, it doesn't mean we've seen the end of the concerning shortage of skilled talent manufacturers. Long-standing projections of a glut of unfilled jobs, along with onshoring and the growing "silver tsunami" of retiring workers, will continue to represent significant headwinds for sector.
The reality is manufacturers will likely need to operate with fewer people on the line than they'd like in the near future, and all organizations should be preparing for how they'll navigate this reality without sacrificing production or growth. Said another way, the converging trends are underscoring the importance of having a plan in place for your people.
So, how can manufacturers of all stripes begin to build agile workforces that can grow and adapt in a world defined by disruption?
There are a few key components to this, starting with succession planning. Traditionally equated by many with a leadership development strategy, a proper succession plan can also support broader business continuity needs, especially as companies work to redesign jobs to provide more flexibility, agility and growth. When combined with modern learning and development programs, this allows manufacturers to build the infrastructure of a future-ready workforce, while ensuring they're providing their people with the right professional development plans along the way.
Passing the torch of institutional knowledge management is another important factor. In the third quarter of 2020, it's estimated that nearly 29 million Baby Boomers retired, marking a year over year increase of 3.2 million, with the pandemic playing a factor in this acceleration. As this trend continues, manufacturers risk losing significant institutional knowledge and experience. Digitizing knowledge management and transfer processes can ensure the next generation of the workforce can carry the work forward with less disruption.
Another element that is critically important is the need for manufacturers to review current digital transformation projects in play and ensure that their people are prioritized. People are the most important asset we have as we guide the sector into the future, and real-time visibility into the actual costs of every decision are key to building a more agile, efficient and predictable workforce.
And, finally, giving employees a clear view into the organization's objectives and how they fit into the bigger picture is key to instilling a sense of purpose throughout the workforce. Understanding the role that their work is playing in achieving the organization's broad objectives can have a drastic impact on overall engagement and performance. Technology plays a massive role here in communicating, tracking and measuring progress against these goals to keep everyone on the same page within the organization.
It's sometimes hard to see it in the moment, but with change comes opportunity. By putting people at the center of the overall business strategy, manufacturers can build an inspired and engaged workforce designed to embrace uncertainty and change. As the past year has proven, this is no longer a nice to have – it's a strategic imperative that will make or break the advancement of the sector for years to come.