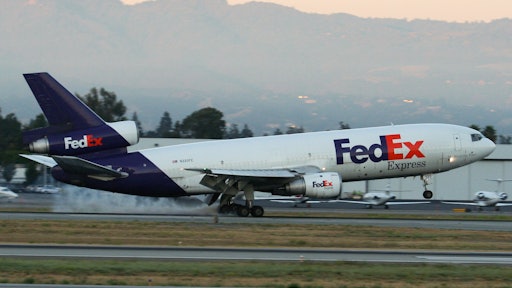 The holiday season is quickly approaching and as the labor shortage continues to grow companies are looking for ways to maintain their retirement-age employees.
FedEx Corp. is offering bonuses of $40,000 to potentially as much as $110,000 to retirement-age pilots in order to keep them flying into the next year, Reuters reports. The bonuses reveal that air-delivery is currently feeling a strain as e-commerce continues to rise and pilots grow older.
Any challenges that FedEx may experience in maintaining capacity has the potential to disrupt its supply chain, something that is already being destabilized by international trade tensions, Reuters reports.
Over the last two years FedEx and UPS experienced record-breaking holiday seasons. The companies plan on hiring a total of 155,000 seasonal workers during the peak season to help deliver packages. However, FedEx expects to lose about 200 of its 5,000 pilots this year as its pilots reach the federally mandated retirement age.
According to Reuters, the FedEx pilot contract was signed in late 2015 and includes a calculation that allows for bonuses of up to $110,000 per pilot. The contract explains that bonuses are calculated based on a portion of a pilot's salary of the 24 months prior to their retirement date. In order to obtain the bonus, a pilot will have to provide at least 12 month's notice of the day that they will retire.
The bonuses are just the latest attempt to maintain pilots in the growing pilot shortage. According to the International Air Transport Association, at least $17.5 billion worth of products are shipped by air every day. FedEx has recently ordered new planes this year to meet the rising demand.
If FedEx does lot a chunk of its pilots, it means that the company won't be able to fly jetlines as often and will have to move to slower options like ship or truck. In the current shortage, some companies have had to pay for costlier charter flights or reject FedEx cargo, Reuters reports.
In order to recruit new pilots, airlines have been taking to social media and paid advertising. FedEx has launched its "Purple Runway" program to bulk up its ranks and recruit college graduates with pilot licenses. The goal of the program is to ensure a full line of pilots for the company, as well as the industry.