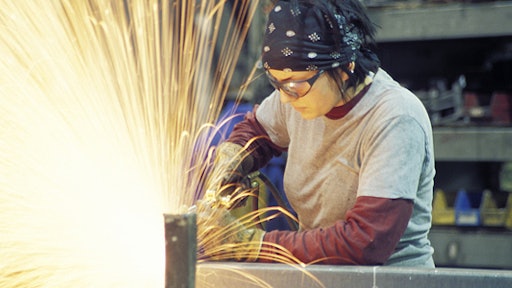 Recruiters in the manufacturing industry are struggling to maintain workers as the field continues to expand.
Discussions surrounding the recruitment issue has debated whether the problem stems from poor quality of the school system, the need to invest in job training or just general laziness in the American workforce, Forbes reports. Research shows that manufacturers are expected to create over 3 million jobs in the next 10 years, however, two million positions will go unfilled.
While hundreds of thousands positions remained unfilled, one question seems to be standing out: Why aren't manufacturers hiring more women? Despite making up 51 percent of adult population in the U.S., women currently only hold 7 percent of middle-skilled manufacturing jobs, Forbes reports. The absence of women may cause recruiters to figure out why women don't work for them and what would be the best way to get them to do so.
For years, women have faced a negative stigma surrounding them in the workplace. People claim that women aren't cut out for that type of work or that they simply just don't want to work there.
But that's not always the situation.
The #MeToo movement created a wave of women sharing their experience with sexual harassment/assault. Many detailed on harassment in the workplace, some even referencing the manufacturing space specifically.
In "Dead Mice, Stolen Tools and Lew Remarks: Coping with Harassment in Blue-Collar Jobs" article, the New York Times shared stores of more than 80 female factory workers. One women reported several instances of sexual harassment while working at a Ford Chicago factory.
"Each time that I was taking it, again and again, it just felt like more of me diminishing, just getting smaller until I was just like a shell of a person," she tells the Times.
Chicago Women in Trades reports that women face hostile and dangerous conditions in factories when they represent a small percentage of the workforce. Forbes reports that "locker room" talk and toxic masculinity is often a part of the work environment. Even though women are most likely to be targets of harassment, the likelihood of reporting the instances are small.
Employers and unions are now improving the work environment for women in factories. Forbes reports that the United Auto Workers was one of the first unions to include a clause in its contracts with Ford and Chrysler allowing members to file a grievance if sexual harassment occurs.
Ironworkers Union have agreed to provide six months paid maternity leave to help recruit more women. The company also launched a new campaign, "Be that One Guy," that aims having men make the work space safer for women for speaking out against sexual harassment.
Jobs to Move America has also launched the Women Can Build: Re-envisioning Rosie program. Images of women welding, wiring and assembling heave equipment were distributed across the country to normalize women in the manufacturing industry.
The programs have been making an impact on the industry, Forbes reports. In order to recruit women, manufacturers need to start making conditions in the workplace better. Excusing male behavior as "boys being boys" will fail to create a healthy workplace, and the best talent won't be found in the workplace.
What is important to remember is that talent is talent, regardless of how someone identifies themselves.