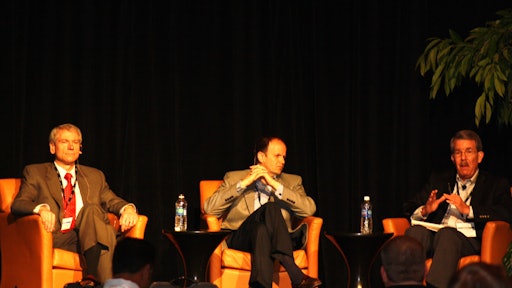 While the push-pull strategy is no secret in the supply chain, its processes are ones that executives need to pay heed to as they become more defined to meet customers specific needs. And attendees of SCOPE Spring 2012, held at the Hyatt Regency O'Hare, Chicago, got a first-class seat to technologies and processes that are necessary to put such effective management processes in place.
Defined as the movement of a product or information between two subjects, the push-pull strategy has gone beyond the 'planning everything once per year' model to industry executives planning processes suited to their specific business model and need. Businesses are not just tracking and tracing the movement of goods anymore—they are taking that data and applying it beyond the spreadsheet and pie chart format to refresh their processes multiple times per year to keep pace with market and customer demand.
"Now, businesses need to define which customers they want to serve more and how to hit those replenishment times successfully," explained Matt Tichon, Head of Supply Chain, Clariant Corp., Muttenz, Switzerland. "As the scope of business processes narrow, it is essential to put together score cards and statistics to use internally," one of the biggest inputs in the S&OP process. "Instead of us coming to our sales & marketing team with industry data, now they are presenting that data to us and informing us what else needs to be tracked," Tichon said.
Additionally, to overcome such industry existent paradigms that also recommend not planning for anything, four steps must be adhered to in enacting an effective push-pull strategy:
Use the demand forecast in the S&OP process to condition the supply chain
Decouple production development from the forecast and MRP runs
Apply demand-pull planning to replenish inventory where possible
Operationalize the operating practices
In as a complex environment as the supply chain is, it's evident that situations will come up that businesses may not always be prepared for.
"Set aside 20 to 25 percent of your time to figure out where your supply chain needs to go and find out how to deal with those future issues," said Scott Mason, in the morning's keynote session. Alongside key industry executives Steve Sigrist of Newell Rubbermaid and David Ecklund, The University of Tennessee, Mason, Executive Vice President, Global Supply Chain for Stepan Company discussed some of the evident processes today around forecasting & budgeting processes, change management and supply chain analytic deliverables that will drive the industry's growth—if executed effectively—in the future.
"Better business intelligence is what we are working towards right now," said Steve Sigrist, Vice President of Supply Chain and Sales Operations, Newell Rubbermaid. "Once that is fine-tuned, we can look at our financial platform with more clarity. You have to seek first to understand your buyer's score card before being understood. Then, you can alter your score card to meet what your buyer's score cards are. In supply chain, everything has to be spot on, from inventory management to production development. And tying that to total operations is the most successful succession plan of our sales staff."
David Ecklund, Director of the Executive MBA Program in Global Supply Chain Management at The University of Tennessee, agreed that a key area of importance includes the talent and staff that one brings on board a company to drive that business growth.
"At the University of Tennessee, we're consistently doing research to identify what the supply chain environment is going to look like on a global scale in the future," Ecklund explained. "And consistent in all its aspects is talent and change management. Change management is going to challenge all of us. Now, we have all these different cultural functionalities and perspectives on top of the core functionalities of our organizations that make it much more difficult to manage than in the past. To get the consistency of your business's message through in the supply chain, you have to do a good job of handling that diversity in change management now," he concluded.