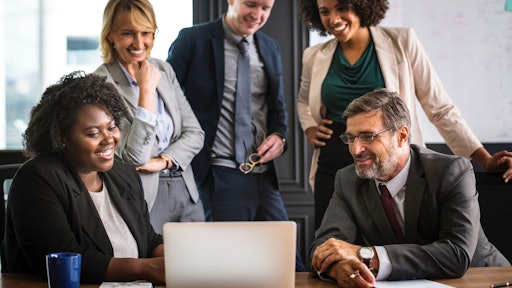 Pexels
Strategy is the pinnacle of supply chain management craft. The typical industry firm spends over half of ever dollar in sales on purchased products and services, and even more so as organizations continue to look at outsourcing as a lever for improved competitive advantage.
Michael Massetti, formerly an executive partner with Gartner, has written extensively on this topic and says the strategic partner occupies the elite position at the top of the supply base hierarchy.
Per Massetti, the strategic partnership entails a shared understanding of the following: vision & strategy, values, investment, planning & management systems, communications, risk and reward. The first two elements are the basis for "why" to have a partnership, while the remaining five characterize the "how" to manage the partnership.
While both companies must approach joint activities with a shared vision and strategy, the detailed business planning and management must also be aligned. It's vital to establish the resources involved, the milestones for the key activities, and responsibilities of both parties. Without this, partnerships can suffer from misaligned expectations - and when issues do surface - an inability to easily resolve them.
Furthermore, Massetti says a high degree of collaboration is required for supplier and customer to be mutually successful. This implies a structured and managed approach to communications and engagement across all dimensions of the relationship. Open, transparent, and strong cross-functional engagement between the partners is as important as the contractual and formal aspects of long-term performance and value contribution.
Cognitive Outsourcing Bolsters Strategic Supplier Management
"Cognitive procurement" -- the application of artificial intelligence (AI) to support buying goods and services to free up humans to handle valuable procurement functions that AI cannot manage – has been trending in the enterprise for the past few years.
Now, the same advanced technologies that made procurement smarter, more efficient and more data-driven are being used to make outsourcing relationships leaner, more profitable and more advantageous. Cognitive outsourcing is the foundation to guide this shared vision and execution for strategic supplier management.
While there is and always will be a need for humans to handle valuable procurement and outsourcing functions, the argument for deploying AI for insightful, automated cognitive outsourcing grows ever stronger. It is enabling true and effective strategic alignments between outsourcers and their contracting organizations. This improves the bottom lines of all involved, while helping to ensure that employees are performing high-value functions -- those that AI cannot manage.
Here are the major tenets of a cognitive outsourcing approach:
1. Provides Visibility on How Work is Happening within Outsourced Operations
The first premise of a cognitive outsourcing approach is that it entails active performance management.
A cognitive outsourcing framework measures and analyzes digital output generated by individual and work group activity when using technology systems and combines them with analytics that equip executives with reporting and analysis to make better decisions around work, systems and the workforce.
Using a cognitive outsourcing approach, organizations can take into account work patterns on a day-by-day, or even minute-by-minute basis. The results can reveal many areas of productivity leakage (e.g., revenue) and the insights gleaned can also support process improvement initiatives, shed light on work "waste," and provide employee engagement trends and opportunities.
2. Provides Guidance on Where to Add Automation
Outsourcing strategy and technology roadmaps must be aligned, both for the contracting organization and for the outsourcer to guide technology and automation investments; achieve business objectives and drive value.
As advances in AI, software robotics, machine learning and innovative technology platforms enable businesses to redefine processes, organizations have significant opportunity for performance and efficiency improvements.
Data-driven insights from cognitive outsourcing can play a vital role in guiding these efforts.
3. Guides Strategic Supplier Management
Cognitive outsourcing supports quantitative performance analysis with clear metrics, with transparency at both strategic and operational levels, while automating the outsourcing governance function.
Look for a solution that meets the following requirements:
Ensures accurate and automated data is captured to gain visibility into outsourced team operations
Captures data that is highly accurate and can be used to create benchmarks, SLAs and metrics to run governance
Creates a data-driven engagement and governance model
Ensures real-time visibility into activities to predict the outcome/deliverables
Links data captured back to current metrics and SLA in contracts
Frees up governance team resources to focus on increasing value from its outsourcing engagements
4. Safeguards Business Operations from Risk
Cognitive outsourcing also serves as a solid foundation for risk identification and mitigation to safeguard business activities from potential harm.
Experts advise an approach that aligns business objectives and internal and external resources, implements sound governance and controls and addresses all relevant regulatory and compliance matters.
Risk identification and mitigation must begin early in the outsourcing program lifecycle. A data-driven foundation can help organizations and their outsourcing partners work together to identify, evaluate and prioritize risks, and then implement mitigation strategies accordingly. Dashboarding can keep all parties apprised of issues in real-time.
Never before has supply chain management and procurement been more essential in the modern day enterprise. There is great opportunity to leverage cognitive outsourcing to drive value from strategic supplier relationships. Savvy supply and demand chain professionals will heed the call to be heroes in their organization by leveraging a data driven approach that drives improved outcomes.