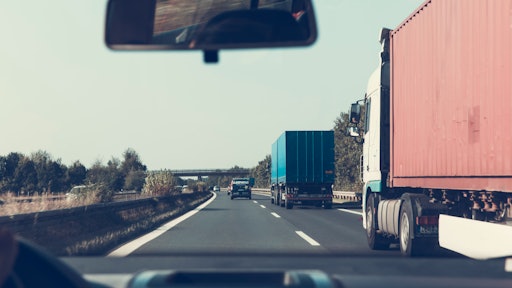 Pexels
The Federal Motor Carrier Safety Administration (FMCSA) quietly introduced a new feature to the public profiles of entities licensed with it several months ago. Since then, the pages of brokers, forwarders and carriers licensed with FMCSA have begun displaying an additional bit of information.
Any entity whose bond has been cancelled by their surety now has an inscription in red displayed at their page, informing visitors that the entity's bond or insurance has a pending cancellation. So, why does the FMCSA suddenly provide this information, and what does that mean for brokers?
Enacting MAP-21
While the FMCSA has remained quiet on the issue, it seems highly likely that this is related to its ongoing commitment to enacting the Moving Ahead for Progress in the 21st Century Act (MAP-21). So far, there has only been one previous lawmaking procedure under the Act which raised the amount of the surety bond required by freight brokers.
In September last year, the FMCSA signaled that it was preparing to draft and implement further rules under MAP-21. Back then, the FMCSA issued an advance notice of proposed rulemaking (ANPRM) and gave the public two months to comment on the areas which it will seek to regulate further. Among other things, it wanted to know if the public would like the Administration to be able to immediately suspend the authority of brokers whose bond falls beneath $75,000.
Combating Fraud
It is not yet clear whether and how the FMCSA has taken the public's comments into account, nor when it may move on to drafting rules. Yet, this new notice signals an initial, though an informal, measure of tackling what has long been exploited as a vulnerability by fraudulent actors.
Previously, it could take up to two months before the authority of an entity was revoked after the cancellation of their bond by the surety. With no public notice about such pending cancellation, this gave predatory actors who did not intend to do honest business ample time to do more damage.
Now, with a notice displayed prominently on a broker's public FMCSA Licensing and Insurance page, shippers and carriers will have at a bit of additional information when assessing possible partners.
How FMCSA's New Notice Will Impact Brokers
All in all, the introduction of this notice seems to be a welcome measure by the FMCSA. Fraud and various financial crimes have long plagued the industry but have not always been tackled with the seriousness such crimes deserve. Carriers and shippers will know at a glance if a broker's insurance and bond are intact. Of course, this is not the only factor by which anyone should be judged but it is an important one.
On the other hand, this notice will also apply to brokers who may simply be late with renewing their bond, meaning that some brokers may miss out on business if they do not renew on time.
Overall, it may be a small price to pay for the benefits of the change within the industry. So, in order to avoid unnecessary breaks or suspicion by potential business partners, brokers should strive to remain compliant and renew their insurance and bond policies in time.