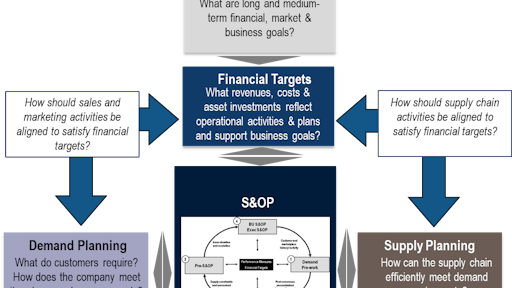 The Hackett Group
Sales and operations planning (S&OP) has become a cumbersome and complex business management process for many companies. Leading companies that have integrated strategic and financial planning with traditional S&OP into integrated business planning (IBP) programs are also frustrated by process complexities. Key indicators that determine if an S&OP or IBP program has become inefficient include:
Failure to deliver timely and insightful results to management
Loss of interest in the process among leadership
Emergence of a shadow planning process
Need for a lot of "muscle" to complete the process each month
Fortunately, there are a multitude of strategic solutions generally rooted in four key elements: simplification, analytics, automation and data quality, which we address further below.
Based on The Hackett Group's experience, we know that many supply chain, sales, marketing and finance, executives have similar questions about planning as they work to deliver profitable sales volume, such as:
How can we better synchronize and balance our demand, supply, and financial plans?
How can we improve our forecast accuracy and customer service levels?
How can we improve our understanding of the financial implications of our planning decisions?
How can we improve our working capital through enhanced planning?
How can we improve efficiencies in our planning process and reduce reactive firefighting?
To address these questions, S&OP programs emerged in the mid-1980s. At its core, S&OP is a cross-functional process involving sales, marketing, supply chain, finance, procurement and logistics that is used to develop and align time-phased demand and supply plans to support business plans. However, today's leading companies have developed IBP programs to integrate strategic and financial planning with traditional S&OP. Effective management of an IBP framework relies on the coordination of four key areas: strategic planning, demand planning, supply planning, and financial planning (Fig. 1).
Yet, even executives using leading IBP programs report their programs have become overly complex or no longer produce actionable insights. In addition to organizational complexity issues of who runs the process, who participates and who owns decision making, other internal and external factors can contribute to complicated IBP programs (Fig. 2).
Shelving a complicated IBP program is not a pragmatic solution. Instead, organizations should look for a better solution to address the question, "How do we better synchronize and balance our demand, supply, and financial plans?" Leading organizations focus on 4 key areas to address complexity (Fig. 3):
Simplification – through streamlining processes, increasing focus on what matters, and standardizing tools and templates
Analytics – through predictive analytics to improve both near-term and mid-term forecasts
Automation – through adoption of best-in-class technology to automate processes
Data quality – through improved data governance and sustained data quality
Leading organizations adopt a continuous improvement mindset with "health checks" to critically and periodically clarify roles and leadership of the IBP program as well as identify improvement opportunities across the four levers of simplification, automation, analytics and data quality. Based on Hackett's experience, this helps these organizations realize significant benefits such as:
Consistency of information across multiple views
Resource time freed up for value-added analysis to drive decisions
Improved service levels
Reduced costs
Improved working capital
When implemented effectively and run efficiently, IBP can be a powerful tool for driving significantly better business results and creating a sustainable competitive advantage in the marketplace.
Additional information is included in the longer version of this article, available here.