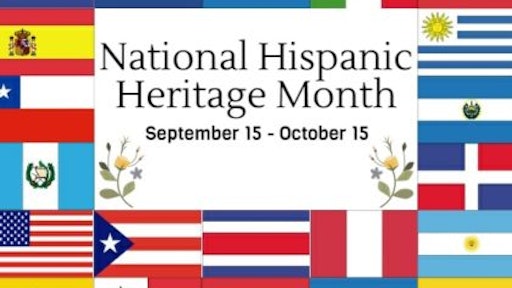 Every year, Americans observe National Hispanic Heritage Month by celebrating the histories, cultures and contributions of American citizens whose ancestors came from Spain, Mexico, the Caribbean and Central and South America. What began in 1968 as Hispanic Heritage Week under President Lyndon Johnson was expanded by President Ronald Reagan in 1988 to cover a 30-day period starting on Sept. 15 and ending on Oct. 15.
Enacted into law in 1988, Sept. 15 is significant because it is the anniversary of independence for Latin American countries Costa Rica, El Salvador, Guatemala, Honduras and Nicaragua. In addition, Mexico and Chile celebrate their independence days on Sept. 16 and Sept. 18, respectively. Columbus Day—or Día de la Raza—is Oct. 12 and also falls within this 30-day period.
An important month for DB Schenker's team members, leaders, business partners and customers, National Hispanic Heritage Month is a great time to continue integrating diversity into your business, promote cross-cultural comprehension and focus on building out a diverse base of suppliers. Here are five Hispanic women who go above and beyond to make DB Schenker great.
Setting Positive Examples Every Day
When Mabel Rodriguez's parents emigrated from Cuba to the United States in 1962, they brought with them a strong work ethic and a determination to succeed in their new country. They passed this commitment along to their daughter, who today serves as a branch manager for DB Schenker in Miami, Orlando and Puerto Rico.
As a wife, mother and daughter, Rodriguez works to balance her busy career with her many personal responsibilities.
"I set a positive example for my daughter in terms of achieving professional goals," she says. "Physical fitness is also an integral part of my day, which normally ends at about 11 p.m."
At DB Schenker, Rodriguez manages the international import and export departments for three branches. Her typical day includes conference calls, staff and customer meetings, and managing the day-to-day facilities operations. For Rodriguez, maintaining a flexible schedule is important as unexpected operational circumstances arise frequently.
Rodriguez says DB Schenker is committed to promoting a diverse work environment, and points out that Hispanic women are seen in all levels of the organization, including on its senior management team. She sees National Hispanic Heritage Month as a great time to celebrate that diversity.
"Many of us look back to our parents' struggle, as they came to the U.S. to start new lives and to provide promising futures for their children," Rodriguez says. "To me, this is the true Hispanic Heritage Celebration."
Living Her Hispanic Heritage
As head of DB Schenker's industrial and automotive vertical markets in the Americas, Monica Franco reports directly to the firm's chief commercial officer. Based in Miami, she joined the company after working for two different logistics firms over a 20-year period. An industrial and systems engineer by trade, Franco started her logistics career as a consultant.
Franco, who manages two important customer vertical markets for DB Schenker in the Americas, says her role is to ensure that top customers get the services and support that they need on a daily basis. "I have a team of global, regional (Americas) and country account managers who are assigned to a portfolio of accounts," says Franco. "Hence, I ensure the team has everything it needs to be able to achieve their sales objectives and those of the company overall."
When Franco first joined DB Schenker in January, she heard COO Ewald Kaiser speak in a town-hall forum about the Americas not being a "construction site," but rather a region that has contributed to the overall organization well and continues to be a great potential. "I truly appreciated that; it motivated me to continue to drive growth and excellence in a region I hold very close to my heart," says Franco, who is a first generation American of Colombian descent.
A Great Place to Work
She's lived most of her adult life in the United States, but Corina Soriano also has strong ties to the Dominican Republic, where both of her parents were born and raised. Before joining DB Schenker, Soriano had the opportunity to return to the Dominican Republic and work in her parents' home country, which not only allowed her to return to her roots, but to also truly understand and embrace her family's culture.
As head of CoE Global Employment Conditions at Schenker Americas Inc., Soriano has also lived in Puerto Rico—yet another island that is rich with Hispanic culture. "Those two different cultures had a strong influence on my Hispanic heritage," says Soriano, who credits her diverse upbringing with helping her advance her career.
"I think that having such a diverse upbringing and cultural background opened the doors for many global job opportunities and allows me to adapt to and understand a multitude of cultures," says Soriano, who has worked in Europe, the United States and the Caribbean. "This opened the doors and laid the foundation to my success at DB Schenker, where I've not only been given the chance to grow, but to also lead, mentor and guide a very diverse team that includes numerous other Hispanic women."
A Great Place to Work
With 25 years of experience in human resources, Marta Ramirez brought her expertise and knowledge to DB Schenker about 2 1/2 years ago. As chief human resources officer of region Americas, she leads and supports the HR function for DB Schenker's operations in 10 different countries. Of Cuban descent, Ramirez is "first and foremost" a wife and a mother whose responsibilities include caring for her family, ensuring its comfort and creating an environment where its members perform well both as a family unit and as individuals.
Ramirez takes that same level of responsibility into the workforce, where she is the first Hispanic woman to serve on the Americas senior management team.
"Hispanic women in the logistics world have the opportunity to embrace diversity in several fronts. The Hispanic heritage of bringing traits from the rich cultural background, diverse history and the emancipation of women's rights allows women like me to be inspired to succeed and serve as role models for this generation," Ramirez explains.
According to Ramirez, DB Schenker is also focused on helping women advance and succeed in their careers. "Given the complexities that a woman may encounter raising a family and also dedicating many hours of the day toward a job," says Ramirez, "DB Schenker provides an environment in which women can have the opportunity to succeed and prosper."
Making Time for Cafecitos
As DB Schenker's senior director of finance, Americas, Monica Hallon O'Brien puts in long hours and works many weekends, but says the extra effort is well worth it. "My group is absolutely fabulous," says Hallon O'Brien, whose team supports the strategies and goals of the senior management team. A wife and a mother of two college-aged children, Hallon O'Brien was born in Ecuador. The youngest of nine children, she was raised in a family-oriented and "very Latin environment," she says. "Hispanic culture places a strong value on ethics and family. I am part of a 90+ member family."
Those family members love to get together, socialize, dance and dine. "My family's go-to get-together is called a 'cafecito,'" says Hallon O'Brien. "Latins are smart, passionate, hardworking, fearless and fun-loving people. So even with busy lives, we always make time for these quick, casual get-togethers, which give us an opportunity to get together and bond."