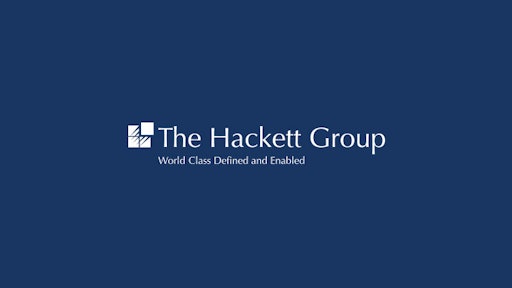 Is the timing right to consider centralizing global supply chain and commercial processes? While traditional global business services (GBS) typically comprise back-office processes such as finance and human resources, supply chain and commercial processes have emerged as GBS candidates to improve operational efficiency and effectiveness.
According to The Hackett Group's 2017 GBS Performance Study, supply chain and commercial processes, such as order management and customer service, direct procurement, supply chain planning, manufacturing and logistics, are new areas of focus for value creation and cost reduction through centralization. Companies are adding these and other selected commercial activities (e.g., in marketing and sales) to their GBS scope and anticipate continued expansion over the next two to three years (Figure 1).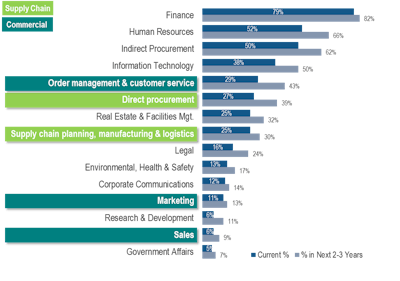 Leading companies are realizing benefits from centralizing activities once considered off-limits due to their criticality to the local market or business unit. The addition of knowledge-based and customer-centric supply chain and commercial processes into GBS operations not only offers companies a new way to leverage their existing GBS infrastructure, capabilities, and experience, but also has potential top-line value associated with customer engagement.
Twenty-five percent of companies surveyed have already incorporated aspects of supply chain into their GBS. Among those companies, approximately 60 percent of requisition/PO processing and supply data management FTEs reside in the GBS, as well as 40 percent of inventory management, distribution planning, manufacturing strategy, inbound and outbound transportation management, and reverse logistics FTEs (Figure 2).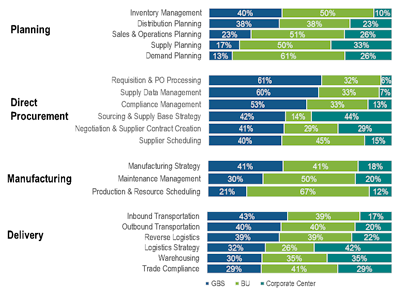 With respect to commercial processes, 29 percent of companies surveyed indicated use of GBS operations, either regionally or in one centralized global location, to perform order management and customer service activities. While traditional call centers are not new to the GBS, more value-added and knowledge-based aspects of order management, customer inquiry management, contract management, quality/service assurance, customer master data management, and complaints and returns management are now part of the GBS scope. Centralization of these processes is expected to expand to 43 percent over the next two to three years. While still limited, companies are also centralizing selected marketing services and sales operations processes.
Organization Design Considerations
Enterprise-wide supply chain and commercial models have companies rethinking organization design, and many are creating elevated, global roles rather than business-unit-specific or geography-specific roles, to drive efficiencies and increased collaboration.
The 2017 survey showed that while delivery of selected supply chain and commercial activities is being transferred to the GBS, control remains with global function heads (Figure 3).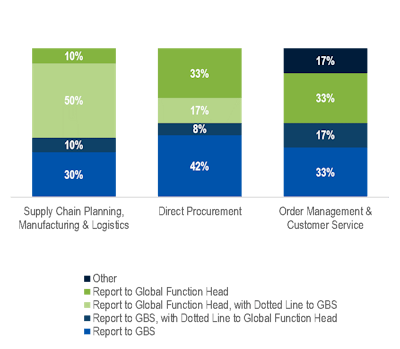 Digital Technology Considerations
How is digital transformation facilitating GBS delivery of supply chain and commercial processes? Results from the Hackett's 2017 survey indicated broad-based adoption of supply chain technologies for transportation and warehouse management, spend analysis, e-procurement, inventory management, and materials requirement planning, with significant expansion planned over the next two to three years (Figure 4).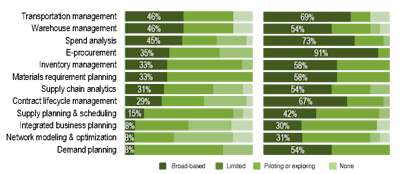 On the commercial side, companies indicated broad-based use of order management, contact center management and customer relationship management systems. While a limited number of sales and marketing technologies are in use today, usage is expected to increase dramatically over the next two to three years, particularly in sales force management, web analytics, social media management, and pricing analytics.
Benefits
The benefits of GBS are significant, including operating cost reductions, increased effectiveness and efficiency, and enhanced controls. In The Hackett Group's experience, initial operating cost reductions can be 20 percent or higher, depending on functional area, location, degree of current decentralization and other factors. According to the Hackett's 2017 survey, world-class GBS operations achieve 10 percent year-on-year cost reductions and 8 percent year-on-year productivity improvements (Figure 5).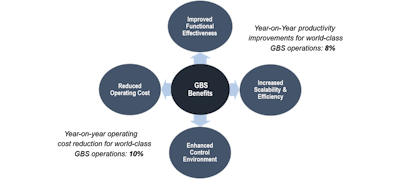 Conclusion
While overcoming traditional ideas about what activities can and cannot be centralized in a GBS may be challenging, the rewards can be substantial. Companies on the cutting edge of the trend towards centralizing supply chain and commercial activities are already seeing these benefits. They recognize there is no "one-size-fits-all" approach given the diversity of supply networks and requirements of different customer segments across industries, and that a tailored design and implementation approach is required to develop a successful GBS operation.
In the next few years, we expect more companies to add supply chain and commercial activities to their GBS scope, not only to reduce costs, but also to improve operational performance, customer service and agility.
Companies in this article