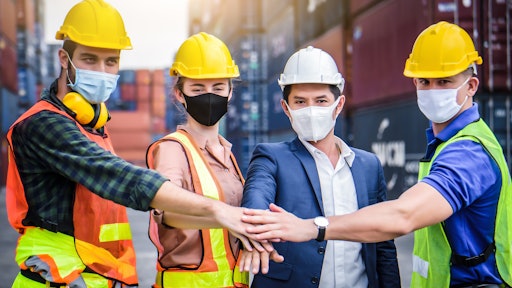 totojang1977/stock.adobe.com
Everyone knows the global pandemic has only expedited supply chain issues, not deliveries, much to the disappointment of supply chain leaders. But the struggle hasn't stopped there. Alongside COVID-19 disruptions, we have seen waves of social and political unrest. And this has put new pressure on businesses to create an environment reflective of the changes people are fighting for. In fact, according to Oracle's No Planet B study, 93% of people worldwide believe sustainability and social initiatives like Environmental, Social, and Governance (ESG) are more important now than ever before.
With ESG becoming a higher priority for investors, stakeholders, and consumers alike, there's renewed demand for transparency into corporate diversity, equity & inclusion (DEI) initiatives. And this heightened emphasis on DEI is not lost on supply chain leaders, with many I've talked to making it a clear priority. However, according to a supply chain DEI survey from Gartner and Association for Supply Chain Management (ASCM), only 40% of businesses are creating specific supply chain DEI initiatives.
Clearly, that leaves plenty of room for growth. But it must be done right. Businesses should remember that DEI are interrelated concepts that must exist as a unit. Putting power behind one and not the others will create glaring retention issues, which is costly amidst the rising war for talent and the current – and growing – labor shortage in the supply chain. And this mistake can create a critical blow to an organization's ESG metrics.
But the benefits of DEI in the supply chain are far greater than having great metrics. More diversity in the industry can help organizations navigate the continuous wave of new challenges. I believe the supply chain industry needs a fresh influx of talent, and leaders should cast their nets far and wide. Here are the top reasons why:
The industry is ripe for recruiting
The Great Resignation captured the zeitgeist of the workforce, who were leaving in droves because employers were not meeting their standards or expectations. Luckily for the supply chain industry, the ASCM 2022 Supply Chain Salary and Career Report found that supply chain incomes increased, turnover remained steady, and job satisfaction increased. With the relentless supply chain disruptions, industry leaders are stepping on the gas to keep their workforce satisfied. This gives the supply chain industry a considerable advantage in a competitive market to recruit a diverse workforce.
Additionally, the industry overall is becoming more and more digital-first. Innovation around supply chain technology is evolving daily, providing a massive opportunity for incoming generations to thrive. The supply chain industry is no longer what many have primarily perceived as labor driven and set in disorganized warehouses or massive transportation facilities. The influx of technology has made it an ideal setting for younger generations like Gen Z and millennials. They want to work with emerging technology like AI, machine learning, blockchain, drones and more.
We need more women and POC in leadership positions
While a diverse workforce is key to keeping up with the pace of innovation, it's not happening at all levels. According to the Gartner and ASCM 2021 DEI study, people of color (POC) only made up 30% of the supply chain workforce in Europe and North America, and only 9% occupied VP roles. Additionally, POC in managerial or supervisory positions only made up 17% and was more represented in logistics as warehouse workers or truck drivers.
And while women are faring a little better, with 21% occupying VP and senior director level roles, this is still a dip from 2021, according to Gartner. The benefits of a diversified workforce are negated if it's not reflected up the entire ladder. Upper management and senior-level roles have a significant influence on supply chain innovation, and that's where diversity work is needed most.
When diversity is balanced across the supply chain and at every level, it creates a culture of agile leadership, creative teams, and equitable collaboration.
There's vast opportunity beyond in-house talent
One of the biggest supply chain challenges today is that shortages are popping up everywhere. Every day it seems like another thing is off the shelves, from graduation caps to baby formula to sriracha. As a result, many organizations are looking to diversify their supplier relationships – which could be an opportunity to find new sources, such as minority-owned businesses.
Organizations such as National Minority Supplier Development Council (NMSDC) connect businesses to minority-owned suppliers, quickly boosting the supply chain influence of marginal groups. Tapping into diverse suppliers provides multiple channels to procure goods and services that are not at the mercy of geopolitical conflict or a global pandemic. And having diverse suppliers closer to home can also mean more agility to meet rising customer demand.
The only way to go is up
If supply chain leaders want to proactively contend with the industry's challenges, they must ensure there is no stifled flow of ideas and perspectives. There's so much opportunity to be seen in this industry, and it's ripe for growth and innovation. But technology innovation goes nowhere without diverse human insight. We must continue to recognize that within diverse talent, we will find minds who continually challenge the limits and application of supply chain technology. The future of the supply chain could be great, but we first need to invest in the right people to get us there.