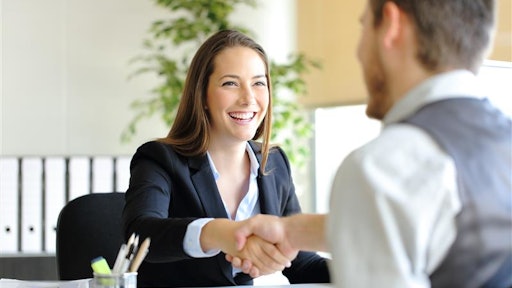 Antonioguillem/stock.adobe.com
With warehouse and transport companies around the world facing dire workforce shortage challenges, it's clear a fresh approach is needed to attract and retain staff.
Employers in the industry must ask themselves how they can empower their current staff to achieve more and how they can appeal to the workers they need to maintain and grow their operation into the future.
The American Trucking Associations warn the current driver shortage in the US has risen to 80,000 – an all-time high for the industry. About 23,000 truck driver jobs also need to be filled in Canada, according to a report by Trucking HR.
The trend is hitting our industry at a global scale, and the Australian Industry Standards raised the alarm over how the transport and logistics industry is competing with more high profile industries for workforce talent.
As supply chain demand continues to surge, solutions to workforce challenges have never been more urgent.
Hardware and software development may offer a two-fold solution. Technological advancements in the logistics industry offer a range of tools to increase capacity and services for faster and more accurate workflows. However, we are now also seeing enhanced software and systems as a way to increase worker satisfaction and retention.
Logistics businesses are increasingly turning to software to help carry out a range of tasks, from route optimisation to tracking, data entry and communications.
Cloud-based warehouse and transport management systems not only enhance a business's existing workforce and infrastructure, it can even give companies a key hiring edge in a hypercompetitive jobs market by making workloads easier and more enjoyable.
Job satisfaction is crucial to retaining employees and preventing them from looking at what else is out there in other industries. Lost order or delivery paperwork, picking mistakes, inaccurate labelling, or incomplete consignment lists can cause confusion, require duplication of work, or result in missed revenue.
However, with the right logistics management software, job satisfaction can be lifted by making the day-to-day tasks of working in the industry easier and more fulfilling.
Simplified operations + greater efficiency = more hiring
Logistics businesses, particularly in North America and Canada, are facing severe competition to hire staff in key positions, and it all doesn't come down to wages.
A Gen Z worker with multiple job offers may be more likely to choose an employee that has invested more in technology because they are keenly aware of the impact it can have on their job. After all, the digital world is second nature to millennials and Gen Z.
There are many ways investment in technology can overhaul how workers in the industry get their jobs done.
Consider this; a transport management system can allow drivers to easily scan items to check off from their run sheet, optimize their delivery route, and send an ETA text message to each delivery point before arrival. This can have a huge impact on how smooth and efficient their operations are.
Technology can empower drivers to easily confirm the correct freight, optimize their route depending on a preferred start or end location and for the fastest completion, and know the customer has their time of expected arrival so they can be ready when they arrive.
Warehouse management systems enable staff to optimize picking by wave pick or use replenishment, and with barcode scanning, they can easily identify the correct location and item in a fragment of the time it would take to search rows and boxes.
Admin teams can seamlessly input incoming orders through seamless software integrations, allowing them to manage customer details, orders, and invoicing with ease, from one single location.
New era of logistics requires new approach to hiring
Logistics businesses have overcome increasing demand, global disruptions to supply chains and soaring customer expectations.
On top of these challenges, many companies are struggling to find and attract younger generations to logistics roles, resulting in a global workforce shortage.
In this environment, investing in the technology systems must be a priority for any logistics business seeking to grow and prosper.
Big conglomerates may have the means to implement automated warehouses with state-of-the-art robotics for inventory management, picking and packing — or, to investigate driverless vehicles and drone technology for delivery.
However, small and medium businesses can still invest in technology without forking out huge sums for robots and drones.
Software can do the heavy lifting in terms of data management and provide staff with optimized workflows to enhance efficiencies.
On the other hand, businesses will fall behind and lose staff if they continue to rely on manual processes.
The logistics industry has changed and businesses must change with it. The future of their business and workforce depends on it.