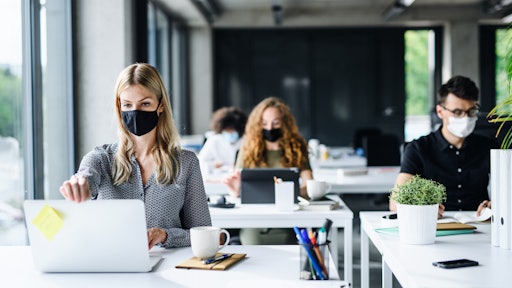 Halfpoint - stock.adobe.com
As vaccination rates increase and the economy continues to ramp up, supply and demand chain leadership continues to explore how to balance on-site staff with their virtual colleagues. Hybrid workplaces are rapidly taking shape and are well-suited for logistics and manufacturing operations. Executives and managers in the supply chain industry will need to quickly evolve to lead effectively in the hybrid workplace.
One emerging nuance of the hybrid workplace model is ensuring that both on-site and remote employees have what they need to succeed. Access to tools and resources for hybrid employees is a potential blind spot for management, and it could be detrimental to the corporate culture and bottom line. To lead a balanced workforce of in-person and remote employees, leadership should prioritize comparable access to perks, resources and training across departments. If the balance between in-person and remote staff is not addressed from the start or corrected, workers can quickly feel excluded and disengaged.
Below are a few actions to help ensure a more successful transition to the hybrid workplace model:
Evaluate and adapt
When deciding if employees will be on site or in person, company leadership needs to gather and evaluate employee feedback regarding the physical workplace. Input should be solicited across departments to get a complete understanding of employees' attitudes toward returning to the workplace. This phase should consider each employee, where they work and how often their physical presence may be required in the workplace. These factors can help leadership determine which employees and teams are best suited to remain virtual.
It is important to keep in mind that the plans that are put in place while implementing a hybrid workplace model will change. Leaders may consider a tiered approach to the plan that leads to all employees eventually working on site. However, all plans must remain flexible during the transition as situations remain in flux during the Coronavirus disease (COVID-19) vaccine rollout.
Communicate a clear vision
As businesses transition to the hybrid workplace, staff may be uneasy with the change, so communication is critical throughout the process to create and sustain an effective work environment. Executive teams and frontline managers should work in tandem to clearly communicate any policy updates and expectations due to the new work arrangements.
Listening to employees and acting on feedback during the transition will help with engagement. Also, regular conversations with staff can help determine how satisfied they are with the new work model and how it may help or hinder their productivity. While working remotely might not be new to distributed field service and sales teams, other employees may require more guidance. Managers may consider setting weekly check-ins with individual employees or teams to stay in touch.
Boost employee visibility
Some workplaces may have more remote workers than on-site staff; this can lead to a lack of visibility. Frontline managers remain in the best position to boost remote employee visibility by creating opportunities for them to become more engaged. Examples include championing the successes of remote employees and including them in the shared decision-making process. For some supply chain operations, it may make sense to explore expanding the leadership team to designate or hire a head of remote work, which is a new position that emerged as a result of the pandemic to specialize in challenges like remote employee visibility.
Ensure comparable access
No matter if someone is working in-person or remote, leaders need to confirm that everyone has the resources needed to work productively. This can include extending the same benefits, access to basic office supplies, and training and development opportunities. For supply chain leadership, that means exploring what additional tools or resources are needed for those working from home so they have the same access as their in-person counterparts. Online training programs, for example, offer the same experience to both in-person and remote employees, likely minimizing any perception of preferential treatment.
Update workplace policies
As the supply chain industry continues to evolve, workplace policies should as well. Policies put in place before the hybrid model may no longer apply. Businesses should update and establish new policies that reflect the remote and in-person work changes. A few policies that may need refreshing include technology, office hours, virtual management and dress code.
Lead with compassion
Executives should practice leading with empathy and compassion as they guide their employees through the changing workplace. There is a learning curve when it comes to implementing any new program, and the fair and objective treatment for in-person and remote workers is critical. Even as vaccines are becoming more readily available, employees are still navigating childcare issues, health concerns and work obligations, to name a few. Leaders should offer support to employees and be mindful of the new challenges a hybrid workplace brings.
While it may take time to adjust, leadership can steadily learn from the hybrid workplace.
This is the ideal time to develop and build a workplace model flexible enough to continue to evolve, while also providing all employees what they need to be productive. The result is potential business growth and increased employee morale.