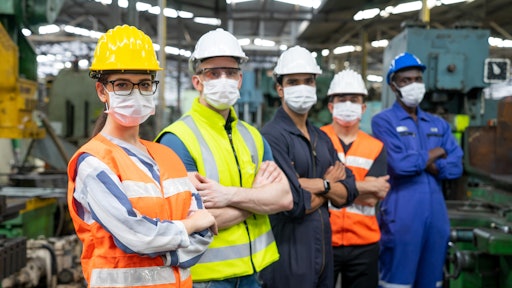 godji10
On the go and don't have time to read the article? Click here to listen instead!
Diversity, inclusion and equality are terms we hear all the time, and to some, they can be polarizing words. But they shouldn't be.
As we come to the end of February, the LINK podcast's diversity, inclusion and equality month also comes to an end and I've learned quite a bit. As a white, hetero female, it was a little nerve wracking to try and tackle these issues for so many reasons but mostly because I wanted to be sure to do the subject justice.
Throughout the series, I've learned that growth and intention are important terms here. The supply chain continues to grow and evolve, and businesses as a whole are more accepting. Professor Terry Esper said to me, when it comes to diversity and inclusion, intention means a lot. It's all about respect.
I don't want to take away from the humanity of these issues, but it is extremely important to note that when it comes to inclusion in the workplace, it is the right business decision. In every conversation I had, each expert detailed how having a diverse workforce helps increase productivity and leads to better decision making. The supply chain is an essential business, a fact that the COVID-19 pandemic made abundantly clear, but we also still have a labor shortage. Now is the time to work together for an efficient supply chain, being inclusive is one way to get there.
For those wondering how to be more inclusive, it starts with the basics. To help workers with disabilities, it is easier than ever to make a truly accessible work environment through the use of technology. And, technology throughout the logistics industry is making it safer for women to enter the delivery and trucking industry.
Another important basic is providing a wide range of healthcare benefits including trans-inclusive healthcare. This can make a huge difference for individuals in their lives, beyond just their work life. From there, it is important to foster a healthy culture within each company and industry so that everyone feels welcomed.
There is still room for growth, but it really puts a smile on my face to hear how far we have come. The Human Rights Campaign even found that many LGBTQ individuals feel more comfortable coming out in the workplace before their personal lives, which is a testament to the work culture we are creating.
For the trucking industry specifically, I am excited to know that there has been a surge of female drivers, which comes from a growth in female leadership. However, the supply chain still needs to focus on bringing a diverse group of leaders into the fold, which can help drastically in decision-making and culture. This is one area that still lacks in the supply chain.
At the end of the day, this is not a political decision it's an economical discussion. We need a diverse set of eyes to make the right decisions moving forward. Don't be afraid to have these conversations, because that is how progress is made. These conversations can be tough because they are very emotional, but it is how we move forward.
In conclusion, I wish I could bake a cake filled with rainbows and smiles and everyone would eat and be happy. I, for one, am happy in my supply chain family. And I encourage all of you to spread happiness, inclusion and love!