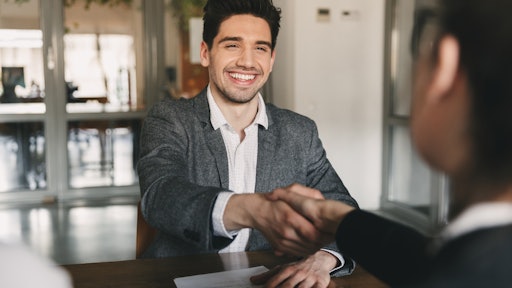 Drobot Dean
Ports Association Hires Membership, Public Affairs Executives
The American Association of Port Authorities (AAPA)—the unified and recognized voice of seaports in the Americas—announced it has hired two new senior staff members to fill positions of two long-time senior staff who will soon be retiring. Paula Gonzalez, previously the global membership manager for the Produce Marketing Association (PMA) in Newark, Del., began her new position as AAPA's senior manager of membership recruitment on Dec. 7. She will replace Ed O'Connell, AAPA's membership services director, who began his tenure with the association in 1997 and will retire at the end of 2020.
Jennifer Wilk, currently the public affairs and development director for the Passenger Vessel Association (PVA) in Alexandria, Va., will join AAPA on Jan. 11, replacing Aaron Ellis, the association's public affairs director since 2004, who will retire in late January.
NTG promotes Drew Herpich to Chief Commercial Officer
Nolan Transportation Group (NTG) recently promoted Drew Herpich to Chief Commercial Officer (CCO). This new position is part of a strategic reorganization at NTG. Drew will now lead NTG's carrier department, enterprise strategy and operational services moving forward. Drew arrived at NTG in July 2020 to serve as executive vice president, enterprise strategy. Prior to that, he spent 13 years with Coyote Logistics.
AIG Announces Executive Promotions
American International Group, Inc. announced that Lucy Fato, executive vice president & general counsel, has taken on additional responsibilities in the newly created position global head of communications and government affairs.
In her expanded role, Fato has assumed responsibility for global communications in addition to the government relations and public policy group, which she has overseen since May.
Bed Bath & Beyond Inc. Hires Retail Veteran John Welling
John Welling will be responsible for helping lead the transformation of Bed Bath & Beyond's inventory planning and replenishment strategy, a core pillar in the company's strategic growth plan. This includes implementing enhanced merchandising processes and inventory systems to improve in-stock levels and turn times, end to end inventory management capabilities, product life cycle management, reporting tools and regional merchandising activities. In addition, John will oversee the evolution of space and assortment planning to optimize merchandise in store, ensure a more consistent, high-quality customer experience, and support the recently announced store remodel program which includes investments of approximately $250 million over the next three years.
Institute of International Container Lessors Announces New President in 2021
The Institute of International Container Lessors (IICL) announces that Dennis Lombardi will become president of the association, effective Jan. 1, 2021. Lombardi replaces Steven R. Blust, who will be retiring from his role as president, but will stay on with IICL as a senior advisor. An industry veteran, Lombardi spent most of his 40-year career in various roles at the Port Authority of NY/NJ, including serving as the deputy director, port commerce, where he ran day-to-day operations for the department, negotiating, overseeing and advocating for extensive capital investments.
CSX Promotes Arthur Adams to Senior Sales VP
CSX Corp. announced that Arthur Adams has been promoted to senior vice president of sales, effective immediately. Adams will continue to report to Mark Wallace and maintain responsibilities for all sales portfolios within agriculture and food, chemicals, fertilizers, paper and forest, metals, and minerals, as well as leading customer engagement and TRANSFLO. Since joining CSX in 2007 with experience in the retail and healthcare sectors, Adams has helped strengthen CSX's market position and customer relationships.
Davies Turner names new head of ocean freight services
Davies Turner has promoted Tony Cole to head of ocean to lead on its ocean freight forwarding services, building on his previous positions within the company.
Cole replaces existing Head of Ocean, Kieron Larkin who is to lead a strategic review of the company's computer systems and software that will underpin all its freight forwarding services. Cole joined Davies Turner in 1990 as ocean import manager and subsequent positions have also seen him head up the company's Far East ocean freight trade lanes.
Atlas Technology Group Appoints Mark Samuels as President
Consumer goods and retail veteran Mark Samuels has joined Atlas Technology Group, a leading technology company that provides data analytics and insights to many of the world's largest consumer goods companies, as president. Samuels will lead Atlas Technology Group, an Advantage Digital Commerce agency, supporting the agency's mission of providing consumer goods companies with timely, actionable insights to make better business decisions to increase sales in physical stores and on digital retail sites.
Corcentric Appoints CRO to Accelerate Global Growth
Corcentric, a provider of business spend management and revenue management software and services, announced the appointment of Fredrick "Fritz" Smith as chief revenue officer. In the newly established role, Smith will serve as the strategic leader for the company's global sales strategy.
Reporting directly to Matt Clark, president and COO, Fritz will drive sales performance through the development of a skilled and united team worldwide. He is a recognized sales leader with over 25 years of experience in the technology industry with a track record of leading and motivating high performing sales teams and driving consistent revenue growth.
Delivery Drivers, Inc. Hires Three Seasoned Executives to their Leadership Team
Delivery Drivers, Inc. (DDI), the nation's leading provider of HR services for 1099 independent contract drivers specializing in last-mile delivery, announced three executive new hires in the fourth quarter as its business continues to rapidly grow across the U.S.
Daniel Weinfurter joins DDI as the company's new chief operating officer, bringing with him nearly three decades of experience helping companies achieve rapid organizational growth.
John Healy comes aboard as DDI's new vice president of sales where he will oversee the company's national sales strategy, including building and scaling high-performance solutions for its four key verticals - grocery, restaurant, courier and medical delivery. Ramnath Iyer, an accomplished business technology executive who has held senior leadership roles at past employers including The Walt Disney Company, Thomson Reuters and Bank of America, will now serve as the VP of Technology responsible for enhancing DDI's technology, operations and administrative infrastructure across the U.S.
Toyota Material Handling Solutions Welcomes Jim Huffman as Systems Solutions Manager
Toyota Material Handling Solutions announced the addition of Jim Huffman to its sales team. As system solutions manager, Jim is responsible for the company's racking and shelving, systems design, and automation sales and installation efforts. Previously, Huffman worked with several well-known companies, including Sony Corporation of America, Emerson Electric, Raymond Corporation, WT Billard, and Mitsubishi Materials USA Corporation.
Companies in this article