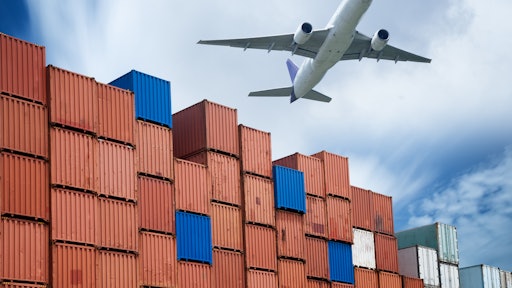 anekoho
Lululemon Names Meghan Frank Chief Financial Officer
Lululemon athletica inc. announced the promotion of Meghan Frank to chief financial officer. Frank joined lululemon in 2016, and, effective Nov. 23, will become the company's first female CFO. Frank has more than 20 years of experience within the retail industry, since April, has served as interim co-CFO, along with Alex Grieve, vice president, controller for the company. Previously, Frank held senior roles at Ross Stores and J.Crew, where she served for nearly a decade.
Logistics Executive Group is pleased to announce the appointment of Singapore based Au Kah Soon as associate director, Asia & Oceania. Kah Soon has previously worked with the company on diverse logistics, M&A and business advisory projects over the past several years. He is a seasoned finance strategist, marketing and supply chain consultant who specializes in partnering with board directors, C-level executives and entrepreneurs to grow and streamline their businesses. His appointment follows the expansion of APAC MD Dominic Rego's enhanced responsibilities to lead company's growth throughout North and South East Asia and will provide significant bench strength to their rapidly expanding global senior executive team.
IATA DG to Step Down
The International Air Transport Association (IATA) announced that Alexandre de Juniac, director general and CEO will step down from his role at the association effective March 31 2021. Robin Hayes, CEO of JetBlue is now the chair of the IATA board of governors (BoG), succeeding Carsten Spohr, Chair IATA BoG (2019-2020) and CEO of Lufthansa. Hayes will serve a term commencing immediately and ending at the conclusion of the Association's 78th Annual General Meeting to be held in 2022.
Rickard Gustafson, CEO of SAS Group will serve as chairman of the BoG from the conclusion of the 78th IATA AGM in 2022 until the conclusion of the 79th AGM in 2023, following Hayes' term. Willie Walsh, former CEO of International Airlines Group (IAG) will become IATA's 8th director general from April 1, 2021. He will succeed Alexandre de Juniac, who has led IATA since 2016 and who will step down from IATA at the end of March 2021.
Norfolk Southern Appoints Smith and Hatfield As Vice Presidents; Martínez To Retire
Norfolk Southern announced that its board of directors has appointed two new officers: John Hatfield is vice president corporate communications; Kathleen Smith is vice president business development and real estate, succeeding Robert Martínez, who is retiring from the company.
Hatfield, who will also oversee the Norfolk Southern Foundation, joins the company with more than 30 years of experience in public and community relations. He has served in senior communications leadership positions with large corporations, public relations agencies, political campaigns and elected officials. Most recently, he served as vice president of communications and community affairs for Arizona Public Service, that state's largest energy provider.
CVS Health Names Neela Montgomery President of CVS Pharmacy
CVS Health Corporation announced that Neela Montgomery has been named executive vice president and president of CVS Pharmacy/Retail, effective Nov. 30, 2020. Montgomery will oversee the company's 10,000 pharmacies across the United States. Montgomery, currently a board partner at venture capital firm Greycroft, most recently served as chief executive officer of furniture retailer Crate & Barrel and has nearly 20 years of global retail experience.
DICK'S Sporting Goods Announces Planned Leadership Succession
DICK'S Sporting Goods, Inc., the largest U.S.-based, omni-channel sporting goods retailer, announced that Edward W. Stack, chairman and chief executive officer, will assume the role of executive chairman and continue as chief merchant on Feb. 1, 2021. He also will oversee key strategic growth initiatives for the company.
J.Crew Group Appoints Libby Wadle as Chief Executive Officer
J.Crew Group announced that Libby Wadle has been named its chief executive officer, overseeing J.Crew and J.Crew Factory in addition to her current leadership responsibilities at Madewell. Jan Singer, who was previously J.Crew Group's chief executive officer responsible for the J.Crew brands, has elected to pursue other endeavors.
Soren Toft Arrives at MSC as Chief Executive Officer
MSC Mediterranean Shipping Company has announced that Soren Toft started his new role as chief executive officer on Dec. 2. He reports directly to Diego Aponte, MSC group president, and Gianluigi Aponte, founder and MSC group chairman.
In his role as CEO, Soren Toft oversees MSC's global cargo businesses including ocean liner and logistics. He will also be a member of the board of directors of Terminal Investment Ltd (TiL), the terminals business which is majority-owned by MSC. Toft joins MSC from Maersk, where he served as chief operating officer since 2013 and later as a member of the executive board.
AAPA completes staff reorganization
The American Association of Port Authorities (AAPA)—the unified and recognized voice of seaports in the Americas—has announced completion of its operating departments and key personnel reorganization, part of a top-to-bottom "modernization" of the hemispheric trade association that began late last year after the installation of Christopher J. Connor as AAPA's president and CEO. Senior staff positions now reporting directly to Connor are: membership and sponsorship vice president Meredith Martino; marketing and workforce development vice president Mary Beth Long; senior director of government relations and general counsel Cary Davis; and finance and grant administration director Maranda Jones-Anderson.
Brian Drees Named ODW Logistics Senior Director of Operational Excellence
Drees will lead ODW's continuous improvement strategy for the growing third-party logistics (3PL) company. His focus will be standardizing and refining operational systems, inventory controls, and best practices for improving operation performance to drive cost and service advantages to ODW clients. Drees has more than 25 years of management/engineering experience, with almost 20 years in distribution.
Cargo Services Supports Growing Ohio Customer Base with New Hire
Cargo Services, an Indianapolis-based freight forwarder serving clients throughout the United States, announces today it is expanding its sales efforts in Ohio to support ongoing client growth in the state. Donna Dattolo joins Cargo Services to manage the Ohio region and support new client growth. She brings over 25 years professional experience in global supply chain management, operations management and supplier/vendor management.
Companies in this article