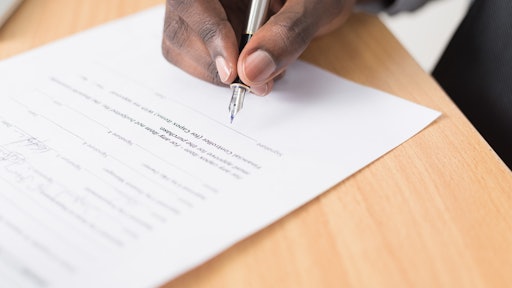 Photo by Cytonn Photography on Unsplash
A properly written contract for supply chain management is a must if you want to achieve successful cooperation. Both supplier and the vendor need to agree to all elements listed in the contract. But how do you write a contract that will cover everything and protect both parties?
In order to write better contracts as well as manage them appropriately, you need to cover some basics. The following rules will guide you through this process.
Get to know the other party
Never create or sign a contract before you do thorough research of the vendor.
Someone can present themselves as a perfect collaborator, but that can be deceiving. Reviews and references don't lie.
Do some online research about the company. Take a closer look at their website and social media. A serious vendor would invest in their online image.
Look up their reviews to see what others have to say about them.
Lastly, ask them to provide references. It is your right to have all the data before you decide to do business.
Identify the involved parties
Include detailed information about both parties. A properly written supply chain contract must specify every valuable information about all involved parties.
This means that you need to state:
Who are involved parties
Roles of involved parties
Business information about involved parties
Write everything down and provide everyone with helpful and useful information about their collaborators.
Clarify pricing strategy
Stay away from any misunderstandings by defining all the rules when it comes to pricing. This is how you make the most out of this contract and protect all parties.
Focus on the following:
Payment methods
Pricing for all included goods
Discount for large orders
Return policy
The pricing is always a sensitive matter since everyone wants the best service, but they also want to protect their budget. Discuss every possible scenario and include any additional information in the contract.
State the quantity term
When it comes to the sale of goods, the UCC (Uniform Commercial Code) requires that a quantity term must be clarified in the contract.
A quantity term must be specified if you want your contract to be valid. Contracts for the sale of goods that are over $1,000 and which don't have this term are unenforceable.
You don't need to express this term in numbers. The contract can also reference the buyer's requirements for this collaboration.
Just remember that the quantity term needs to be set in writing and signed by the party who needs to enforce it.
It can be helpful if you set a minimum and maximum purchase quantities so that neither of the parties has to face an unachievable request.
Set deadlines and time frames
Protect yourself and make sure that everyone will act professionally and keep their part of the agreement by stating strict deadlines.
If you omit this part or write it vaguely, the other party can take advantage of it.
Depending on the task, you can either state specific dates or time frames within which they need to perform the task.
This will ensure that each part of the collaboration is done in accordance with the terms of the agreement.
Agree on duration
Contracts that aren't dealing with one-time purchases need to have a stated duration.
Take into consideration:
How long do you plan to cooperate
The time frame of cooperation
The consequences of premature termination of the contract
A notice deadline for early termination
If you don't agree on duration, the contract can provide you with flexibility. However, you need to bear in mind that when it comes to supply chain, this creates less stability.
Identify risks
Risks are a regular part of the business. That doesn't mean that you shouldn't be prepared for it.
If you state in the contract potential risks and agree in advance how they will be handled, it can eliminate the disagreement during the cooperation.
Think about issues regarding political and economic climate, transportation, the scope of products, geography, and anything else that can negatively affect the effectiveness of the supply chain.
Avoid any vague statements
Clearly state and define every aspect of the contract. In case you aren't sure about a certain part of your collaboration it is better to get in touch with the other party and clarify it.
Don't make any ambiguous statements because they can easily backfire. Ask your lawyer to double-check the contract and warn you of any loopholes.
It is better to eliminate any confusions then to face some problems later on.
Lastly, double-check everything before it gets signed!
Once you have written down every part of the contract, it is time for the review.
It is crucial to read the contract carefully and thoughtfully. You may see some spelling mistakes or remember to include some additional terms.
All in all, make sure that the contract is clearly written and that nothing is overlooked. When you are certain that everything is set, it is time to sign it and make it official.
Angela Baker is a self-driven specialist who is currently working as a freelance writer at WOW Grade and SupremeDissertations writing services and is trying to improve herself and her blogging career. She is always seeking to discover new ways for personal and professional growth and is convinced that it's always important to broaden horizons.