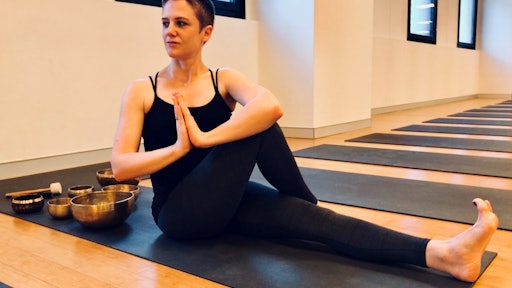 The trajectory of Tifenn Dano Kwan's career and her mastery of yoga is no coincidence, she insists. Recently promoted to chief marketing officer at SAP Ariba, Kwan's career with the company started shortly after she embraced the ancient art.
Kwan's wife, who is a yoga instructor, first introduced her to the practice as an outlet for her Type A personality. 
"I was so stressed, not loving myself so much. I looked good, but it doesn't mean that I looked healthy," she explains. "I hated yoga at first because I was an extreme sports girl. I needed the adrenaline to really keep going." (Kwan still surfs, rides motorbikes and skis.)
But as it turns out, what Kwan really needed was self-love.
"When you're doing yoga, it limits the modifications of the mind, so it's like meditation. If you practice yoga on a regular basis, it actually calms the mind, so you stop thinking about everything and you start connecting with your true self," she explains. 
That inner connection has guided her well, and as Kwan progressed in the practice, she says she began to see the world differently. "I was much more grounded, mindful. And it had a complete impact on my life and my career."
Shortly after completing a yoga teacher training class, Kwan's whole world shifted, with a new job opportunity at SAP Ariba. "I literally got my new job just after I graduated as a teacher, and there's no coincidences in life," she adds.
Since joining SAP Ariba, Kwan has also carried the lessons she's learned from yoga into the workplace. The biggest lessons learned she says are resiliency, kindness, self-love and, maybe most importantly, mindfulness.
Mindfulness is something Kwan has carried with her since day one. In her first big meeting after joining SAP Ariba, she kept very quiet, observing the body language and the dynamics of the room and speaking only when she was confident that it would add something. Afterwards her boss called her and told her they wished she would have spoken up more.
"I was mindful because I knew there were some challenges and I was the new kid on the block and hadn't earned the right to speak up," Kwan explains, adding about a month later, thanks to that early mindfulness, her department started seeing positive changes. She says she then finally was able to explain to her boss why she had been so reserved initially.
"I explained that I can be quiet and observe, and that's the way I am; I'm quite mindful. And right now it's paying off, and I'm asking you to trust me. She never again questioned my ability to get things done. And that's because of mindfulness," Kwan says.   
"If you want to get things done, you don't have to be anything else but yourself. You have to fundamentally believe in yourself even when the boss calls you out," she adds.  
Yoga has also impacted the Kwan's leadership style.
As she has excelled in her career and taken on more responsibilities, becoming accountable for more people, Kwan says it has become increasingly important to listen. She credits yoga for this breakthrough.
 "The collaboration and connection between people is the greatest asset you can have in a company, and it's the absolute worst thing that can happen when it doesn't happen well," she notes. "When people don't know how to collaborate, it's really hard. Acquiring soft skills and having an ability to listen and emphasize with people and respect their point of view is really important."
Follow Amy Wunderlin on Twitter.