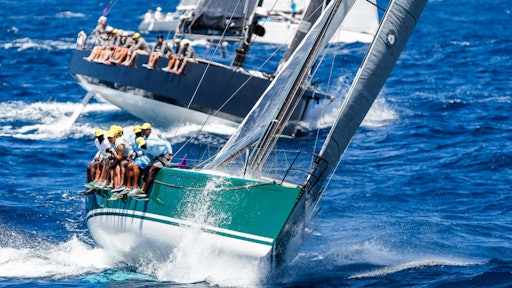 A competitive streak is no surprise in the average supply chain executive. It's a trait that carries many industry professionals to great heights of success. Yet for others, it manifests not only in the office but through personal passions.
Elemica's Product Marketing Manager David Cahn's need to compete has carried him through many seasons of life, beginning as a four-year-old Long Islander first learning to sail.
"I've been sailing since I was probably around four years old and got involved in racing not much later, because once you're in a sailboat and you see another sailboat, you tend to want to race them anyway. So racing kind of is in the competitive nature of it all," he explains.
In fact, Cahn's favorite part about yacht racing is that competitive spirit. "You want to win; you're really competitive and there's a lot of strategy involved in the race, which paths you take and which angles to take and which way the current is going. So you have to make some very key decisions as part of your strategy on how you're going to race. Sometimes you win, sometimes you lose, but at the end of the day its great fun."
A high school track star, Cahn attended college on full track scholarship, competing as a high hurdler in several state and national championships. "I've always kind of had this competitive spirit that drives me not only in my hobbies, but it also drives me at work. I'm very focused, very driven to get things done on time and achieve results," he says.
Cahn participated in his first yacht race when he was 10 years old around Connecticut on the Long Island Sound, which is a 110-mile tidal estuary of the Atlantic Ocean, lying between the eastern shores of Bronx County, New York City, southern Westchester County, and Connecticut to the north, and the north shore of Long Island, to the south.
As he got older, Cahn ventured away from the city, racing from New York to Bermuda. "After that, I fell in love with (the sport)," he recalls.
Yacht racing involves sailing yachts and larger sailboats in direct competition around a course marked by buoys or other fixed navigational devices or racing longer distances across open water from point-to-point. It can involve a series of races when buoy racing or multiple legs when point-to-point racing.
Cahn has participated in both types of races, including races from New York to London and Sydney to Hobart, New Zealand, as well as race weeks in Antigua and Bermuda. The Sydney to Hobart Yacht Race is an annual event, stretching approximately 630 nautical miles (1,170 kilometers), and is widely considered to be one of the most difficult yacht races in the world.
"There have been some horrendous stories (that come of that race). One year there was a tremendous storm," adds Cahn. "The water and the currents and the tides are pretty crazy, so that's a tough race."
Antigua Race Week features five main races, with different styles and event each day.
"During the course of the week, you'll basically have sailed all the way around the island, but each day is kind of a specific race and different kind of thing," Cahn explains.
Another annual race Cahn participates in each year is a classic yacht series in the northeast. The series starts around early summer and lasts through early fall. To participate, all boats must be older than 1960 and be made out of solid wood. In this series every boat is kind of different, so they are placed in different groups and segmented with different handicaps.
"So there are these classic, beautiful sailboats. And they race them around New York all the way up to Penobscot Bay in Maine and around Connecticut," Cahn explains.
"The people that race on those are a lot different than the people that race in my other racing. The people that race on these classic yachts are almost like a cult… like a classic car person. Everyone is there to race, but they're really there for the camaraderie and just the overall feeling," he adds.
Cahn adds that the major difference between the racers in the classic car series and races like Antigua Race Week is how they react when the gun goes off to signal the beginning of the race.
"In these classic yacht series, everyone comes to the line and the gun goes off and everyone takes pictures of each other. It's totally a different kind of feel," he says.
"It's just fun to be on those old boats and crew on those older boats. It's such a different feeling; everything is manual on them and not as automated in the way you pull up the sails and drop the sails. You don't have all the nice benefits anymore so to speak on those old classics."
On the flipside, Cahn also enjoys sailing as an escape. Each year his family rents a sailboat somewhere in the world and sails for a few weeks with one or two other couples. They've sailed throughout the Caribbean, Australia, Belize and the Mediterranean, to name a few.
"Sailing is just a passion of mine. So I like to do the yacht racing, the extreme racing, and then I like to do the pleasure cruise with the family and friends," he says.
He adds: "As we get older, I think we understand the value of the work-life balance and the value of family and what that really means in the long run. The hobbies to me have always been an escape, a brain release so to speak. You take that energy and focus and kind of say, 'alright I need to release some energy or I need to change my focus.' And so focusing on a race is a little different than focusing on getting your work done; that's a totally different kind of energy and kind of mindset. So there is a work life balance as we get older, and I think we naturally make that transition."
Follow Amy Wunderlin on Twitter.
Companies in this article