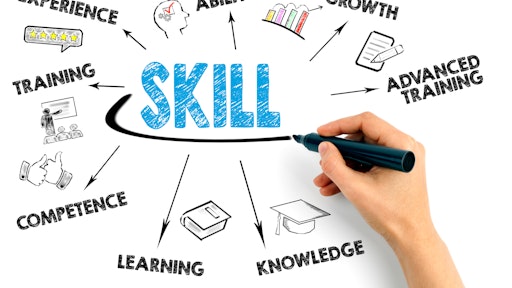 How effective is your training and development initiative? Many organizations devote a large portion of their annual budget to developing their teams, but rarely get the desired results. Those of us who work in the supply chain industry understand that budget approval is usually linked to measurement, and easy to quantify metrics tend to rule. Traditionally, employee training is measured in hours of training and course evaluations. Time spent and evaluation results are easy metrics, just like cost savings is easy for procurement staff. Organizations usually don't take the time to develop key metrics to measure the learning experiences, change in skillsets, behavior or impact of the training.
I have led and participated in training and development initiatives where the results in the classroom are great. The class is motivated and excited about the new tools and concepts; course ratings are high, and everyone feels really good. When the class participants return to their work, they may try a few of the new techniques, but soon it's business as usual. Has this ever happened to you? Measurement-wise, the time and evaluation boxes are ticked, so it was a success—right?
Think online learning is the better approach? Businesses can agonize over finding the right online program, roll it out and require that each team member complete the course. The online course system will report on course completion compliance. Unfortunately, most people have busy schedules and cram multiple modules into a short timeframe near the deadline for completion. Some extend the course over a longer time, failing to absorb the concepts because too much time has passed between sessions. The result is the same for both types of course-takers; the learning is not embedded, and the new skills are not utilized.
Face it, it's easy to spend training budget on courses, check the box for the task "deliver training," then deliver poor to mediocre performance appraisals to employees because there's little application of new skills in their job. The employee must be the problem, right? Wrong!
While procurement and supply chain training provides best practices and new tools, many organizations fail to embed the learning through a linkage to the business process. Unfortunately, over time, the learning is lost as people return to their daily routines and old processes.
What's the solution? Training supported by active project-based coaching. Here are two examples of disruptive T&D that continues to deliver high performance and results.
Case 1: A global conglomerate needed cost and value improvement by enhancing tactical and strategic procurement skills. While the initial overall program components are not unusual—human resources, procurement team and internal corporate university works with outside firm to roll-out competency assessment, online learning and instructor-led classroom training—it's the implementation of a requirement to complete an action plan for an expenditure category in their portfolio over the six months following the classroom with coaching/mentoring available by the course instructors and the individual's supervisor during this time. Action plans had to be approved by the instructor and the supervisor.
The results were astounding. The documented return on investment from the training delivered $40 for every $1 invested in the program. Besides the millions in savings and the value from innovation and other improvement, the learning was embedded and skillsets enhanced.
Case 2: A medium-sized company with four divisions was unable to get collaboration, leverage and synergy. The project focused on small category teams comprised of members from each business unit. A four-day workshop was delivered, during which tools and concepts were introduced, the teams selected projects, identified opportunities, built initial strategies and presented them to senior management.
After the workshop, the teams launched weekly conference calls with mentoring and coaching. The teams presented monthly updates to senior management. At the end of the six months, the supply base was optimized, and $64 million in cost and value improvements were achieved.
Most companies are reluctant to engage in programs like these because of complexity and the additional cost of engaging an instructor or coach for longer than a two-day course delivery. The right training provider can manage the complexity and offer a coaching program on a per person or monthly fee option that works for your budget and delivers the breakthrough you need.
Today, the employees are in an environment where they are multitasking, highly distracted and working in matrix organizations with multiple masters. They resent spending time in a training environment that provides limited value.
To be successful, training must be meaningful, provide tools and value linked to a process that will deliver results and a high return on investment (ROI).
How effective is your company's training?
Bill Michels is the CEO and founder of Aripart Consulting. He helps companies transform business strategies into maximum value, and is a leading expert in purchasing and supply chain management.