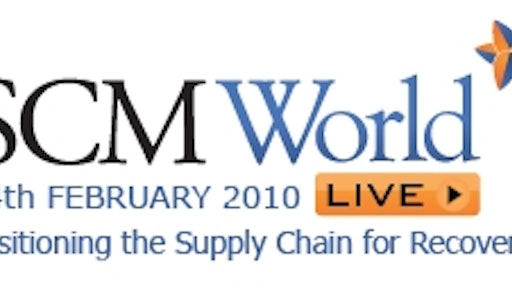 By Editorial Staff
The impact of the Great Recession is still rippling through the economy, and supply chain executives at companies around the globe are struggling to understand how to adapt their organizations' processes and practices to the new economic landscape. In a very real sense, it has never been more important for supply chain executives to listen to industry thought-leaders and their peers to gain insights into steps to take now to prepare for the upturn ahead. And yet, ironically, the recession has cut deeply into travel budgets, forcing many executives to forego attendance at the industry conferences that serve as an important source of new ideas and inspiration for new supply chain initiatives.
In this environment, the SCM World Live 2010 virtual conference offers a unique opportunity for supply chain executives to hear top thinkers in the industry and to network with leading analysts, academics and fellow participants. (Supply & Demand Chain Executive is the Platinum Media partner of the event.) Scheduled for February 24, and with over 2,000 senior supply chain, procurement and logistics executives already registered, the free event features eight presentations over the course of a day, offered live over the Internet in a Web seminar format. Travel costs: $0. Registration fee: $0. Inspiration and insights gained: Potentially priceless.
Roadmap for Transformation
Detlef Schultz, CEO of Vodafone Procurement Company, says that a key message of his presentation at SCM World Live 2010 is that far-reaching supply chain transformation is possible. Schultz should know: He led the creation of Vodafone Procurement Company, consolidating the supply management operations across the more than 25 business units that make up Vodafone, the leading international mobile communications group with more than £40 billion in annual revenues.
In his keynote address, "Vodafone's Journey to Building a World-class Supply Chain Organization," presented with Mark Woodward from E2open, Schultz will offer an approach to transformation that is both holistic and all-encompassing. "I say it is 'all-encompassing' because over a period of time we held a series of meetings with all the heads of supply chain and key supply chain personnel across all our business units. These were two-day meetings where we discussed how we would organize supply chain within the company, what the scope should be, what the value chain should look like, what the business objectives were and what the business strategy would be."
The idea, Schultz continues, was for the company's supply chain leadership to leave the meetings with a common goal and strategy, and a common roadmap for transformation. "This wasn't easy," Schultz adds. "You have to imagine that you had 100 of the 700 people [in supply chain across the company] in the same room, and you're trying to get them all on the same page." The result, however, was that the common goals that emerged ultimately were signed off on by the heads of supply chain for each business unit. These goals roll up to the overall supply chain goals, for which Schultz is responsible. "We are all going in one direction. There is a common understanding of what we're supposed to do," Schultz says.
The story of Vodafone's journey is particularly important now, Schultz adds, because it has never been more critical for procurement and supply management to be aligning more closely with senior management. "We're not talking about a simple savings journey here," he says. "You have to talk about the full transformation of the purchasing department to become a fully accredited partner to the management of the company." That transformation can be highly challenging at a large, multinational company like Vodafone, he notes, but the scale and scope of opportunities are larger, too, and supply management should be prepared to take full advantage of those opportunities.
Toward the Responsive Supply Chain
The strategic role of supply chain within the enterprise also is a theme in the closing address scheduled for the SCM World Live 2010 event, presented by Professor Hau L. Lee, of the Stanford Graduate School of Business, and John Sicard, with Kinaxis, and titled "Matching Supply and Demand with 'Sensible Sense and Responsive Response.'"
Sicard says that the topic of the presentation is crucial for supply chain executives today because more and more companies are recognizing that a responsive supply chain is becoming an imperative to compete in today's volatile marketplace. "It's a board room-level discussion. It's not a question of tactical managers and directors trying to be more responsive," he says.
Several trends are driving this imperative, as Sicard sees it, including the increasingly global and pervasive nature of outsourcing. "Many new companies start up knowing in advance that they will never build what they design — their first steps include finding a contract manufacturer," he notes. Also, product lifecycles are shrinking across most segments, and frequently the time it takes to design and market a product can be much longer than the actual sales cycle for that product. And, finally, buying behaviors are undergoing a massive transformation right now, fueled by the Internet. People simply are spending their dollars in different ways than in the past. Sicard sums up: "If you look at these trends and roll the clock forward, do you think that outsourcing is going to decrease, or product lifecycles are going to increase, or consumer buying behaviors are going to become more stable — I don't think so."
To meet the challenges of this market environment, Sicard will argue that companies have to establish a competency in responding to plan variances. The point is not to get better at planning, because ultimately the plan will always be wrong to one degree or another. "Lots of unexpected things happen every day, but not all of those events will create risk. That's why you need to monitor your supply chain and be able to identify when things occur that create risk, and then identify who can help you," Sicard says.
Engaging with the Community
SCM World Live 2010 is hosted by SCM World, the online global community for supply chain leaders. The Web-based forum, owned and operated by the U.K.'s RaptureWorld (www.raptureworld.co.uk), charges an annual fee on a corporate basis for access to online seminars "It's a great, cost-effective service for driving organizational learning and for providing materials to inform and provoke debate," says Dave Anning, director of global supply chain at the U.K.'s Smiths Medical company. "I often find that I learn something new that can be applied to the challenges faced by Smiths Medical."
Simon Barton, regional manager for Mars University Supply College in Western Europe, says that the SCM World community and the SCM World Live event offers a good opportunity for a large number of his company's supply chain staff to gain exposure to high-level content without the expense of paying for conference-related travel and registration fees. "Mars has always sent a few delegates to the major supply chain conferences in Europe and will probably continue to do so," he says. But he adds: "We have always struggled to financially justify attendance at these events, and the direct business benefit is tentative. However SCM World and SCM World Live will enable us to make those keynote speeches and thought-provoking presentations available to a much wider audience — both in terms of numbers of attendees and geographical spread — and in a very cost- and time-efficient way."
"With over 5,000 global members, and corporate subscribers including Motorola, Mars, Cadbury, Nokia, Smiths Group, Shell, GSK and Jarden, the SCM World Community is delivering real-time industry intelligence direct to the desktops of the world's supply chain community," says Oliver Sloane, CEO of SCM World. "With a speaker faculty comprised of the world's leading supply chain and procurement executives and academics, SCM World offers a hugely cost-effective way for supply chain, procurement and logistics executives to stay current with the latest thinking, without having to leave the office." ¦
More information on SCM World Live 2010 is available at
www.scmworldlive.raptureworld.co.uk/
. You can view the agenda for the event at
www.scmworldlive.raptureworld.co.uk/agenda/
.