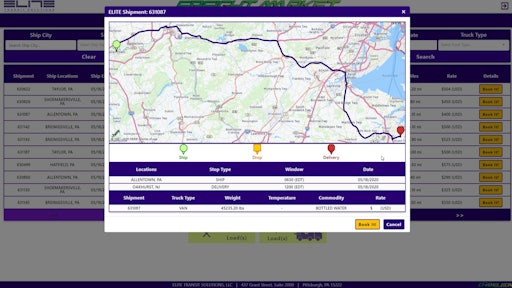 Elite Transit
Elite Transit Solutions (ELITE), a recognized leader in revolutionizing the freight management logistics industry through technology solutions, has introduced Book It, an additional automation feature for its Freight Market product. Book It provides Freight Market users with a simple, automated one-step process to reserve loads, without the need to directly contact the ELITE team so carriers can book loads even faster and more efficiently.
"With the addition of Book It, we have accomplished completion of a fully automated brokerage process. At ELITE, we are continuously evolving our Freight Market product to provide carriers with even more features and benefits that make their lives easier, said Michael D. Johnson, president and CEO of Elite Transit. "We are committed to providing carrier partners with the best technology and personal care to deliver excellence in freight management, and this latest feature gives them a new option for connecting with us to get the job done."
ELITE's clients across the food and beverage, OEM, industrial, and chemical industries also benefit from the new Book It functionality.
"As a 3PL technology leader, our product development creates additional value for clients. Our Freight Market product for carriers is one way we are able to maximize efficiencies through lower overhead, so we can keep our costs extremely competitive for our clients," notes Johnson. "The Book It features means that shipments move even faster, on-time, and more cost-effectively."