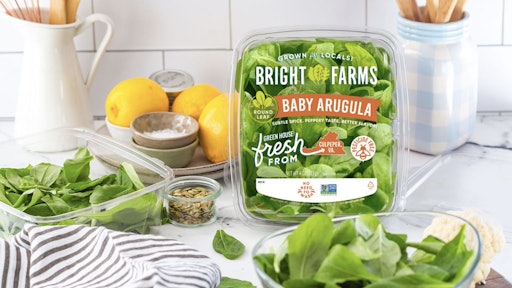 BrightFarms is expanding distribution in the Mid-Atlantic with retail partner, Ahold-Delhaize USA. The expansion will include over 330 Food Lion stores throughout the state of Virginia that will be serviced from BrightFarms' Culpeper, Virginia greenhouse.
"Food Lion is committed to providing locally sourced, fresh, healthy and affordable produce for our customers across the towns and cities we serve. We're excited about this expanded partnership with BrightFarms, which will expand our ability to deliver to our Virginia customers the high-quality, locally grown salad greens they expect from Food Lion," says Chris Dove, Food Lion's vice president of Produce Category and Merchandising.
Since 2016, BrightFarms locally grown salads have been sold throughout the Mid-Atlantic in more than 160 Giant Landover stores. The new Food Lion stores will expand BrightFarms' reach into Virginia Beach, Williamsburg, and communities in western Virginia. It will also strengthen BrightFarms' presence in Charlottesville, Richmond, and Norfolk, growing the company's customer base and making its local, pesticide-free produce accessible to more consumers. The Food Lion portfolio will include popular BrightFarms' varieties like Sunny Crunch, Baby Spinach, Spring Mix, Baby Arugula and Mixed Greens.
BrightFarms' Culpeper greenhouse has also supplied GIANT Food Stores in Pennsylvania since 2017. Increasing consumer demand from those stores led BrightFarms to open its newest greenhouse in Selinsgrove, Pennsylvania earlier this year. GIANT began sourcing product from the 280,000 sq. ft. Selinsgrove greenhouse earlier this month, enabling the Culpeper greenhouse to begin supplying all Food Lion stores in Virginia.
"Ahold-Delhaize USA is a leader in local produce. Since launching with Giant Landover in 2016, we've been fortunate to partner with several of their brands," says Steve Platt, CEO of BrightFarms. "With our increased capacity on the East Coast, we're thrilled that we now have the opportunity to supply Food Lion's Virginia stores with our fresh, delicious and pesticide-free greens."
Companies in this article