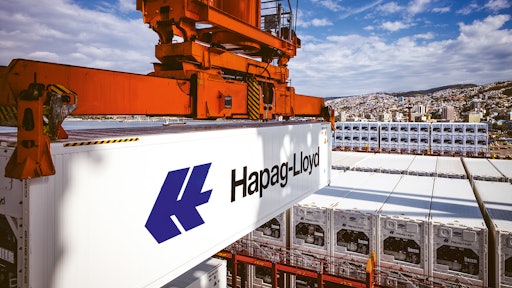 Hapag-Lloyd is investing in its container fleet and has ordered 11,100 state-of-the-art reefer containers. The new containers will be integrated into the company's existing fleet of 91,000 reefer containers. Delivery will begin this month and be completed by December 2019.
Hapag-Lloyd has a significant footprint in the refrigerated container market, continuously investing in and renewing its reefer equipment throughout the past years. Since 2015, the liner shipping company has purchased a total of 30,550 new reefers to ensure that it can offer modern equipment and sufficient seasonal availability to its customers, particularly during peak times such as the harvesting seasons for fruits and vegetables.
"We experience very positive feedback from our clients on our ability to deliver consistent quality services in the reefer business. Furthermore, we see increasing demand from clients to transport temperature sensitive goods. To benefit from additional opportunities in this attractive market segment, we have decided to increase our reefer fleet," says Clemens Holz, director reefer products for Hapag-Lloyd.
The production of the new reefers has already begun, with the first series of 40-foot containers. Two-thousand of the new containers are equipped with "Controlled Atmosphere," a technology used to slow down the ripening process and to extend the shelf life of fruits and vegetables. The containers will also have cooling units with the highest level of efficiency. Thanks to optimized power control, they will consume significantly less energy, without any change in performance and temperature precision.
"The new reefer containers undergo intensive tests before they are made available for our customers to transport their valuable freight," notes Frank Nachbar, director container engineering and maintenance at Hapag-Lloyd.
In addition to food products, Hapag-Lloyd also transports other sensitive products in reefer containers, such as high-value pharmaceuticals.