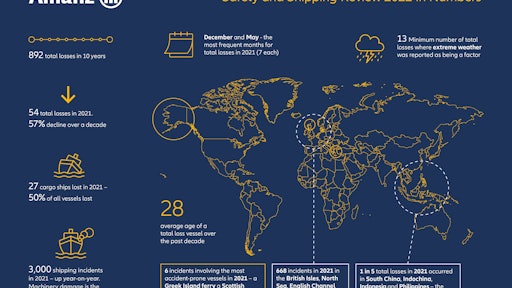 Allianz Global Corporate & Specialty SE (AGCS)
The Ukraine invasion has impacted supply chains worldwide in a number of ways, including loss of life/vessels, exacerbation of crew crisis, trade disruption, sanctions burden, cost increases and availability of bunker fuel. In fact, 54 large ships worldwide were lost last year. Total losses are down 57% over the past decade. South China, Indochina, Indonesia, and the Philippines top loss location, and British Isles see most shipping incidents.
This means there is no room for complacency, according to Allianz Global Corporate & Specialty SE (AGCS).
"The shipping sector has demonstrated tremendous resilience through stormy seas in recent years, as evidenced by the boom we see in several parts of the industry today," says Captain Rahul Khanna, Global Head of Marine Risk Consulting at AGCS. "Total losses are at record lows – around 50-75 a year over the last four years compared with 200-plus annually in the 1990s. However, the tragic situation in Ukraine has caused widespread disruption in the Black Sea and elsewhere, exacerbating ongoing supply chain, port congestion and crew crisis issues caused by the COVID-19 pandemic. At the same time, some of the industry's responses to the shipping boom, such as changing the use of, or extending the working life of, vessels also raise warning flags. Meanwhile, the increasing number of problems posed by large vessels, such as fires, groundings and complex salvage operations, continue to challenge ship owners and their crews."
From BusinessWire:
During 2021, 54 total losses of vessels were reported globally, compared with 65 a year earlier. This represents a 57% decline over 10 years (127 in 2012), while during the early 1990s the global fleet was losing 200-plus vessels a year. Such progress reflects the increased focus on safety measures over time through training and safety programs, improved ship design, technology and regulation.

While total losses declined over the past year, the number of reported shipping casualties or incidents rose. The British Isles saw the highest number (668 out of 3,000). Machinery damage accounted for over one in three incidents globally (1,311), followed by collision (222) and fires (178), with the number of fires increasing by almost 10%.

The economic rebound from COVID-19 lockdowns has created a boom time for shipping, with record increases in charter and freight rates. While this is a positive for shipping companies, higher freight rates and a shortage of container ship capacity are tempting some operators to use bulk carriers or consider converting tankers to transport containers.