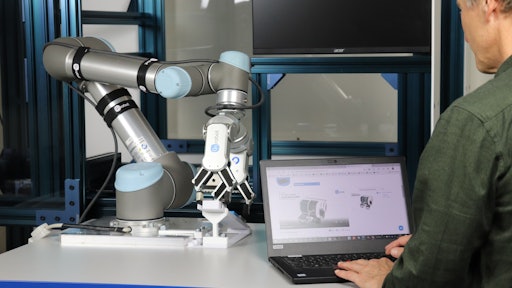 OnRobot
OnRobot launched Learn OnRobot, a free online training platform that guides users, step-by-step, through the process of designing and deploying cobot applications featuring grippers, vision cameras, processing kits and sensors.
"OnRobot's solutions break down the barriers to automation adoption by making affordable, industry ready, easy-to-use technologies available to companies of all sizes," says Enrico Krog Iversen, CEO of OnRobot. "Learn OnRobot continues this democratizing, barrier-busting tradition by making collaborative application know-how freely available to anyone with an internet connection, from prospective customers curious about our offerings to partners to integrators and to end users of all skill levels looking to maximize the success of their automation deployment."
From BusinessWire:
Learn

OnRobot's

extensive library of simple, direct how-to videos and 3D simulations provides detailed information on collaborative applications, including machine tending, palletizing, pick and place and sanding.
"Learn OnRobot is designed to help answer integration questions and overcome deployment challenges," says Stefan Stubgaard, director of application research and product management at OnRobot. "The new platform is high on simplicity and usability. Using Learn OnRobot as their guide, integrators and end-users of all skill levels can make the most of their collaborative automation deployments."