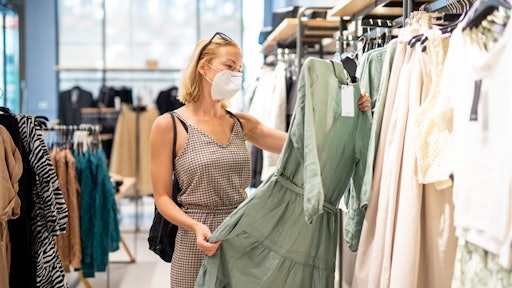 kasto - adobe stock
For many retailers, the holiday shopping season is already underway, and there's a mad rush to lock in holiday sales as early as possible.
While the time to implement new applications or systems for the 2021 holiday is not feasible for most retailers after mid-October, there are tangible steps retailers can take now to get their stores ready for the click-and-collect and fulfill-from-store orders headed their way.
Here are three actions to amplify store fulfillment success and customer satisfaction during the peak trading period.
Build an omnichannel sales plan by store
IHL predicted that close to 90% of all orders in 2021 are expected to be fulfilled by local stores. Stores are essential for retailers to execute profitable order fulfillment — the holidays are no exception.
For this reason, retailers should build an omnichannel sales plan for each store this holiday season, which includes thinking through questions such as:
· How many ship-from-store orders do you expect to process per day?
· How many click-and-collect orders do you expect to fulfill?
· How do you expect these orders will flow in throughout the day?
· What is the estimated value of each incoming omnichannel order?
If answers to these questions feel like too much of an unknown, use your store sales plan as a base, set an omnichannel sales penetration goal and work from there.
Having a plan that is 80% right is better than having no plan at all. It's also important to keep in mind that click-and-collect orders will triple the two weeks before Christmas when the distribution center can no longer guarantee on-time delivery, so plan accordingly.
Staff separately for omnichannel orders and walk-in customers
Every customer experience — and customer order — counts. Retailers can't afford to disappoint shoppers by not having adequate staff to accommodate both the influx of omnichannel orders coming into the store and the needs of walk-in customers.
When staffing for the holiday season, retailers should plan their store labor needs separately for omnichannel store fulfillment and walk-in customer service.
The rationale to plan this labor separately is that if you short-staff floor labor for walk-in customers, then the staff assigned to fill ship-from-store and click-and-collect orders will be expected to fill the gap.
Walk-in customers won't know (or care) that an associate they've approached is actually assigned as a picker to fulfill online orders — they just want assistance.
To avoid this situation, as part of an omnichannel sales plan, staff appropriately so that designated employees can pick all e-commerce orders in a timely fashion. The picking should be done as soon as the order comes in to reduce the chance of items being out of stock.
Equally important, ensure there's enough frontline staff to handle walk-in customers, as there's nothing more frustrating for a holiday shopper than to be on a gift-finding mission and unable to locate the associates necessary to support their buying journey.
Align order management system with omnichannel sales plan
When defining your omnichannel sales plan for the 2021 holidays, it's critical that the order management system (OMS) is aligned with your plan.
Have you increased store capacity for orders by day to match your sales and labor plan? You simply can't do 100 orders a day in a store if your store capacity limit is still set at 10 orders per day in the OMS.
Have you updated your store closing times in the OMS so the system knows that you can still handle orders much later in the evening during the holidays, compared to other times throughout the year?
Do you have some stores that can offer gift wrapping? Is your OMS configured to account for these special services?
When it comes to your OMS and the holidays, "set it and forget it" is not the right approach. Retailers should review their OMS configurations on a weekly basis to ensure the dials are set correctly for the week ahead. For some retailers in the run-up to Christmas, it might even make sense to plan OMS settings on a daily basis.
The importance of store fulfillment cannot be oversold
In today's omnichannel world, every consumer convenience represents increased complexity for retailers. For retailers that get it right, the holiday season looks very bright. In fact, a recent Accenture survey found that 71% of U.S. consumers said they intend to spend as much or more money than they did last year.
Undoubtedly, much of that spend will be influenced by or fulfilled through stores. The retailers that knock down silos across their organizations, processes and systems and can excel at profitable store and omnichannel fulfillment will be best positioned for a merry holiday and an optimistic new year.