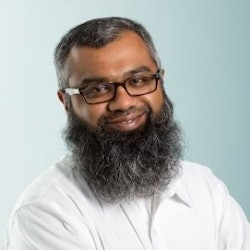 *This article brought to you in partnership with DAT Freight & Analytics*
All smart CPG and food and beverage shippers know that seasonal cycles are a critical consideration when building their carrier network strategy, however it's just as important to consider how broader market cycles impact planning. The past few years have been a dramatic example of the cyclical nature of freight capacity markets in North America; even as rates have reached extreme highs and lows, conditions eventually stabilize as they start shifting the opposite direction.
Successful shippers, carriers and brokers have recognized the importance of building close relationships amidst drastic swings as the freight market shifted from a state of deficit in 2021 to the surplus we've seen more recently.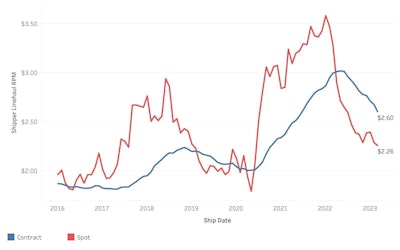 Shipper innovation amidst soaring rates
The Covid-19 shutdowns put a spotlight on the impact macroeconomic conditions have on freight rate cycles as supply chain disruption steadily drove shipper truckload rates to new heights. Since May 2020, with spot rates rising by approximately 100% by January 2022 while contract rates continued to rise until April 2022 by 52%.
Mid to large shippers in the US generally ship over 80% of their freight under contract and the rest goes to the spot market. However, unprecedented capacity tightness and rate hikes in 2021 challenged shippers to find innovative ways to serve their customers.
Spot Market: As the truck capacity became tighter or harder to find (i.e. when truck demand is higher than supply), routing guides started failing, forcing shippers to redirect more loads to the spot market. A shipper's top priority is to ensure their loads are covered, and the spot market is used as a fallback solution to cover loads. As routing guides were failing more often at the height of this period, there was little choice but to pay up to 30-50% premium on spot loads just to get loads covered.
Dynamic Pricing: Dynamic pricing option from brokers enables a shipper TMS to request a committed spot rate instantaneously from multiple brokers, then select the optimal broker/rate and tender the load with little to no delay. Abundance of accurate data and advances in data science have enabled these brokers to leverage dynamic pricing options to predict a rate that is comparable to traditional spot rates.
Continuous or Frequent Mini Bids: As spot premiums continued climbing, shippers quickly developed a method to conduct frequent mini bids on lanes that had consistent and frequent volume. This allowed shippers to claw back almost half of the premiums they were paying on the spot market. Shippers would take 15-20% increase in the contract rates via these mini bids, but still save as much or more by not going to the spot market.
Dedicated Fleets: Shippers introduced dedicated fleets to cover shorter haul and high freight density regions. Dedicated fleets require a greater commitment and investment from shippers since they become responsible for utilizing the fleet effectively. Even so, the sky high freight costs and lack of capacity led many shippers to make the decision to invest in dedicated fleets.
Shippers returning to the driver's seat
As the market ebbs and flows, shippers must adjust accordingly. While most strategies will go back and forth depending on the market conditions, some innovations will make a lasting change to the industry and business operations going forward.
Markets started softening in early 2022, as capacity loosened and eventually turned into a surplus. By April 2022 the market inverted, with spot rates dropping below contract rates, pushing shippers to get creative and shift their capacity strategies again.
Spot Market: Routing guide performance improvements translate to fewer last-minute spot loads. However, more shippers started strategically tapping into the spot market or dynamic pricing for low volume and low frequency lanes. In no rush to convert these lanes to contract, shippers will leverage an inverted market to capitalize on cost-saving opportunities.
Mini Bids: Shippers continued running mini bids, focusing now on reducing prices on lanes driving higher volume and above market rates. Mini bid frequency has slowed down significantly after the shippers first annual bid since the market inversion, since all lanes had the opportunity to catch up with the market changes.
Dedicated Fleets: Contracts for dedicated fleets typically last 2-3 years, and most have remained intact as shippers want to avoid penalties that come with breaking contracts. However, growth in dedicated fleets has reduced significantly, as these are less favorable options during this period.
Since rates peaked in April 2022, shippers have taken on average $0.40 (13%) reduction in linehaul rate per mile via bids. For now, the rates are continuing to drop. Due to inflation of operating cost of trucks we don't expect the contract rates to drop to pre-pandemic lows, but only time will tell how market conditions will ebb and flow. The only certainty is that shippers will continue to shift and innovate in order to succeed.
Learn more at www.DAT.com/Empower_iQ