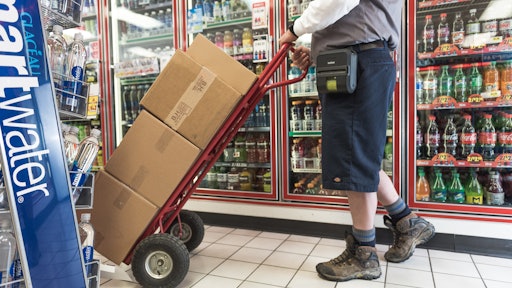 Today's fast-paced food distribution marketplace is a highly competitive industry where logistics operators must balance a growing number of products and SKUs as well as customer demands for tight delivery time frames. These challenges make speed and efficiency along the route vital to success. So, when it comes to documenting deliveries, tracking inventory and serving customers as quickly as possible, advanced direct store delivery (DSD) software paired with mobile printing solutions can be a game changer for enhancing delivery operations and supply chain visibility.
While the globalization of the food supply chain continues to open new markets and opportunities for food suppliers, manufacturers and retailers, it has also increased the complexity of supply chain operations. Combining the power of compact yet rugged mobile printers with key software such as DSD, warehouse management systems, or other logistics and management solutions, enables food distributors to keep food products moving both within the warehouse or on the road to delivery.
Key supply chain benefits include:
Enhanced food supply chain visibility by accurately labeling pallets, packages and products with barcodes or auto ID labeling so they can be tracked in real time as they travel from the food producer to the warehouse and on to the customer. This added visibility can help address food safety and food security requirements, help build resilient supply chains, and mitigate supply shortages as well as help reduce food waste or contamination.
Increase warehouse efficiency by saving valuable time and ensuring accurate labeling at every key supply chain juncture, including packing and shipping, picking, receiving and cross-docking. For example, mobile printing technology makes it possible for warehouse workers to literally jump inside trucks at inbound docks and start relabeling products for store or customer delivery, accelerating that increasingly critical last-mile delivery.
Improve the customer experience and driver productivity by empowering route drivers to quickly and easily update or amend orders in real time and print new, accurate invoices to hand to customers on the spot. This fast, efficient approach saves time for busy customers and drivers alike, increasing satisfaction and loyalty across the board.
Leading With the Right Technology Foundation
To maintain a competitive edge, food logistics providers must evaluate the best technology and device solutions needed to support lightning-fast distribution and delivery operations and invest wisely to optimize value. Here are five key criteria to keep top of mind when selecting mobile printing and labeling solutions:
Seamless integration. It's mission critical to identify mobile printing solutions that integrate easily with key software solutions for DSD, route accounting, warehouse or fleet management.
Ease-of-use. Printers should also be out-of-the-box compatible with any mobile device, and easy to get up and running quickly so they deliver value inside the four walls of the warehouse on the delivery route.
Versatility. Dual radio Wi-Fi and MFi Bluetooth connectivity ensure workers can always print easily from their iOS or Android devices, whether they're in a vehicle, warehouse, facility or store—in a dense urban area or on a remote rural road.
Performance. For efficient warehouse operations, they should be able to print a variety of barcode and RFID packaging, shelf, shipping, and other identifying labels quickly, clearly and easily. On the route, mobile printers need top performance to print a variety of delivery receipts, orders or invoices at the point of delivery.
Durability. Printers need to be compact and lightweight enough for workers and drivers to wear or carry all shift long, yet rugged enough to withstand constant use by multiple workers in indoor, outdoor and in-vehicle environments that are often harsh.
Reliability. Highly mobile drivers and workers need long-lasting battery life. Consider batteries that have strong capacity as well as an indicator for battery status. Printers also need to work for the long haul, so premier two-year limited warranties are a value-add.
HaaS Offers Advanced Options for Printer Deployment
Owning the best, most-current technology for route operations can be a challenge due to cash flow and budget priorities—and businesses large and small are starting to look at Hardware-as-a-Service (HaaS) options to solve their procurement roadblocks.
Operations managers across the supply chain are increasingly interested in HaaS because it offers a better alternative to business as usual and a solution to holding onto older technology longer than they should.
There is no doubt the market landscape will continue to evolve and grow as food producers develop innovative new products to satisfy consumers. In tandem, forward-thinking food and beverage distribution companies can automate route accounting technology to more efficiently manage the distribution of their products, save time in the field, and improve overall business operations. Mobile printing is a critical part of the modern route accounting and direct store delivery toolkit—allowing drivers to quickly and accurately produce invoices, receipts, and other documents in the field and drastically reduce downtime. With the optimum best combination of "supply chain-ready" technologies, food and beverage companies can continue to sharpen their competitive edge.
Brian Beans is the transportation, logistics, route and direct-store-delivery industry specialist for Brother Mobile Solutions, Inc., a wholly owned subsidiary of Brother International Corporation, providing innovative mobile printing and industrial labeling solutions to field workforces and mobile enterprises.