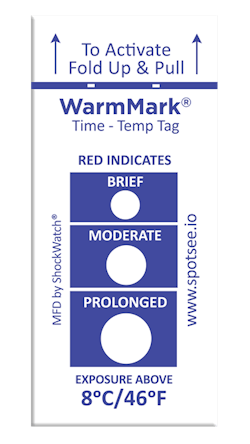 Supply chains can be complex, serving as the network through which products move from supplier to end user. When specific thresholds are involved, for conditions like temperature, the process becomes even more complicated, adding a layer of product vulnerability. Without proper handling, cold chain products are susceptible to damage or can become unusable due to even minor temperature changes.
Perishable items like meat, fruits, vegetables and dairy products require additional care and attention as they have specific temperature needs. Improper handling or insufficient refrigeration can cause severe deviations from the standard temperature range, compromising quality and putting food at risk of harmful bacteria. If exposed to extreme temperatures long enough, this could lead to wasted product or worse, foodborne illnesses. In turn, these issues can cause companies to face monetary loss and consumer distrust.
Cold Chain Tracking Devices
Handling temperature-sensitive products, whether you're shipping, transporting or delivering, is easier when monitoring devices are involved. Temperature-monitoring devices work by alerting supply chain handlers to potential temperature deviations, allowing them to pull products from the supply chain if necessary. With items having such specific thresholds, it's critical that temperature-monitoring devices be used to accurately track temperature ranges.
Temperature loggers allow users to record the temperature at predefined intervals and provide a complete time-temperature account of the trip. Using this style of monitor, users can track the item and maintain a view of its temperature from start to finish. This transparency allows those in charge to make quick decisions if necessary, but also lends itself to pattern recognition. Using data gathered by these devices over a specific time frame, operators can pinpoint deviation patterns and where they typically occur, allowing changes to be made regarding vendors, packaging and package handling.
Single-use indicators, such as SpotSee's WarmMark® time-temperature indicator, on the other hand, can be used as a simple way to communicate temperature excursions. Users can implement these devices to monitor for temperatures that go above the acceptable level and track how long the threshold was exceeded. Understanding the length of time in which an item was outside of the acceptable temperature range, users can more confidently determine whether a product is still viable for use.
Accurate, irreversible temperature-monitoring devices are necessary for those looking to improve their cold chain tracking practices and reduce unnecessary waste. If a deviation does occur, monitors, recorders and indicators communicate those results, alerting users that further inspection is needed. Cold chains can be hard to maintain, but implementing cargo tracking devices can help. Ultimately, these types of devices provide a cost-effective way to monitor for mishaps and ensure products are safe to use.