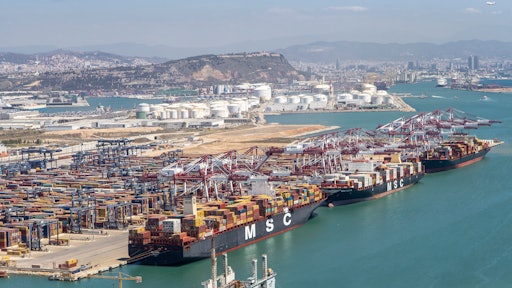 Port automation is a much-debated topic these days. As ports, labor unions, government agencies and logistics firms weigh in over potential job losses and cost savings, automation has become an increasingly sensitive issue.
The debate is especially hot at the Port of Los Angeles, according to coverage by the Los Angeles Times. Maersk plans to start using driverless electric cargo handlers inside its huge facility. The global shipping giant says the 130 vehicles and associated infrastructure will help the Port of Los Angeles compete with East Coast and Gulf ports. The Times reported that starting in late July, Maersk planned to install the first of its 45-foot-high robotic machines, which transfer containers from ships to trucks.
On the East Coast, the Georgia Port Authority recently selected RailComm, LLC as the yard management system provider for the new Port of Savannah Multi-Modal Connector. RailComm's yard management system will allow for remote control of 83 powered rail switches and 38 powered derail devices.
RailComm says that from either a centralized office location or a remote touchscreen kiosk, switches can be remotely thrown individually or lined as part of a route by either a yardmaster or work crews on the ground. The yard control system allows crews to move intermodal cars carrying containers through the facility without manually throwing switches.
How clear are the benefits of automation and is the heavy cost justified? A recent Moody's report on automated port terminals finds that automated terminals have 40 percent to 70 percent lower labor requirements, but warns there are significant political and social risks associated with labor unions due to the impact on employment.
Moody's said that at the TraPac terminal at the Port of Los Angeles—which was redeveloped predominantly as a fully automated operation from a conventional operation—it was estimated that the use of automated straddle carriers for waterside horizontal transport would reduce the number of workers per dock crane by 50 percent, and the use of automated stacking cranes in the container yard would reduce the number of workers per yard crane by 80 percent.
"Automated terminals have 40-70% lower labor"
Indeed, a survey released by McKinsey late last year shows that port automation is now a clear trend. Eighty-percent of the survey's respondents anticipate that at least half of greenfield projects over the next five years will be partly or fully automated. More than half believe at least 50 percent of the top 50 ports will begin retrofitting projects over the next five years.
McKinsey notes that up-front capital outlays are major. To justify these heavy investments, it's estimated that operating expenses of an automated greenfield terminal would have to be 25-percent lower than a conventional terminal or productivity would have to rise by 30 percent while operating expenses drop by 10 percent.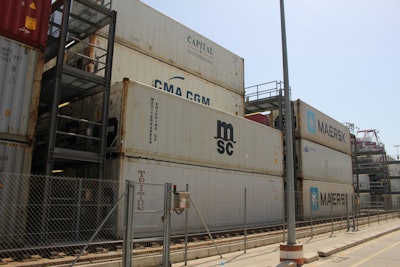 Labor Concerns Over Automation
Moody's says political risk and general opposition to automation by "labor partners" present serious challenges, though they vary by region. In the U.S., there is mounting union and political opposition to automation. Moody's cites as an example a signature feature of the 2018 International Longshoremen's Association contract was the prohibition on fully automated container terminals at ports on the East Coast and Gulf Coast.
Many U.S. port authorities enjoy political and financial support from state and local governments, Moody's says, because the ports directly support hundreds or thousands of jobs.
"Even if not explicitly stated, there is likely a limit to the willingness of many port authorities and their parent governments to support automation initiatives that result in meaningful job losses," Moody's says. "However, ports and labor partners can work to mitigate the ultimate impact by retraining and rehiring workers to perform new jobs, such as maintenance and repair."
Port Automation in Europe
Perhaps U.S. ports interested in improving efficiencies could take a lesson from several ports around the world that have embraced automation. One of those is the Port of Rotterdam, Europe's largest port. Rotterdam has long been a leader in innovation and automation. It was the first port in the world with automated guided vehicles and the first with automated terminals.
Last year, the Port of Rotterdam Authority and IBM announced a multi-year digitization initiative to transform the port's operational environment using Internet of Things (IoT) technologies in the cloud to benefit the port and those who use it.
The initiative will also prepare the Port of Rotterdam's entire site to host connected ships in the future. This data will be analyzed by IBM's cloud-based IoT technologies and turned into information that the Port of Rotterdam can use to make decisions that reduce wait times; determine optimal times for ships to dock, load and unload; and enable more ships into the available space.
The Port of Barcelona is another European port where automation has taken hold. Hutchison Ports' BEST container terminal in the Port of Barcelona, recently received six new automated stacking cranes (ASC) from the Finnish supplier Konecranes, increasing its storage capacity from 24 to 27 automated blocks. These cranes are electric and move on rails, like most of the terminal's equipment.
Guillermo Belcastro, CEO for Hutchison Ports BEST, said, "This investment will result in a significant increase in operational and storage capacity at the terminal and will contribute to our continuous improvement of service levels both in maritime and land operations."
Currently, BEST has 11 Super Post-Panamax quay cranes that are able to operate the biggest vessels in the world, 48 ASCs, two rail-mounted gantry cranes (RMGs) and 30 shuttle carriers to operate the terminal, which occupies 80 hectares and has a 1,500-meter berth with a depth of 16.5 meters.
Hutchison Ports says since its official inauguration in September 2012, BEST has continued to set new standards for ports in Southern Europe: achieving a ship productivity rate of more than 200 movements per hour and a sustained average performance of more than 40 movements per hour by crane—one of the highest in the world.
Meanwhile, the Port of Singapore was also an early adopter of automation. That will continue as it develops the massive Tuas Megaport, which will be Singapore's lone seaport when it opens in 2040. Plans call for more than 1,000 driverless vehicles and about 1,000 automated yard cranes.
"Densifying the container terminal can allow ports to better and more consistently manage volumes." -Moody's
In its report, Moody's notes that the decision by ports in low-labor-cost regions—such as China, Dubai, Indonesia or Morocco—to automate reflects the need to compete on service for regional transshipment volumes as well as the need to reliably process increasingly larger cargo exchanges brought by container shipping lines and alliances.
"As ships have become larger and load/unload more containers per port call, resulting in significantly higher volume peaks that can strain service levels, densifying the container terminal can allow ports to better and more consistently manage these volumes," Moody's says.
Moody's notes that the adoption of container terminal automation is growing globally. The main challenges for the sector, Moody's says, include:
Maintaining competitive costs and profitable operations amid a constrained pricing environment
Ensuring reliable and consistent productivity as vessel and consignment sizes increase
Maximizing land use efficiency and throughput capacity of existing facilities
Mitigating environmental impacts associated with port operations.
While penetration is still quite low—in 2018, automated facilities accounted for only 3 percent of the approximately 1,300 terminal facilities worldwide. Automation represents an opportunity for port authorities to address these multiple challenges.