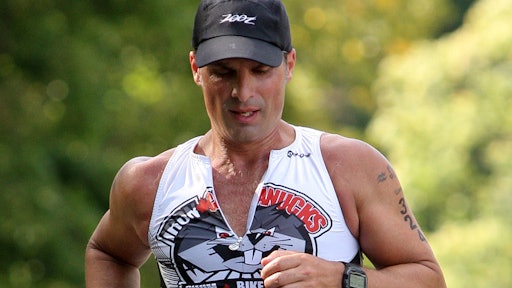 "I wasn't an athletic kid," says Fab Brasca, group vice president of product strategy, supply chain execution at JDA Software. Though Brasca was a wrestler in high school, he didn't start running and biking until his 20s. And, he definitely didn't swim. Then, like many people, he fell away from fitness in his 30s when life with kids got in the way. His 40s represented a return to his fitness commitment, and he has gone from jogging in his spare time to running regularly, and eventually adding regular biking and swimming to the mix.
"I'm just one of those guys where once I latch on to something I keep setting higher and higher goals," Brasca says. "When I was hired for my first job as an account executive for a small transportation software company, I didn't have any transportation experience, any software experience, or any software selling experience," he says. "The company took a chance on me, and I reached beyond my limits to learn."
Mastering swimming in open water is an achievement Brasca says he is especially proud of. He says he went from being able to swim to the edge of a pool to being able to swim in open water without fear. "In open water, there is no edge and you can't see the bottom. Add to that the confines of a wet suit, and 40 or so thrashing bodies around you, and there is a lot to mentally overcome—it's not just the physical," he says.
Achieving fitness goals has not been enough for this supply chain exec. Mastering these skills has propelled him down a path that has taken him from half-marathons, to marathons, to completing in his first triathalon, half Ironmans, and now in 2018, hopefully crossing the finish line of his very first Ironman in Mont Tremblant, a long-distance triathlon race organized by the World Triathlon Corporation.
An Ironman Triathlon consists of a 2.4-mile swim, a 112-mile bicycle ride, and a 26.22-mile marathon, raced in that order without a break. This test of human endurance requires incredible fitness and stamina, but Brasca stands ready. He explains, "I'm not training to win, I'm just trying to accomplish the feat. That's a far different mentality than someone competing for a qualifying time."
Though Brasca just completed his fourth half Ironman, and won't begin training in earnest for the full Ironman for a few months, he says he has been preparing himself in other ways. His job takes him across the globe, and that alone puts time and physical constraints on his training.
"I've had to learn to be very diligent in how I manage my time, so that even when I'm traveling I get up at 4 or 5 a.m. to get a run in before my day starts," he says. "But I've learned if people really take a close look at what they do every day, they will find that they waste a lot of time on trivial things."
He's also had to remind himself that sometimes "life happens." The father of four, and grandfather of one, says he has had to strike a balance in his time management. This began with identifying the three most important things in his life: Family, work and fitness.
"Those three things have to be 'paid' first," he says. "I'm a drummer as a hobby but if I don't get to it, it's OK because it's not in my top three priorities."
The long-term commitment and fortitude involved in getting in top shape to compete is an effort that Brasca says he takes with him into the office. He explains, "There are decisions you have to make in supply chain where you have to look long-term, where it's not about today or tomorrow, it's about being successful a year from now or five years from now," he says. "I tell my customers that my measure of their success is not whether they get value from when they go live, but whether they are getting value from that solution five years from now."
Ronnie Garrett is a freelance writer based in Fort Atkinson, Wisconsin, and the former editor of Supply & Demand Chain Executive.
Companies in this article