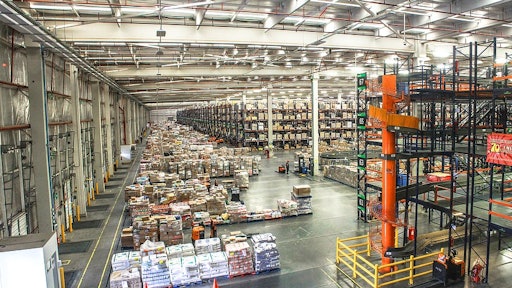 The omnichannel revolution may have struck the retail world first, but it has also left an indelible impact on the food and beverage industry. The modern consumer has become accustomed to having numerous options for purchasing and receiving products, whether it's groceries or apparel. For the food and beverage industry, this business climate has introduced unique challenges that come with the handling and tracking these sensitive items.
For years, customers had just one real option for buying food and beverages: the grocery store or local market. But that has changed since the turn of the millennium as other channels have surfaced and subsequently gained momentum (similar to how online sales now account for an increasingly large percentage of retail sales). In-store pickup, kiosk pick-up and home delivery have all gained popularity because of their convenience. Why squeeze a trip to the supermarket into your schedule if you can select all of your usual items online, then have someone else deliver them to your car, your front door or a drop box? And consumers want these products quickly (and without additional fees)–a product of the get-it-now benchmark established by eCommerce leaders.
Additionally, the types of items consumers want has changed. There is much more demand for specialized food products, especially natural, local and/or organic items. The rapid emergence of these new product lines has led to inventory complexities that impact the entire food and beverage supply chain. Not only are there more items, but certain goods–like organic foods–may come with unique requirements related to storage, tracking and last-mile delivery.
But not all the hurdles facing the food and beverage supply chain are driven by consumers. As fundamental consumer buying patterns have changed, federally mandated regulations that affect the supply chain have also become more stringent. Hazard Analysis and Critical Control Point (HACCP) programs set by the U.S. federal government and similar standards from the Canadian Food Inspection Agency (CFIA) have made product traceability and recall capabilities far more important.
So, what is the most effective way to manage these challenges? A top-tier warehouse management system (WMS) and supporting supply chain technology (i.e., delivery systems, reservation systems, supplier enablement systems, etc.) help food and beverage distributors rise to the demands of this challenging (but opportunistic) business climate.
How Will a WMS Transform Your Business?
A best-of-breed WMS may have once been a luxury, but considering the issues presented above, it's an absolute necessity for any distribution operation in order to maintain its top and bottom lines.
First and foremost, a modern WMS offers an accurate, real-time view of inventory right out of the box. As food and beverage providers deal with a larger and more diverse selection of products, that visibility is more important than ever before. This inventory is often temperature-sensitive, which adds another wrinkle–think manufacturer/lot/date/temperature/country of origin-type data that needs to be maintained at every step of the process.
A best-of-breed WMS will execute fulfillment workflows that account for the sensitivity of those goods and manage the process and data accordingly. For example, products stored in a refrigerator in a grocery distribution center (DC) will be picked near the end of that order's route, then directed to the appropriate trailer compartment to ensure the product stays as fresh as possible.
The right solution also will support automated data capture, tracking and maintenance (i.e., lot and batch expiration date tracking). Reliable systems track the inbound entry/manufacturing date and expiration date to ensure date-sensitive items do not sit in the warehouse for longer than they should. And, more often than not, this is not just a matter of guaranteeing it ships before the expiration date–it's more intricate than that. Distributors want foods as fresh as possible to keep customers happy. This means being able to deliver products to customers based on their date requirements (i.e., no less than 14 days of expiration remaining). It also drives fulfillment decisions for warehouse processes, such as exports (i.e., always pick the youngest products for international shipments to ensure expiration remains upon arrival).
The software also should maintain a detailed history of every material movement–from arrival through shipment. Detailed tracking is extremely valuable during recalls, when a company must know in short order which products from which dates need to be returned. A WMS should enable users to sort by lot, supplier lot, dates, job, customer order, etc. In situations where the manufacturer is the distributor, backward lot traceability is also relevant. You must know what ingredients went into finished goods and be able to initiate steps to recall products based on that knowledge.
Finally, the food industry operates on very tight margins. The ability to configure specific workflows within the WMS will increase the efficiency of each employee–and help control costs. Well-designed and properly executed WMS processes allow you to meet soaring customer expectations with an empowered and self-directed workforce.
Importance of WMS-EDI Integration
When implementing a WMS solution, it's often important to support it with a top-tier data management/EDI system. These systems ensure that inbound orders are properly placed and managed in the procure-to-pay cycle–and provides the basis for communicating accurate order data to customers in the order-to-cash cycle.
One primary area of attention is ASNs (advanced ship notices). ASNs are a best practice receiving process that simplifies inbound reconciliation and increases labor savings. The data required to receive those inbound ASNs is created through EDI/supplier enablement solutions. Suppliers create the required data and labels at the origin (including salient lot/date-related content) and pass that data to the WMS to execute the receipts quickly, but with all the required food-relevant data still intact.
This technology pairing also creates a more digitized process on the outbound side. The WMS optimizes the flow of inventory through the warehouse. After the WMS has picked and shipped the product, the EDI solution delivers the expected order data (i.e., outbound ASNs) to the appropriate outbound supply chain constituents (i.e., carriers, 3PLs, customers). This helps your supply chain partners execute their supply chain "next" processes–and ensure that the appropriate food-relevant data passes to the next node in the supply chain.
Your supply chain is poised for future success when your EDI systems and WMS are in constant communication. Rapid growth is a non-issue because the distribution and electronic workflows are built for any order volumes (this is particularly valuable for companies with seasonal order spikes). The right solution will also make onboarding new trading partners a simple, painless process. The best solutions have the scalability to allow food and beverage distributors to embrace new business opportunities instead of worrying about the logistical issues presented by them. That drives return on investment and quickly justifies the upfront costs.
What to Look for in a WMS
Selecting a WMS vendor is a momentous decision for any food and beverage provider since it can have a lasting impact on the success of an organization. You need not only a functionally robust solution, but one with the scalability and flexibility to keep up with your business' prosperity. This is a long-term investment–choosing the wrong provider could be painful–and expensive.
A WMS for food and beverage vendors should have or support these capabilities:
Provide workflow tools to adapt to changing consumer and regulatory requirements
Synchronize all market channels for inbound/outbound electronic commerce and fulfillment
Support supplier drop shipment, in-store order fulfillment and DC fulfillment processes
Integrate with material handling equipment to be the master database of all inventory
Optimize fulfillment strategies based on inventory position and customer-based rules
Integrate easily with other business systems (i.e., POS, order management, ERP)
Provide real-time supply chain (manufacturing, DC, store, customer) inventory information
Provide technical scalability to grow with your business
Track key food and beverage-related datasets throughout the supply chain with a robust data model
Facilitate warehouse process execution on easy-to-use mobile devices
It's smart to choose a vendor that offers a comprehensive supply chain execution suite rather than just a WMS. Since integrations are so critical to supply chain optimization, a software provider that can offer a wide array of pre-integrated solutions gives your company a bright future. That could include WMS, yard management, labor management, EDI, order management, supplier enablement, shipping and in-store fulfillment applications.
Best-of-breed WMS and supporting supply chain technology, while a significant organizational investment, holds the key to success for food and beverage distributors in today's omnichannel world. Simply put, it's impossible to satisfy the complexities created by emerging distribution channels, new regulatory requirements and demanding consumers without these technology solutions.