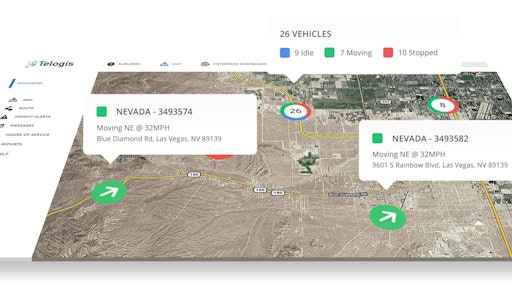 Advances in technology, analytics, computing power and information access have resulted in a paradigm the Material Handling Institute (MHI) calls the "always on supply chain." In its annual industry report, MHI identified eight technologies that are enabling the "always on supply chain."
MHI defined the "always on supply chain" as "an integrated set of supply networks characterized by a continuous, high-velocity flow of information and analytics, creating predictive, actionable decisions that better serve the customer."
One area where software providers are introducing these capabilities is in transportation management. In transportation management, Internet of Things (IoT) technology has improved product traceability and inventory control. It has also enabled dynamic routing and the monitoring of product quality data.
Boost Carrier Networks
Kewill Inc. has extended its TMS functionality by including connectivity to more than 16,000 carriers. Connectivity provides shippers immediate access to information on multiple carriers. It allows the shipper to send RFPs and tendering offers to multiple carriers automatically.
The carrier integration program will also support carrier connectivity via a value-added network (VAN) which acts as a regional post office, says Patrick Maley, chief marketing officer of Kewill. The VAN receives the transactions, examines the information and routes the transaction to the recipient.
"The integration cuts down on manual data entry costs significantly—and reduces the opportunity for error," Maley says. "Carriers leveraging EDI connectivity gain insight to all their customers in one system." Benefits include faster payment, administrative efficiency, and improved customer satisfaction.
"You can also track your own performance and create internal KPIs (key performance indicators) to ensure you are a carrier of choice," Maley says.
Benefit to Carriers
Being part of the carrier network provides visibility of items such as spend, on-time performance and other metrics. Carriers can gain access to new customers and new market opportunities. They can also post capacity availability that helps shippers select options they might not have otherwise considered.
Echo Global Logistics, which offers freight brokerage and managed transportation solutions for truckload, partial truckload, LTL, intermodal, and expedited freight, uses Kewill's automated system to get timely information on carrier availability, carrier performance on specific lanes, transit times, prices and more.
Carrier Integration Poses Challenges
ODW Logistics Transportation Services sought a way to integrate with its carriers directly via the web when tendering loads, says Bill Grannis, director of information technology for the non-asset-based 3PL. The legacy EDI load tendering the company was using was slow. In some cases, it took as long as two hours to tender a load to a carrier. "When you get some real tight windows, that became a real problem," Grannis says.
ODW Logistics approached its TMS provider, 3Gtms, with this issue. 3Gtms offered a cloud-based EDI service as part of its TMS.
Working with ODW Logistics, 3Gtms developed a single web interface for accessing all carriers that a 3PL wants to tender to. "They're a one-stop shop," Grannis says of 3Gtms' solution. "They've basically become a clearinghouse for load tendering."
"One click, and you immediately have a response back," he says. "It's an instantaneous thing. You don't have to follow up to know that that load is securely tendered."
"EDI is just a slower process; we're going right to the carrier's API (application programming interface)," explains Mitch Weseley, CEO of 3Gtms. EDI load tendering documents typically go into an EDI envelope for a carrier to access. The carrier then has to translate the document in order to accept the load. "The trouble is the carriers may not pick up and respond to the envelope for a lengthy period of time," he says.
"The biggest problem with that (legacy EDI) is there could be a big time lag," Grannis adds. "They may only look at that directory once an hour. In a time sensitive scenario where I may need to tender something for pickup by 2:30, it just doesn't always work. By the time the carrier picks that up and processes it through, it may be past the deadline."
"Using the HTTP protocol, we have the ability to seamlessly talk directly to a carrier's published API, essentially updating their system," Grannis notes. "The TMS has basically encapsulated the process giving me a true B2B mechanism with any capable carrier. This means the carrier has my tender in their system in real time, allowing them to react much faster."
ODW Logistics is transitioning its carrier base from traditional ANSI EDI to the web service paradigm and expects to have more than 50 carriers converted by early next year.
3Gtms also offers a cloud-based web service that allows for the retrieval of carrier document images. "This eliminates the manual process of scanning paper documents into electronic format or the need to go to the carrier's website to download the images," Grannis says.
Automated Data Holds Key
Turning Big Data into real value with analytics and the ability to use that intelligence to gain a desired business outcome boils down to automation, says Kelly Frey, vice president of product marketing at Telogis, a mobile enterprise management software provider. Automating the collection of the data and how it is presented to the back office and to the drivers is paramount.
"Getting the right data into the hands of the right person at the right moment to make the right decision is the ultimate goal of Big Data," Frey says. "Sometimes that means we want to put the data into an executive dashboard for easy consumption in real time, or perhaps into a scheduled report that automatically goes to divisional managers every night or week, or perhaps gathered and presented on an iPad or an iPhone so the driver can see how they are doing versus the company KPIs."
An example of a best practice that smarter fleets are employing is the ability to automatically turn Big Data into actionable information that can be used to trigger a workflow event. "For example, when certain diagnostic fault codes are reported by a vehicle engine and picked up by the software platform, it generates an alert to the back office and automatically schedules a maintenance reminder or service ticket for the maintenance staff the next time that vehicle is automatically detected in the vicinity (with a geofence when the truck re-enters the yard)," Frey says.
Another example is using a "scripted alert" to automatically reduce the posted road speed threshold alert (an in-cab buzzer to alert drivers of safety concerns) by 10 percent when the windshield wipers are engaged and the lights are on – indicating it is raining or snowing and it is dark – so that safety metrics are applied to the current conditions.
Cloud Creates Opportunities
Cloud technology has brought more capabilities to TMS.
Transervice, a provider of transportation solutions, switched from an on-premise server solution to a cloud-based solution for the efficiency of deployment and the cloud provider's willingness to customize interfaces. Transervice sends and receives delivery information automatically with their customers. "It's a lot easier to assimilate with them (customers) in a cloud-based environment than it is to develop a custom integration deal with a partner who is server based, in terms of both flexibility and in making dynamic changes," says Joe Evangelist, Transervice executive vice president.
"When I can get real time actionable data captured, it maximizes my ability for on-time delivery," he says. "It then empowers my dispatch team to make these critical and efficient decisions. I have drivers that are under hours of service constraints, I've got equipment that must meet strict maintenance requirements. I'm no longer constrained by the limits of the data crunching on a normal server based system."
TMW Systems, a TMS software provider, has introduced SaaS (software as a service) versions of its business intelligence solutions. The trend has moved from generating mass amounts of data to being able to actually use the data.

Carrier customers provide lane and rate information that allows TMW Systems to create useful operating metrics. Bringing all this information into the cloud affords the opportunity to extend TMW's understanding of the market in more real time. This delivers market dynamics to the customer.
Technology Influences Carrier Contracts
"We're transforming from a world where only a select handful of people have sophisticated intelligent technology. Now everybody has it," says Abtin Hamidi, co-founder and executive vice president of Cargo Chief, a freight broker that provides a cloud-based platform for matching shippers and carriers.
Hamidi thinks shippers will no longer focus on long-term contracts since capacity is becoming accessible more quickly, thanks to the cloud. Long-term contracts provide stable pricing, but it is expensive. "Everyone is moving more to a transactional (spot market) environment," he says.
Freightflow, a TMS system that uses a cloud-based software, has integrated with Truckstop.com's load board, allowing clients to send their loads from Freightflow to Truckstop.com with the click of a mouse and see results from interested carriers in a matter of minutes. Designed specifically for the produce industry, Freightflow gives users complete visibility to their transportation planning, execution and settlement needs without costly technology investments.
When a load is marked delivered, an automatic invoice gets created and attached to the load. Freightflow provides up-to-the-minute reports, including lane-based cost reporting, cost/mile, profits/losses, expense reports to quickbooks, excel and more. Freightflow will provide customers direct access to carrier contact and policy information, certificates of insurance, limits and expiration dates, along with DOT safety ratings and authority data on more than 200,000 carriers.
Freightflow's platform integrates ERP business software with transportation tools to provide complete supply chain visibility from a single platform. The platform includes load management, customer billing, document storage and analytics.
E-Commerce Brings New Demands
Meanwhile, TMS providers continue to introduce new features to improve route optimization to help customers improve customer service, lower costs and help comply with new regulations. For many transportation providers, the growth of e-commerce is creating an even greater need to optimize routing and achieve better on-time order fulfillment rates.
According to research from the ARC Advisory Group, e-commerce revenues have grown for survey participants by 51 percent over a recent 5-year period, and are expected to continue to grow through 2020. According to ARC research, only 60 percent of respondents are currently using a TMS for omnichannel initiatives.
Because of the growth of e-commerce, MercuryGate International Inc. is integrating its parcel delivery solution with more retailers. "More and more of our customers are asking for integration of parcel," says Vikram Balsasubramanian, MercuryGate's senior vice president of strategic product development. "The usage of parcel has really grown extensively over the last five or six years," We are expanding our integration with local parcel carriers." One advantage of MercuryGate's solution is that parcel delivery is built into the TMS platform.
The use of graphical maps and tracing real-time positioning of the flow of goods are growing.
There has also been an increase in mobile device use. Mobile devices enable proof of delivery are real-time tracking of the last mile.
Loadsmart Deploys Cloud-Based Booking-To-Delivery Platform
Loadsmart, a logistics technology company specializing in full truckload shipping, recently announced a cloud-based fully automated shipment from booking to delivery platform. No human contact occurs between Loadsmart, the shipper, the carrier or the driver.
Via the Loadsmart platform, the shipper requests a quote, and the system's algorithm generates a price instantly which the customer books in just a few seconds. The platform automatically identifies the best carrier to move the load and sends an electronic request to the carrier's dispatcher.
With one click, the dispatcher accepts the job and receives an online rate confirmation. The dispatcher then invites the driver to download the Loadsmart app, which provides the driver with all the shipment details as well as GPS tracking for the dispatcher and customer. Upon delivery, the driver submits the proof of delivery via the Loadsmart mobile app.
Loadsmart requires no human contact with the shipper, carrier or driver. Historically, every one of these steps required human contact by the freight broker via email or phone: requesting quotes and carrier cost; sourcing the right truck and price negotiation; status updates and document submissions.
Omnitracs Launches FleetScience Digital Hub for Transportation and Logistics
Omnitracs, LLC, a global provider of fleet management solutions to transportation and logistics companies, recently launched its FleetScience digital hub, is an educational website designed for fleet owners and fleet managers to provide resources they can leverage to take their companies to the next level. FleetScience.com showcases business best practices with a focus on how fleets are using both existing and developing technologies to do more with less and perform at a peak level.
The portal is organized to include a wide range of topics, including productivity, cost savings, safety, customer service, analytics, driver retention and emerging technology.
"Our successful launch of ELDfacts.com last year revealed the demand for useful and instructive resources on topics that are vital to our industry. In addition to the latest information on compliance, our clients were also interested in gaining insight into how to not just survive, but to thrive with tight margins—while wowing customers at the same time," says Jim Gardner, vice president of marketing at Omnitracs. "To meet that need, we created this digital hub to provide proven best practices, foster collaboration and promote the development of new ideas about how fleet managers in every size organization can help their companies innovate and succeed."
In addition to articles about each of the areas of focus, the educational site also delivers its content through a variety of media formats, such as videos, infographics, image galleries, white papers and on-demand webinars.
The launch of the platform and these resources is considered phase one of the program, with the next phase adding new content from third-party industry analysts and other experts to the digital hub. This approach will be implemented in phase two of the program.
Survey: Truckload Carriers Face Declining Utilization
Despite solid financial gains driven largely by a robust rate environment, truckload carriers faced declining utilization while other transportation service providers reported mixed results over a most recent 12-month reporting period, according to the newly released Transportation & Logistics Study from TMW Systems. The report is based on input from more than 150 transportation enterprises in 2015, representing in excess of $31 billion in combined annual revenue.
Although most truckload irregular and dedicated fleets posted significant improvement in financial performance – with twice the number of irregular and nearly three times as many dedicated carriers reporting healthier operating ratios – rate increases almost exclusively drove those gains. Utilization, another fundamental contributor to profitability, declined for many fleets over the same period.
Truckload irregular carriers realized 59 fewer revenue miles per tractor (22 fewer per tractor from fewer seated and 37 fewer in lost utilization), equating to nearly $1.8 million in lost revenue per year for a fleet of 500 tractors. Dedicat­ed carriers also saw erosion in tractor utilization, dropping from 2,306 to 2,159 revenue miles per seated tractor over a one-year period.
The report defines "utilization" as the metric "miles per tractor per week." In spite of near-record capacity constraints, average seated tractor percentage dropped from 94 percent to 93 percent among truckload irregular respon­dents, underscoring continued concerns about the driver shortage. Revenue miles per seated tractor per week declined from 2,206 to 2,169.
Another trend reflected in the data is the blending of traditional dedicated contract freight with a service ap­proach that can be termed as "engineered fleets." In this arrangement, carriers partner with shippers to provide a level of dedicated capacity on only strategic lanes. An indicator of this shifting dynamic is the reduction in fixed revenue percentage, from 48 percent in 2014 to 29 percent in the most recent study.
The brokerage/non-asset sector continues to hold broad appeal for truckload carriers. Among respondents sharing their diversification plans, 34 percent intend to expand into the brokerage space – up from 25 percent in the 2014 study – and those planning to establish 3PL operations more than doubled to over one-third of survey participants. While aver­age gross margin across non-asset players increased 3 points to 15 percent, the overall business outlook within the non-asset sector was mixed.
Rising rates, particularly through mid-year 2015, were good for all transportation pro­viders, including non-asset enterprises. But softening demand, even during the run-up to the holiday season, spread concern that the capacity/rate pendu­lum was swinging back in favor of the shipper.