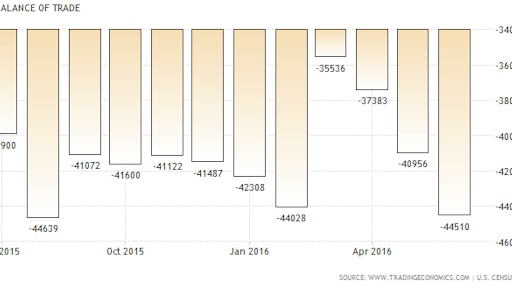 The U.S. trade deficit widened in June to an almost one-year high as the price of oil jumped and American companies imported more consumer goods.
The gap increased by 8.7 percent to $44.5 billion, the largest since August 2015, from a $41 billion gap in May, Commerce Department figures showed in Washington. The median forecast in a Bloomberg survey called for a $43 billion June shortfall. The average cost of a barrel of crude oil jumped the most in five years.
A third-straight monthly pickup in imports coincides with a second quarter that saw the fastest pace of household spending since 2014. At the same time, purchases of American-made merchandise by foreign customers have been limited by slower-growing overseas economies and a stronger dollar.
"Trade will remain a weak spot for the economy the rest of the year," Gus Faucher, deputy chief economist at PNC Financial Services Group Inc. in Pittsburgh, said before the report. "Consumer demand remains strong. With inventories now back to more normal levels, imports will rise. There's not much support for exports. Overseas growth is still soft."
To read the full story, please click here.