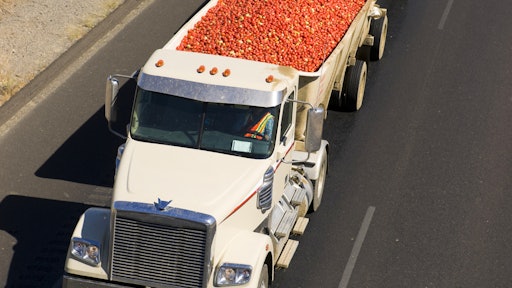 With fresh produce sales increasing and the dual challenges of limited carrier capacity and new regulations on the horizon, the produce industry isn't sitting still. The majority of growers, shippers and carriers say they are confident in the industry's ability to manage expanding produce capacity. But a coalition of industry trade groups called the North American Produce Transportation Working Group (NAPTWG) has put in place some best practices to make sure all parties can continue to work together effectively.
Demand for produce packaging in the United States is forecast to increase 3.2 percent annually to $6 billion in 2019, according to the Cleveland, Ohio-based Freedonia Group, a research company.
While shippers and carriers recognize produce as one of the most sensitive product segments due to the temperature requirements and limited shelf life, the transportation of fresh produce has not been strictly regulated for safety by federal agencies. This is expected to change under the Food Safety Modernization Act (FSMA). The FSMA specifies the growing, harvesting, packing and holding of produce on farms.
In the meantime, the produce transportation industry has taken several steps to strengthen its safety practices.
In an effort to provide guidance to growers, shippers, carriers and brokers, more than 25 national and regional produce industry groups formed the NAPTWG, representing produce transportation stakeholders from associations and industry groups across North America. The NAPTWG provides guidance for seamless product movement and to ensure that the produce industry continues to have sufficient access to carriers to meet the needs of the North American produce industry.
The best practices are one indication of the degree to which the produce industry has worked to sustain good business and safety practices.
Working group steps forward
The NAPTWG released its first guidelines in 2012. These guidelines were agreed to by various stakeholders in the produce supply chain and were endorsed by Blue Book Services and the Furit and Vegetable Dispute Resolution Corporation (DRC) to ensure compliance with industry trading guidelines for North America. Blue Book Services, based in Carol Stream, Ill., provides credit and marketing information for the fresh fruit and vegetable industry. The DRC is based in Ontario, Canada and provides dispute resolution services for fruit and vegetable companies.
In August 2015, the Washington, D.C.-based United Fresh Produce Association (UFPA) released its Broker/Shipper Transportation Agreement template in partnership with the Alexandria, Va.-based Transportation Intermediaries Association (TIA) for brokers to use when entering into agreements with shippers and 3PLs.
The best practices released in 2012 consist of one-page documents for shippers, receivers and carriers while the recent shipper/broker agreement is a longer document that is intended to serve as a model agreement.
The best practices, which are posted on the Internet for download, might strike some produce veterans as a bit general since the intent was to provide an overview. Growers often have more detailed instructions for specific products.
The shipper document lists practices for shippers to follow in the areas of appointments, terms of sale, loading and transporting, and receiving. It notes, for instance that a shipper will advise a transportation provider if a trailer does not meet U.S. Department of Agriculture's Good Handling Practices guidelines, such as a damaged or missing chute, holes in walls or foul smells.
The receiver document contains a checklist of what the receiver is expected to do at the receiving dock. For instance, temperature recorders are to be retrieved and read before unloading. In the event of product problems caused by carriers, the receiver is to immediately notify the shipper and carrier or the transportation broker.
The carrier document consists of a checklist for what has to be done at the shipping dock. This includes ensuring the driver takes responsibility for a clean, pre-cooled trailer in good repair. If the driver cannot count and pulp, the receiver or the contracting third party has been told about this either by the dispatcher or the transportation broker.
A comprehensive effort
"This was an attempt to bring the players together in as many areas as possible," says Ken Lund, vice president of operations of Allen Lund Company., a La Canada, Calif.-based transportation broker. "There is a lot of ability for gray area issues. We wanted to harmonize this so we could go back to the growers and receivers and say here are some transportation guidelines. This was to try to get it all into one document." The documents are intended to prevent problems as opposed to resolving disputes.
Lund says he has used the documents in his own company and has sent them to customers and other companies. "It lets us point to a place [and say]: here's some common ground to speak to."
The best practices don't replace the need for loss prevention programs and effective business contracts, Lund says.
Like many of his industry colleagues, Lund gives the produce industry high marks for cooperation. "They generally tend to work it out themselves," he says regarding the disputes that sometimes materialize. "There's a great understanding of, 'hey let's work this out.' The industry really polices itself very well."
While the industry has done a good job policing itself, the best practices are still needed, he says, since there are always new players coming into the industry, and small companies play a big role in the transportation of produce.
Lund was among the industry players who provided input to the U.S. Food and Drug Administration on the FSMA's temperature control rules for produce. He says he and his NAPTWG colleagues made the FDA aware that it was important to have shared responsibilities in produce transportation.
"Whoever is loading a truck has a responsibility to inspect the trailer," Lund says.
"It [the best practices] hasn't been used as much as it could be," he adds. "Those who use it say they love it."
Financial aspects addressed
Fred Webber, president and CEO of the DRC, says some regulations address the safety aspects of produce handling but they have not addressed the financial aspects. Fresh fruits and vegetables are among the commodities which have always been exempt from economic regulation. Here is where he sees the best practices playing an important role. In this respect, the guidelines complement the efforts of his organization.
The DRC is a nonprofit organization created under the North American Free Trade Agreement and currently has members worldwide. The DRC works to help companies resolve disputes. Its members are bound to the DRC trading standards and agree to binding arbitration when mediation efforts fail.
The NAPTWG best practices, by contrast, are more intended to prevent disputes.
Focus on the human aspect
Dan Vaché, UFPA vice president of supply chain, says the best practices address the human interaction aspect of the supply chain. He says much of the supply chain's focus today is on technology, and this is important since technology is bringing benefits. But the human aspect will always be important.

The need to focus on best practices is also critical given the worsening driver shortage, Vaché says. He says the industry has recognized for some time the importance the drivers play in the supply chain, but the focus needs to be stronger to recruit and retain professional drivers.
Ed Treacy, the vice president of supply chain efficiencies at the Newark, Del.-based Produce Marketing Association (PMA), says the best practices will help drivers and carriers do their jobs better. He thinks they could even help alleviate the driver shortage since they can give prospective drivers a better idea of what their responsibilities are when working with produce. Treacy sees the best practices as a tool in treating drivers better.
Treacy is pleased with the amount of activity on the website, www.naptwg.org, where the documents are available for download. While there is a perception that the need is greater for smaller companies, Treacy says companies of all sizes are using the best practices.
Improved cooperation
Doug Stoiber, who served on NAPTWG when he was vice president of L&M Transportation Services Inc., a non-asset-based 3PL in Raleigh, N.C., says the best practices improve cooperation among supply chain players. He says disputes among parties are not common, but in the event a load gets rejected, the best practices provide guidance to both parties on their respective responsibilities.
The documents have credibility since all produce transportation segments were involved in writing them.
"We made a specific effort to include all parties in the supply chain," says Stoiber, who now works as a talent recruiter at Ag1Source, based in Hesston, Kan. He thinks the best practices will be especially helpful for people new to the produce logistics industry.
One thing the documents do is identify best practices as opposed to just good practices, says Michael McCartney, managing principal at QLManagement Consulting in Sausalito, Calif., who also served on the NAPTWG. McCartney has worked on the grower side in addition to the transporter side of the business. He says a good practice would include inspecting all the trailers to be loaded for any visible defects, interior cleanliness and checking the refrigeration settings. A best practice would be taking a metal detector and walking around the trailer to ensure there are no hidden leaks or punctures, ensure the vehicle was sanitized, and review the records for the last two uses for both the trailer and the refrigeration units.
"They [the documents] have become the gold standard by which the client performance is measured," says McCartney, who says he uses the documents in his consulting practice.
In his prior role as the chief operating officer at Sun World International LLC in Bakersfield, Calif., McCartney says the best practices helped reduce insurance claims. Another important consideration is that the company did not have to increase the staff's workload to follow the best practices.
During his tenure at Sun World International, vehicle insurance rates declined, McCartney says. He doesn't know if there was a direct relationship between the best practices and the insurance rates, but he believes there was some relationship.
McCartney would like to see UFPA survey its member to determine how widely the best practices are being used.
The Oppenheimer Group has sent the best practices to all of its customers and suppliers, says Brad Lukesh, who served as the West Coast transportation manager for the Vancouver-based produce logistics provider. Lukesh, who now serves as manager of logistics and imports at Sun Pacific, the Pasadena, Calif.-based grower, says the documents are important since the supply chain has extended to include more parties than it once did. "You have so many entities with consolidation, ports, 3PLs and brokers," he says.
Lukesh says the documents have removed a lot of the guesswork from business agreements and will help resolve conflicts. "It pretty much spells it out," he says. "It's a complete document."
Broker/shipper agreement
The broker/shipper agreement is an actual 10-page agreement, unlike the best practices. The UFPA provides it as a template to be modified as needed for the specific business relationship between shipping companies and 3PLs. It includes areas such as freight carriage, receipts and bills of lading, payments, claims, insurance, surety bond, hazardous materials, dispute resolution and arbitration.
James Lee, vice president of legal affairs at Choptank Transport, the Preston, Md.-based 3PL, says there was a need for a broker/shipper agreement since the brokers and 3PLs can find themselves in the middle of a dispute between a grower/customer and a carrier. "Things happen every once in a while," he says, referring to vehicle breakdowns, traffic delays and other mishaps. "There is potential to have a problem with each and every load."
The need for an agreement could become more important given there are new transportation regulations such as hours of service and new safety rules under FSMA, Lee says. "There needs to be an understanding between all the parties."
Whether or not the new safety and transportation rules make growers and shippers more concerned about best practices remains to be seen. All players recognize the challenges associated with limited shelf life, but most think the industry has things under control.
FreshOne LLC, a Dallas, Texas-based logistics provider, welcomes initiatives to promote safety and quality, says Don Janacek, president "Food quality and safety is not just something our vendors talk about and check off. If there is a misstep, our employees as well as theirs are quick to respond. Everyone does a good job because we all understand the importance of food safety and good product quality. We understand that one mistake is quite costly and could kill your business."
Stemilt Growers, a Wenatchee, Wash.-based tree fruit grower, packer and shipper, has long-standing relationships with 3PLs that carry produce from three packing facilities. Brianna Shales, communications manager, says Stemilt Growers provides 3PLs with handling instructions. The company's sales force manages the transportation contracts, and there has not been much turnover among the 3PLs.
"You've got to stay on top of how it [produce] looks on the dock, how it looks on the shelf," says Shaun McFaul, operations manager at the Ben E. Keith Co., the Fort Worth, Texas-based foodservice distributor. The company believes its fresh produce transportation practices are effective.
"Part of our job is to work closely with shippers and ask the right questions to be sure we fully understand any special requirements for their shipments, especially in the case of perishable fruits or vegetables," says Tom Scollard, vice president of dedicated contract carriage at Penske Logistics, based in Reading, Pa., "The best way to avoid disputes is clear communication up front and setting KPIs (key performance indicators). A significant portion of our business is frequent–up to daily–replenishment of fresh products, so we have the experience to guide customers and prospects." Penske provides multizone temperature-controlled trailers, data retention, chain of custody documentation, and other support in accordance with new FSMA guidelines.
Three Federal Agencies Oversee The Produce Industry
While many industry observers consider the FSMA sanitary transportation rule to contain the most specific requirements covering the transportation of any type of food, interstate carriers are already subject to economic regulation by the U.S. Department of Transportation and the U.S. Department of Agriculture (USDA).
Under the Perishable Agricultural Perishable Commodities Act [PACA], the USDA regulates buyers, sellers, merchants and brokers in the produce industry. All interstate traders of fresh and frozen fruits and vegetables must be licensed by USDA. PACA has a code of good business practices.
In the past three years, the USDA resolved nearly 3,700 PACA claims involving more than $66 million.
Carriers hauling food are also required to have carrier authority from the U.S. Department of Transportation (DOT), according to James Lee, Choptank Transport Inc.'s vice president of legal affairs. One exception is the transport of produce and certain other agricultural commodities, which are exempt.
However, the transportation of agricultural products that have been processed (such as potatoes into french fries, dehydrated potatoes; lettuce into salad mixes, etc.) require a carrier to have motor carrier authority, Lee says.
Bananas are one agricultural commodity that is not exempt from the necessity of having motor carrier authority as listed by the DOT.
The DOT exempts commercial carriers from hours of service rules if they are carrying any agricultural commodity less than 150 air miles from the first point of production to the next, according to Jon Samson, executive director of the Agriculture and Food Transporter Conference at the American Trucking Associations, based in Arlington, Va.
Farms and ranches are also exempt from commercial driver's license requirements, Samson says.
Food and transportation industry stakeholders raised questions about the overlap of regulatory activity in comments to the U.S. Food and Drug Administration (FDA) about FSMA. Several stakeholders noted that FDA is duplicating areas handled by the USDA's Food Safety and Inspection Service as well as the Department of Transportation.
Fresh Ingredients Push Papa John's Pizza To Strengthen Its Supply Chain
When Papa John's Pizza opened its first restaurant in Jeffersonville, Ind. in 1984, founder John Schnatter was committed to creating a pizzeria that strived to deliver consumers one of their favorite foods with the highest quality, fresh ingredients.
To maintain the commitment to fresh ingredients, Papa John's has focused on managing its supply chain from farm to fork. Over the years, as consumers have asked for more quality ingredients, the Louisville, Ky.-based company has responded with a menu consisting better of ingredients. To deliver on that promise, the company has structured its organization in a way that ensures delivery of the highest quality ingredients in all of its restaurants.
Removing artificial flavors and synthetic colors is one thing, but the job of communicating this change to consumers, part of the company's Clean Label Initiative, fell to Papa John's newly-named chief ingredient officer, Sean Muldoon.
This year, Papa John's became the first national pizza chain to remove artificial flavors and synthetic colors from its entire food menu, including all pizza ingredients, pizza toppings, dessert items and sauce selections. By summertime, Papa John's grilled chicken pizza toppings and chicken poppers will consist of poultry that is raised without human and animal antibiotics, having already removed MSGs, BHAs, BHTs, partially hydrogenated oils and fillers in core meat toppings.
Papa John's distribution centers (DCs) order product daily from product vendors. The company's delivery specialists deliver everything consumable, except for beverages, from Papa John's 10 DCs, with an 11th DC scheduled to open in 2017. There are two outbound deliveries per store per week to more than 3,200 restaurants domestically. Product is inspected for quality when it arrives in the DCs and before it departs the quality control centers (QCCs).
Papa John's relies on Atlanta, Ga.-based Manhattan Associates' demand planning, supply chain intelligence, WMS and TMS software to manage inventory through the supply chain. The integrated software provides real-time, end-to-end visibility of inventory.
"Metadata and additional points of data give you the opportunity to refine your process," says Eric Hartman, vice president of Papa John's. "We're constantly challenging ourselves and our vendors on assurances throughout the cold chain."
By the middle of 2015, the company no longer outsourced its store deliveries, says Hartman. This has given the company enhanced process control over its deliveries. PJ Food Service drivers complete a comprehensive training course to become a "delivery specialist." All tractor trailers have electronic temperature monitoring systems to properly regulate the temperature of the pizza ingredients, including the signature fresh, never-frozen original dough to maintain its gold quality standard when they arrive at the restaurants.
The company uses Greensboro, N.C.-based Blue Tree Systems Inc.'s trailer tracking to provide accurate temperature and humidity data from the trailer refrigeration units. Information provided that is essential to maintaining product integrity includes temperature set point, return air and alarm notifications.
During hot weather, Hartman says insulated blankets cover some of the produce containers for its more temperature sensitive produce.
The company delivers produce whole from the DCs to the stores – including tomatoes, onions, green peppers – which are then sliced in the restaurants.
To ensure on-time delivery of fresh ingredients to stores, the company tapped Manhattan Associates' TMS solution to leverage probabilistic modeling to perform a variety of "what-if" scenarios, such as which distribution centers should service individual locations to optimize time, fuel and resources.
Unlike traditional modeling tools, probabilistic modeling accounts for variability, which can provide more accurate results than simply using averages, and produces more realistic modeling scenario outcomes.
Papa John's end-to-end supply chain visibility plays a key role in ensuring the company's slogan, "Better Ingredients. Better Pizza."
Loadsmart Transforms Logistics for Best Buy Produce
When Clara Shih and her family opened Best Buy Produce International in Los Angeles in 1996, they followed a simple formula: source quality produce, add value by peeling, packing, and labeling, and use reliable truckload carriers to move the goods.
Today the wholesaler has a sprawling network of domestic and international producers and a new 40,000-square-foot facility in Irvington, N.J., near the Ports of New York and New Jersey. Employees there prepare garlic, ginger, and shallots imported from China and Europe for distribution across the East Coast, Midwest and South.
"Over the years we've built a really strong group of domestic producers in California, Idaho, Oregon, Colorado and other states," Shih says. "We opened a state-of-the-art location across the country so we could reach new markets with imported produce, but the biggest unknown was always logistics. We didn't know any carriers in the area who understood us and our business, and hours on the phone with freight brokers is not how we wanted to spend our time."
It was a complex job made easier by Loadsmart, a New York, N.Y.-based truckload freight brokerage with an online platform that allows shippers to quickly schedule a truck, track freight from pickup to delivery, manage electronic bills of lading, and process payments from a desktop or mobile device. Loadsmart's proprietary algorithm produces search results that direct shippers to the best available carrier based on price and other requirements.
"I don't shop around much when it comes to trucking and I think some people have taken advantage of us," Shih says. "My job is to sell garlic. We don't check on the rate for every shipment. It's tedious. I just want honest, straightforward pricing on transportation and carriers that are reliable and know what they're doing."
Loadsmart uses real-time and historical data to determine pricing based on pickup and delivery addresses, dates and truck types. The booking engine is public, so shippers can review results without having to supply a lot of information.
For Best Buy Produce International, the site automatically filters out carriers that don't meet requirements for temperature-controlled equipment, experience with perishable products, and an ability to follow Hazard Analysis Critical Control Point (HACCP) procedures.
"Before, we had to call a freight broker and wait for a price," Shih says. "Now we just put in where we need to go and we get a rate right there on the screen. We can make decisions without a lot of hassle or delays."
Loadsmart's electronic document management system includes paperless signatures and electronic proof-of-delivery. Shippers can submit payment online by credit card with no fee.
As the New Jersey operation ramps up, Shih expects to move five to 10 loads a week and build from there. She says that booking through Loadsmart gives Best Buy Produce International the flexibility to easily scale up or down depending on demand.
"We are not full-time logistics managers or experts in trucking," Shih explains. "We can focus on produce and not worry about whether we're getting a good price for our freight. It's totally transformed the way we book trucks."
Insulated Containers Ensure Produce Freshness In Transit
National and regional food service contractors transport produce safely and efficiently using Durable Insulated Containers from Sonoco ThermoSafe, an Arlington Heights, Ill.-based provider of temperature assurance packaging for the transport of temperature-sensitive products.
Two models, HR28P-DC and HR54P [28 cubic foot and 54 cubic foot capacity, respectively], hold product at 34 to 40 degrees Fahrenheit, the optimal temperature to assure freshness and quality. This performance has been tested to hold over 24 hours when the units are transported on a non-temperature controlled truck.
Sonoco ThermoSafe's proprietary gel bottles, designed with ergonomics and ease of handling in mind, provide the coolant which supports the noted performance.
Many of the company's upright models, including those referenced, include molded-in drains for the purpose of cleaning and sanitization ease, can feature either casters or feet and are available in a number of sizes, which can be customized to meet unique supply chain needs.
For More Information:
Ag1Source, ag1source.com
Allen Lund Company, allenlund.com
American Trucking Associations, trucking.org
Blue Book Services, bluebookservices.com
Blue Tree Systems Inc., bluetreesystems.com
The Fruit and Vegetable Dispute Resolution Corporation, fvdrc.com
Freedonia Group, freedoniagroup.com
FreshOne LLC, fresh-one.com
Loadsmart, https://loadsmart.com
L & M Transportation Services Inc., lmts.com
Manhattan Associates, manh.com
North American Produce Transportation Working Group, naptwg.org
Penske Logistics, penskelogistics.com
Produce Marketing Association, PMA.com
QLM Consulting, qlmconsulting.com
Sonoco ThermoSafe, thermosafe.com
Transportation Intermediaries Association, tianet.org
United Fresh Produce Association, unitedfresh.org
U.S. Department of Agriculture, usda.gov
U.S. Food and Drug Administration, fda.gov
Companies in this article