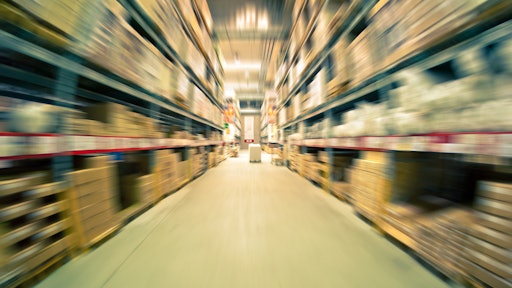 pio3/stock.adobe.com
Our 2022 Top Supply Projects award's mission is to celebrate projects the most transformative and successful cases from the past year. And, this is certainly true for the project featured in this interview.
The editors of Supply and Demand Chain Executive sit down with Verusen executives to discuss how artificial intelligence solution is able to create true transparency for a client across 55 different facilities and more than 400,000 SKUs. The project was selected as one of SDCE's Top Supply Chain Projects of 2022.
Supply and Demand Chain Executive: Please describe the project.
Verusen: Using Verusen's AI platform, our client harmonized their data, creating transparency and integrity across all their catalogs of data. This was across over 55 facilities and over 400,000 individual SKUs. We were able to optimize their inventory and reduce risk across their supply chain significantly. For example, one of their plants experienced two critical asset failures causing production to cease because of this failure. The reliability manager could not find any available replacement parts to perform the maintenance needed to get the asset back up and running. The storeroom team first searched the plant inventory manually, with no result. Next, multiple colleagues initiated material searches within SAP, with no matching result. Finally, they contacted their manufacturer supplier and were told it would be a 4-week lead time to get the part, which would have cost over a $1M loss in downtime. By using Verusen's AI Global Material Search capability, they were able to locate the critical material in real-time at 4 sister plants, all within proximity. The material was dispositioned for overnight delivery, and the maintenance was performed, enabling the asset to be back up and running in less than 3 days with minimized downtime.
Supply and Demand Chain Executive: What was the inspiration for this project?
Verusen: The Fortune 500 global packaging company was looking to offset inflation by reducing its inventories. They had just completed an acquisition and had a massive amount of relevant data living across many systems, but this data was highly disjointed, incorrect, and disparate, preventing them from having an accurate view of their inventories. This resulted in ongoing overstocking, a lack of visibility into where items are located, and wasted spending, leading to lost revenue.
Supply and Demand Chain Executive: How did it make a difference for the company?
Verusen: This affected over 55 facilities and over 400,000 individual SKUs, saving them over $6M in their MRO space in less than 24 months. They were also able to identify over $21M of verified cost reduction opportunities and over $200M value of on-hand inventory related to their MRO materials. They were also able to save over $1M saved from reduced production downtime. In the words of our client, they have "operationalized" Verusen into their day-to-day activities.
Supply and Demand Chain Executive: How does this project provide innovation during the supply chain crisis and disruptions seen this past year?
Verusen: Supply chain management is under siege. First, the global pandemic, now an unsettling war in Ukraine. So when do supply chains get back to 'normal'? For over two years, there has been unprecedented instability in supply chains. Nobody knows what 'normal' looks like anymore. Product shortages, high delivery and transportation costs, labor/recruiting challenges, and limited storage space continue unabated.
Supply chains do not work well with inherent risk from a geopolitical conflict. The higher the risk, the higher the challenges for supply chain managers and global policymakers. The situation in Ukraine all but guarantees we're bound to see continued high inflation, higher commodity prices, and further delays in product manufacturing, shipping, and deliveries for the rest of the year and likely longer.
To solve the complex problems, Verusen's AI-driven software revolutionizes the way supply chains have worked for decades by capturing existing system data and human knowledge, continually learning to help customers make better decisions within weeks of implementation and without resource-heavy and costly IT initiatives. Verusen's platform is helping this client make better, faster decisions, enabling supply chain efficiencies and empowering resilience. As a result, Verusen has delivered on average 15-20% working capital savings to its Fortune 500 customers, reducing risk/waste and optimizing the materials they use to run their manufacturing operations and build their products.
Supply and Demand Chain Executive: What makes this project different than others in the industry?
Verusen: Supply Chain manufacturers have been handcuffed for years by traditional data
cleansing methods. These methods can take up to 2-3 years, are resource heavy (time, FTEs), and worst of all - leave you with static data that is already incorrect. They do not take into account any of your materials', teams', or facilities' context.
Far too often, businesses rely on a combination of spreadsheets and manual business process to manage their MRO materials. While this is not intrinsically wrong, they are highly prone to error, and there are significant technology limitations in terms of speed, security and collaboration and most companies have moved beyond this phase for most of the supply chain management processes.
Verusen is directly addressing customer challenges by helping customers optimize their inventory and giving them visibility across their entire system. When an asset goes down at one site, this customer has been able to quickly locate a part from a sister site because they have access to material truth in real-time. They know where it is and can immediately have it shipped over.
By creating better visibility into the entire supply chain business, we're helping customers remove risk and have better visibility into lead times. This allows customers to know where their broader supply chain challenges are and helps them react accordingly.
Supply and Demand Chain Executive: How did/does this project fit into the overall operations of the company?
Verusen: In the words of this client's team, they have "operationalized" Verusen into their
day-to-day operations. Verusen has proved itself as the most trusted resource, system, and source of truth of their MRO materials.
MRO optimization has become a proactive method for addressing risk for this client's supply chain while serving as a great place to expand their supply chain intelligence
journey. With better insights into their MRO stock and spend levels, their operations managers no longer need to buy spare parts on an ad hoc basis. Instead, they can create strategic MRO procurement plans that account for daily workplace needs, emergency repair situations, and excess on-hand inventory. This allows them to remove unnecessary risk, reduce procurement requirements, and eliminate wasted working capital across their enterprise network within a single platform.
Supply and Demand Chain Executive: What do you think the future holds for this project?
Verusen: Advancing their enterprise network's maturity requires a roadmap that involves every
facet of their manufacturing operations and a variety of technology solutions to support optimization initiatives. With the advanced capabilities purpose-built, materials intelligence that Verusen offers, they can make incremental improvements quickly while realizing fast value on their investment. Supporting their digital transformation with a purpose-built MRO materials management solution will allow them to adopt innovative, resource friendly technology with significantly less disruption than one focused solely on direct materials. An intelligence driven MRO optimization solution allows you to improve your manufacturing strategy, infuse advanced decision support, and reduce overall risk while simultaneously fueling your supply chain maturity journey.