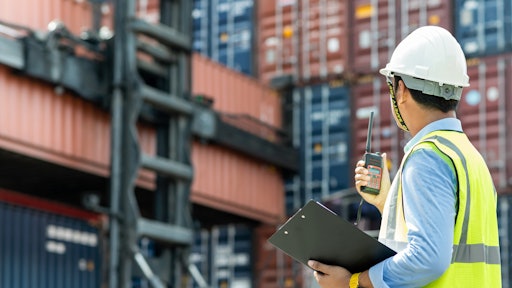 weerasak/stock.adobe.com
The global pandemic set in motion a series of unprecedented challenges for which most businesses were unprepared. This was confirmed in an EY-US report titled, How COVID-19 affected supply chains and what comes next. It cited its survey results which found that just 2% of respondents said they were fully-prepared for the pandemic and 72% reported a negative effect; 17% of which reported a significant negative effect. Delays across air, sea, truck and rail transport, coupled with material and labor shortages, have made managing distribution centers and their yards especially challenging. Manual operations are no match for this unchartered territory. Many yard operators are turning to yard management systems (YMS) to help automate operations, gain supply chain visibility, and benefit from digital decision-making support. Today's YMSs offer various performance features, some of which deliver greater value than others. Knowing which features should be sought in a YMS will help a business weather current disruptions and gain better positioning for the future.
Visible, digital yard operations
Everyone agrees that supply chain operations require more visibility. They also benefit from more integrated networks and real-time communications and information sharing – all important for optimizing resource management, worker productivity, and customer service. An advanced YMS helps in all these areas and paves the way for greater resiliency, agility, cost savings and sustainability. Without them, yards will continue to experience a host of problems. They include error-prone communications and manual processes, unproductive searches for trucks or equipment by harried yard jockeys whose safety is also compromised under these conditions, and dispatchers wasting time focusing on managing these problems rather than on tasks that provide a higher value to the business. A YMS system offers a range of features some of which are nice to have, others which provide added value, and still others that help a business become future ready. Following is a breakdown of these features.
Nice to have YMS features
Full transparency of on-site trailers and yard resources – This feature lets you know where your trailers and other resources are at any time. The YMS logs every incoming and outgoing asset along with their movement in the yard. The real-time knowledge of each yard truck's position helps improve routing and transport decision making. Further, by eliminating time-consuming searches for trucks or other equipment, improved yard safety is achieved through the reduced number of people in the yard at any given time. With the reduction in yard turmoil also comes overall improved operational efficiency.
Standardized, digitized gate processing – Using this feature, checking trucks in and out of the yard is vastly improved. The YMS supports fully automatic gates, as well as manual processing. Additionally, communications inside the software enables the YMS to detect when a trailer arrives that wasn't on the plan. This enables dispatchers to manage the exceptions within their larger plan and inform the gate staff automatically without requiring a phone call or email.
Automated communications via the software directly to gate staff and hostlers – By cutting the need for telephone and radio calls, more accurate communications are achieved along with improved on-time job performance, reduced delays, and a calmer work environment. The data points created can also be used for Key Performance Indicator (KPI) reports and advanced analytics.
Data standardization -The best YMSs support standardized processes to predict optimal solutions and adhere to a particular yard's design constraints. Based on what is preferred at a particular time, the YMS can run in an automatic or partially automatic state. The residual benefit is that by supporting standardized processes, the YMS is also supporting standard data; a critical first step in the evaluation of KPIs and implementation of advanced analytics or machine learning to drive longer-term process improvements.
Added value features
Yard vehicle (hostler) optimization – A YMS should be loaded with optimization features that maximize your yard vehicle and hostler operations. Whether the yard has two or twenty trucks, optimization results in reduced travel and related fuel savings, lower maintenance requirements and longer truck lifespans. For larger yard operations with many trucks, a vehicle optimizer can reduce the total number of trucks needed to provide the same service quality level by as much as 34%.
Dock door optimization – A good YMS optimizes the management of a yard's dock doors, automating routine dock door decision, freeing up dispatchers to focus on functions that add value to the organization, while also containing costs. With total knowledge of dock door parameters and status, the YMS can adhere to both fixed and variable constraints. Displays inside the facility connected to the YMS deliver real-time information on a trailer at the dock to staff. Using handheld devices, staff can then feed critical loading/unloading information back into the YMS to promote better decision-making.
On-time performance management – An advanced YMS is able to receive scheduled trailer arrival and discharge times from a yard's transportation management system (TMS). Using the schedule data, vehicles are processed upon arrival and managed by the YMS to maximize on-time departures of outbound trailers. Then, if a trailer arrives late but is expected to leave first, it can be prioritized for unloading/loading over trailers than can depart later.
Priority-load performance management – Using data from the TMS, the YMS applies the trailer content data to improve its handling of inbound trailers. As they arrive, containers with time-critical content are assigned for immediate unloading ahead of those standard-load trailers which can be stored until a dock becomes available. Similarly, outbound trailers with priority loads too can be prioritized for discharge. The end result is improved customer service.
Future ready features
Automated Vehicle Ready – As more yards gravitate toward autonomous vehicles to address labor shortages, particularly in managing standard work orders, a future-ready YMS can intelligently assign work to these vehicles. This feature will enable an organization to fully benefit from their future autonomous vehicle investments.
AI and Machine Learning Integration - A YMS driven by AI enhances the way users interact with the system in addition to enabling the YMS to run autonomously. This latter capability gives dispatchers the opportunity to manage more complex exception handling and drive improved customer service outcomes. Through its machine learning, the YMS is able to continuously learn from itself and feedback the learning outcomes back into the system and/or for humans to analyze. As a result, the system's overall efficiency is improved over time along with its added-value and future-ready features, thus delivering a higher ROI into the future.
Incorporating the right features, a YMS can empower yard operations for more resilient, efficient, cost-saving and competitive operations, even under challenging market conditions.