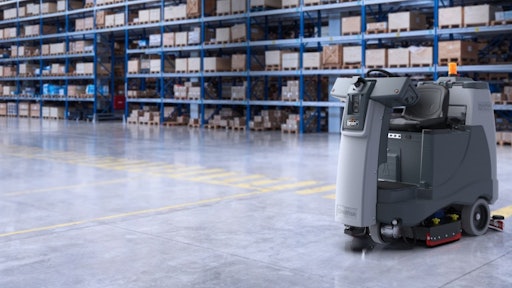 Nilfisk
Nilfisk announced the launch of a new high-performance robotic scrubber, the Liberty SC60, to meet the growing market demand for autonomous cleaning solutions.
The SC60 is the first Nilfisk machine to be powered by BrainOS, an AI software platform for building and managing commercial autonomous mobile robots (AMRs) at scale. The SC60 is equipped with the largest scrub deck in the autonomous ride-on category, making it ideal for large indoor spaces like retail, airports, malls, warehouses, light industrial, and more.
By leveraging BrainOS, Nifilsk is providing users with world-class usability, advanced features, and centralized data hosting and reporting, among other key autonomy services.
The Nilfisk launch marks the latest top floor care manufacturer to bring BrainOS-powered autonomous machines to market. Other members of Brain Corp's floor care portfolio include Tennant Company, Kärcher, Minuteman International, ICE Robotics, and Softbank Robotics.
Through its OEM partners, Brain Corp currently powers more than 10,000 robots of different sizes and applications — the largest fleet of its kind operating in commercial, high-traffic locations.
"Cleaning has become even more important than ever for businesses and institutions as they face new cleaning demands brought on by the pandemic," said Hans Henrik Lund, Nilfisk CEO. "We are proud to partner with a strong technology leader, Brain Corp, to bring this new autonomous cleaning unit to market. We look forward to working together to scale our robotic fleet."
To date, Brain Corp has logged more than 2.5 million autonomous hours across its global partner fleet, while covering a total of more than 36 billion square feet (3.3 billion square meters) of floor space. This real-world experience has enabled Brain Corp to refine its autonomy software to deliver at the highest levels of safety and performance in complex environments.
Brain Corp and Nilfisk first announced a technology partnership in March 2019. The SC60 launch is the result of that initial agreement.
"Nilfisk is one of the top floor care equipment manufacturers, and we are excited to develop the industry's largest ride-on scrubber together," said Dr. Eugene Izhikevich, Brain Corp CEO. "This comes at a critical time when many businesses are having to do more with less when it comes to cleaning. Robots enhance cleaning efficiency and deliver valuable time back to workers to focus on other high-value tasks that robots can't do, such as sanitizing high-contact surfaces and spending time with customers."