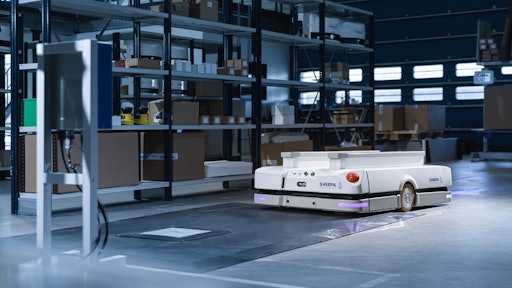 Über Wiferion
Whether in industry or e-commerce, autonomous mobile robots enable significant productivity increases by reducing tasks with low added value. In order to guarantee its customers maximum system availability, Sherpa Mobile Robotics (SMR) equips its mobile, collaborative robots with Wiferion's etaLINK 3000 series inductive loading systems. Sherpa is thus fully committed to the "in-process charging" approach. The aim is to gain further market share.
The French robotics specialist Sherpa Mobile Robotics develops, produces and markets autonomous, collaborative robots for logistics and production. The systems are used for transporting components, handling, feeding production lines and sorting and picking goods in e-commerce and replace manual handling steps such as pushing or pulling picking trolleys. "We offer our customers an efficient automation solution to optimize their logistics processes," says Damien Winling, Technical Director at SMR. "High availability of our robots is central to this. With Wiferion's wireless charging technology, we eliminate downtime during loading breaks and thus significantly increase productivity".
With 3 kW of power, the IFOY AWARD winning inductive battery charging system enables efficient intermediate charging ("in-process charging") of Sherpa's robots. The advantage: When the AMR drives to the charging station - no matter from which direction - the charging process starts fully automatically in less than a second. With an efficiency of 93 %, even the shortest stops can be used for efficient energy supply. "For us, the reliability and freedom from maintenance of the systems were also decisive criteria," emphasizes Damien Winling.
Other robots equipped with inductive charging system
The SHERPA-B robot for container transport is currently equipped with the inductive loading system. SMR will successively implement the Wiferion solutions in all other robots. "Our SHERPA-P for transporting pallets will also be equipped with the etaLINK system", continues the Technical Director. "We are convinced that by combining our technology with Wiferion's energy systems, we will offer our customers the perfect solution for optimizing their processes and gain further market share".