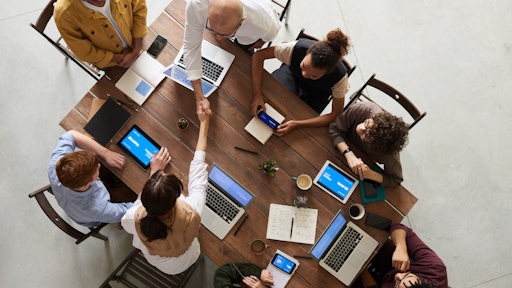 Pexels
Samuels & Associates announced that International Materials, Inc. ("IMI") signed a 20,052-square-foot lease to relocate and expand its corporate headquarters to the Offices at 4th & 5th Delray. Moving from Florida's Boca Raton to the Delray Beach central business district, IMI will occupy nearly two-thirds of the mixed-use building's third-floor Class A office space at 25 SE 4th Ave.
The relocation and expansion of IMI's headquarters will allow the company to accommodate its existing HQ roster of 45 full-time professionals and further attract top talent in line with its anticipated growth trajectory.
"As a locally owned and managed business, we are thrilled to move back to downtown Delray Beach where many of us have been residents for years," said Robert Walsh, President, IMI. "The prospect of locating our headquarters in this state-of-the-art building, steps away from Atlantic Avenue, is a dream scenario that will allow us to grow our business and make room for the future. We are grateful for the support we have received from the City and from Samuels & Associates."
Approximately 6,181 square feet of office space now remains on the third floor of the Offices at 4th & 5th Delray. The 144,733-square-foot, four-story mixed-use project, newly developed in a joint venture between Samuels & Associates and American Realty Advisors, sits in the heart of Delray Beach where there is a convergence between high demand and limited Class A office development. The unique office space features a spacious 8,600-square-foot terrace with unmatched city and ocean views, an onsite iPic theater, and a restaurant.
"Samuels & Associates is delighted to welcome IMI to its new space in the Offices at 4th & 5th Delray," said Peter Sougarides, Principal, Samuels & Associates. "As we continue to implement a thoughtful placemaking process in the dynamic downtown Delray Beach neighborhood, we look forward to welcoming companies and employees who will enliven the local downtown economy."
"There is no denying the staying power and increasing vibrancy of Delray Beach's downtown as a corporate destination. We were able to attract a corporate headquarters relocation during this COVID-19 pandemic," said Mayor Shelly Petrolia. "We are excited to welcome IMI's headquarters into the City of Delray Beach and look forward to helping IMI grow in our city."
"This IMI corporate headquarters relocation to the Delray Beach central business district is a testament to the strength of our city and evidence that the investments in our public-private partnerships strategically located for economic development are beginning to pay off," said Stephanie Immelman, President & CEO, Greater Delray Beach Chamber of Commerce.
In the transaction, Samuels & Associates was represented by Keith O'Donnell and Gary Gottlieb of Avison Young, and IMI was represented by Ingrid Kennemer of Coastal Commercial Group.
Amenities for 4th & 5th Delray office tenants include:
· A dedicated entryway with bright, natural light and modern finishes;
· A flexible floor plan and experiential office design allowing for a variety of work settings, such as standing desks and tables, comfortable couches and moveable walls for accommodating workers who are always on the move;
· More than 8,600 square feet of spacious terraces that fill the third floor with light and create a unique indoor/outdoor environment with views of downtown Delray Beach;
· A vibrant downtown environment only steps away, anchored by Delray Beach's bustling Atlantic Avenue, 9,000 square feet of boutique retail, lively dining options, green space, and public beachfront.
Additionally, 4th & 5th Delray is minutes from Interstate 95, US-1, South Florida beaches, and a short drive from two international airports.