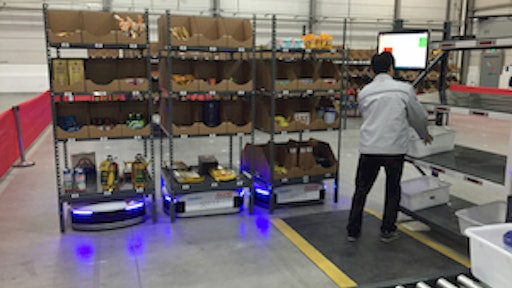 Conveyco Technologies
Conveyco Technologies announced its strategic partnership with Geek+ to help support organizations across North America.
"We are pleased to be partnering with Conveyco to accelerate access to AMR (autonomous mobile robot) solutions in North America," says Rick DeFiesta, partnership and business development director at Geek+. "The demonstrated efficiency, scalability and cost-saving of Geek+ solutions will bring significant value and enable flexible logistics for customers across industries at a time where logistics bottlenecks are increasing."
"The breadth of field proven AMR technologies that Geek+ provides allows Conveyco to truly focus on our clients use and business case to provide them a scalable and cost-effective solution," says Ed Romaine, vice president, marketing and business development. "Being able to implement Conveyco's RightFIT methodology using Geek+ technologies will provide efficiencies and competitive advantages to our clients that will change their market dynamics."
The distribution agreement allows Conveyco to offer Geek+ robotics solutions to improve efficiency, provide flexibility and reduce costs associated with warehouse and logistics operations in various industries, including e-commerce and online retail.
Geek+ Goods-to-Person Picking System, empowered by Geek+ proprietary smart algorithms, uses P-series warehouse robots to eliminate redundant walking of the picking workers, improve picking accuracy, and reduce labor intensity. The AI-driven system features robot tasks management, combined order optimization and picking, inventory management, dynamic wave optimization, and adjustments of inventory layouts for maximum efficiency.