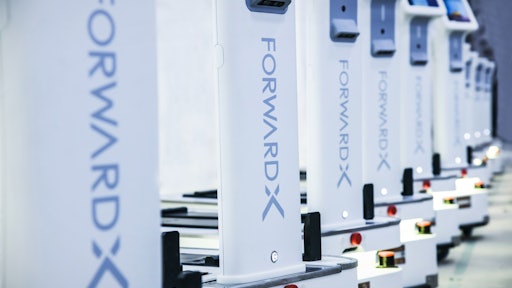 ForwardX
ForwardX Robotics announced a $15 million round of Series B+ funding led by China Merchants Capital as part of its SINO-BLR Industrial Investment Fund, bringing the company's total funding to more than $40 million, including last year's $15 million Series B round.
"We are seeing huge challenges for supply chain leaders across the logistics and manufacturing industries, from growing labor shortages and consumer expectations to a greater need for flexibility," says Nicolas Chee, founder and CEO of ForwardX Robotics. "Our AI-based automation solutions allow our customers to adapt to a rapidly changing landscape and boost their productivity and efficiency three-fold. With the fallout of COVID-19 already here, enterprises will be looking to future-proof their operations and we're going to be there with them as they make the transition."
With the market for AMRs and AGVs forecasted to generate over $10 billion by 2023, according to Interact Analysis, ForwardX aims to continue its rapid growth with a recent expansion into the North American market.
"In just over 3 years, ForwardX Robotics has cultivated its own unique competitive advantages and grown to become a leading AMR provider," says Anthony Yang, Managing Director at China Merchants Capital. "Having successfully deployed their solutions in both logistics and manufacturing scenarios, we are very optimistic about ForwardX's future. Moving forward, the SINO-BLR Industrial Investment Fund will help ForwardX Robotics expand the breadth and depth of its applications and continue to enhance its competitive advantage."
Boasting patented computer vision technology and advanced fleet management capabilities, ForwardX's automation platform provides customers in the logistics and manufacturing industries with flexible, high-efficiency solutions.
The company will use the Series B+ funding to continue its growth through further product development, international expansion and increased production and commercial deployment of its solutions.