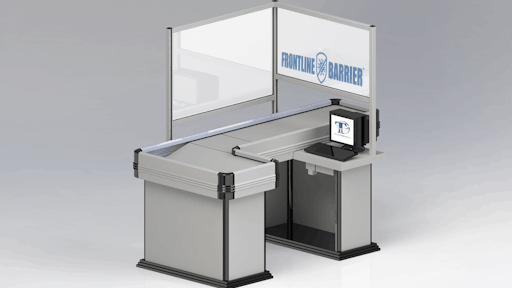 Tooling Tech Group
Tooling Tech Group (TTG) has announced the availability of its FRONTLINE customized transparent barrier protection for quick installation at cash register stations or customer service counters. Appropriate for big box stores, grocery stores, pharmacies and more, these plexiglass barriers serve as a physical layer of protection between employees and patrons while enabling personal interaction. They are designed to prevent the potential transmission of viruses through droplets caused by coughs and sneezes.
"Although the CDC guidelines recommends a distance of 6-feet between people, that is often not possible, particularly during check-out situations," said Lee Childers, Tooling Tech Group CEO. "Our FRONTLINE solution enables companies to get the right-sized shielding built and installed on their premises in a very short time frame."
FRONTLINE Barriers are available in custom sizes to suit any application. Built with a lightweight, yet durable aluminum frame and clear plexiglass, these barriers can be easily installed using basic tools.