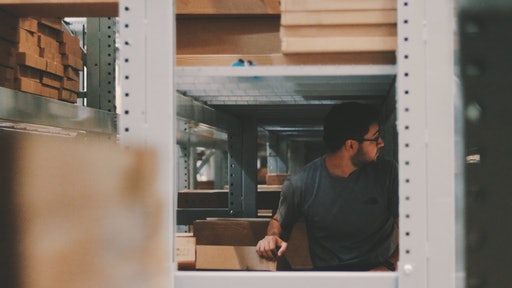 Pexels
Picture this—you run a large warehouse that serves multiple clients and distributes thousands of packages a day across the United States. One day, a package picker unfortunately tests positive for coronavirus. The next step? A quarantine of your entire warehouse team and the possible reality of your business ceasing operation, resulting in direct losses to you and leaving clients unable to fulfill their orders and taking their business elsewhere.
Unless, that is, you happened to have a robotic picking system in place. That's because robots can't get the Coronavirus disease (COVID-19), or whatever the next viral epidemic turns out to be.
As workers around the world fall ill, self-isolate or quarantine, warehouses using manual picking will shutter or go on hiatus, thus severely impacting the global supply chain. The existing logistics ecosystems connecting the world today are vast and complex, containing multiple layers of vendors, sub-vendors and suppliers. Many of those layers include a workforce susceptible to the effects of this pandemic—the likes of which has not been seen in modern times and has not been planned when building today's supply chain network. That means that mitigating the devastating effects of the virus on the global economy will be a severe challenge to businesses hungry for solutions.
One way to ensure continuous business operations that meet a growing global demand is to reduce uncertainties and mitigate risks. Automated robotics do just that, with a clear understanding of cost, maintenance and capability regardless of uncontrollable external factors like a global virus.
Warehouse automation would also ensure uninterrupted fulfillment of orders as consumers stay home, avoid malls and do even more shopping online. With automation, operations are expanded from one to several shifts and robots can handle the increasing order numbers and peaks. Further, with brick-and-mortar stores running out of supplies, consumers will again more likely to turn to online shopping.
This space was already being driven toward automation years before coronavirus. The growth of e-commerce, a labor shortage and the rise of Amazon are all business drivers toward robotic automation in logistics and warehouses. The change has been gradual however, with "only between 5-10% of fulfilment centers in the United States using automated picking," according to DHL's "Robotics in Logistics" report. The Coronavirus is showing yet another reason to automate warehouses, which will likely drive quicker adoption in the years to come.
Setting aside the Coronavirus threat, there is a broader labor force question when it comes to manual picking in warehouses. Are these physical jobs desirable in 2020? The high rate of turnover and low satisfaction indicate that they aren't. A key proof point here is that low unemployment rates - like the current rates in the United States - lead to a labor shortage in warehouse workers. This shows that when there are other options available, job seekers don't pursue manual warehouse work.
Robots are already at work to mitigate the Coronavirus. In China, the epicenter of the outbreak, hospitals have been effectively using robots to help ensure the safety and well-being of their staff, all while curtailing new infections. The role of hospitals in this crisis is obviously more important than warehouses and supply chains (though hospitals rely on both), but the principal here is the same -- hospitals are better and more effectively meeting their goals using robots against the backdrop of a global pandemic.
The benefits of robotic automation extend beyond this pandemic or future ones to growing threats like climate change and resource scarcity. As the Coronavirus exposes vulnerabilities in the global supply chain, it's time to start thinking strategically and holistically about how the world economy can ensure minimum damage and maximum resiliency.