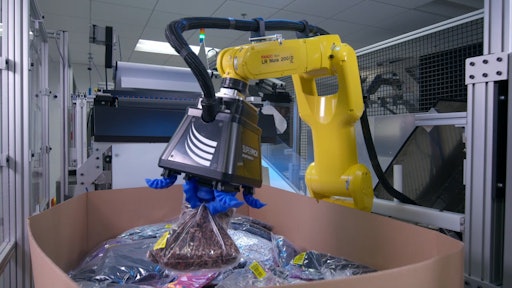 Soft Robotics
Many businesses are comprised of two distinctive parts – sales and returns. They go hand in hand and are both important parts of the profit picture. This is especially true for apparel retailers that depend on catalog, phone and online sales, where as much as 17% cost of goods sold (COGS) is due to processing returns.
In addition, evidence points to the fact that as e-commerce grows, this problem will continue to get worse. This is especially true for apparel purchases, which may not fit properly, or for whatever reasons, not meet customer expectations. It's no surprise, therefore, that this past January saw an avalanche for returns and that retailers are struggling to handle the demands of what's known as reverse logistics.
The 2019 holiday season shone a light on the challenge and opportunity of reverse logistics. According to a report from CBRE, up to 30% of all online orders are returned. UPS alone processed nearly 2 million returns on a single day—Jan. 2– a 26% spike from last year's peak returns day. In addition, processing a return requires 20% more space and twice the labor as sending out a package. Holiday returns could add up to as much as $90-95 billion worth of merchandise this year. Some retailers will replace the item, or credit the customer's account and tell them not to return it, thus creating environmental considerations that can result from trashing items that wind up in landfills. All of this is why Gartner calls returns "the ticking time bomb of multichannel retailing."
The trick is to adopt a management and accompanying technology strategy that optimizes the disposition of returns while satisfying customer expectations. For many retailers, outsourcing returns processing is the preferred solution.
Third-party logistics companies (3PLs), where the focus is on security, speed and accuracy, are stepping up to fill the need. There are a growing number of 3PL companies set up to receive and manually inspect large volumes of returned apparel. Individual items are inspected and those that are re-sellable, are placed into a clear plastic polybag. The UPC barcode (normally included with each returned item) is positioned in the bag, so that it can be scanned. If the item barcode is not returned with the item, a new one is printed. The bags are then placed into a large bin capable of holding up to 500 items and shipped to the retailer's warehouse. At the warehouse, each plastic bag is manually removed from the bin and scanned into the inventory system. Manual sorting and restocking can then be completed.
As labor costs continue to rise and workers themselves become increasingly hard to find, this is certainly not an optimum solution. In addition to creating ergonomic issues for the workers, it is highly prone to re-stocking errors, which may lead to downstream order picking errors.
Time for a new solution
Outbound logistics is extremely complex, but it at least is a semi-structured environment where various types of proven mechanized picking, conveying and sorting solutions can be applied. While automation is starting to help improve material handling for outbound logistics and will continue to address the needs of that market, the complexity and variability of the reverse flow of merchandise is in serious need of innovation. This is where the robotics industry is prepared to step in. Fortunately, because of developments in artificial intelligence (AI), material science and vision systems, the robotics industry is now ready to play a much bigger role in reverse logistics.
What if you could design and build robotic gripping and automated processing solutions that can grasp and manipulate items of varying size, shape and weight; all with the same end effector?
Most grippers are best used for items with a consistent shape, such as a cardboard box. Polybags pose their own unique challenges. Each item packed in a polybag varies in shape. The malleable nature of this packaging method produces an uneven weight distribution. A gripper that can adapt to the fluid nature of the package is key. Because of the high variability of returns, an automated solution that depends on consistency simply won't suffice.
Here is an example of how robotic automation can be applied to reverse logistics. Individual polybags of returned apparel items are automatically picked and placed from large bins onto a takeaway belt conveyor. Each polybag is placed on the takeaway conveyor with its barcode exposed to the downstream scanning field.
A singulation conveyor transports the bags to the downstream scanning field where each item is then scanned and entered into the retailers' warehouse management system. At this point, the scanned polybags are inducted onto an automated sorter. Once on the sorter, the individual polybags are tracked and sorted to assigned locations where they can be returned to reserve storage and/or to an active forward picking location. For the polybags that do not have a scannable barcode, are re-circulated before being sorted to an error location for manual processing. Additional robots and singulation and induction conveyors can be added to the maximum capacity of the downstream conveying and sorting equipment.
There's little-to-no incentive for businesses to change their return policies. Consumers want simple – if not free – return policies and make their buying decisions based on these policies. And, because more e-commerce means more returns, this problem is only going to get more difficult for businesses in the retail channel. By pointing robotic automation solutions at the problem of reverse logistics, perhaps companies can mitigate the logistical and financial pain associated with the return of items ordered online.