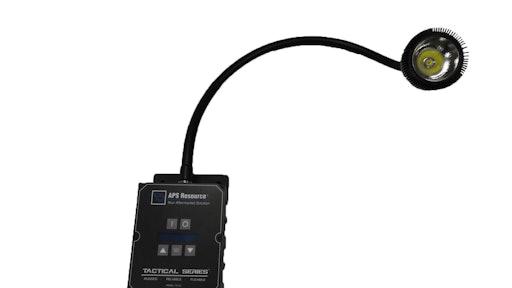 APS Resource announces the launch of the Tactical LED Dock Light. This addition to dock lighting is a high performing, next generation of loading dock lights and will outperform expectations.
The aluminum construction complements a more compact design that will not disrupt loading dock tasks. The light is UL-certified and tested to last more than 50,000 hours, and it carriers a five-year warranty. Some of the features of the new Tactical LED Dock Light include, new dimmable, auto ON/OFF feature and built in S.W.A.T.™ module for all your safety needs. The S.W.A.T. (Secondary Warning Alert Technology) module adds an extra layer of protection for dock operations by visually alerting workers to use caution anytime there is a change in dock status.
"The Tactical LED Dock Light is a game changer when it comes to durability at the dock, with built-in features that have never been implemented in a dock light before. Its small footprint keeps it out of harm's way yet is still able to give operators clear vision in dark trailers. If you are looking for a rugged, reliable, and flexible light for your dock, this is the light for you," APS Resource Aftermarket Sales Manager, Mark Smith remarks.